Davesmall's recent postings of his Fougasses (Fougasse with refrigerated dough ) inspired me to finally make this bread from Provence and the Côte d'Azur. I first had this bread in Lourmarin, in the Vaucluse. My wife and I visited an old high school French teacher of mine. His French wife has a family connection with that village going back generations. We spent a delightful day on a motor tour of the area, including several stops at bakeries, because each had different specialties. We ate the fougasse with a delicious daube de boeuf for lunch that day.
I made these fougasses from the formula in Michel Suas' Advanced Bread and Pastry. it uses a levain but is also spiked with a small amount of instant yeast. Per Suas' formula, I added some rosemary to the dough, fresh from the garden. We dipped it in EVOO with a bit of balsamic vinegar and had it with salmon cakes and a salad of tomatoes, cucumber and radishes with a mustard vinaigrette. A lovely Navarro Pinot Gris was a perfect accompaniment, although a rosé would have been more traditional with this bread.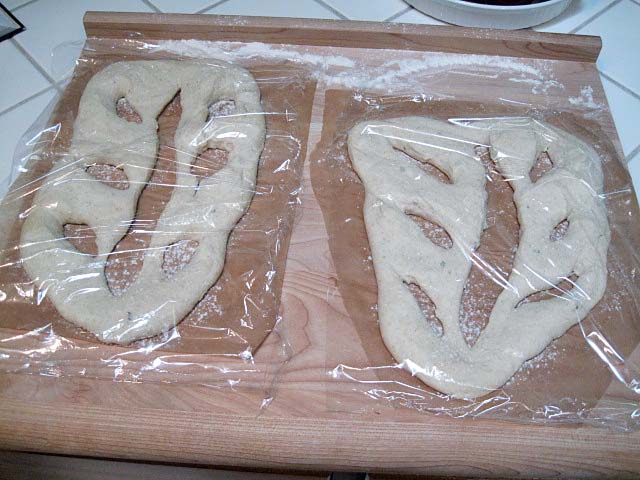 Fougasses proofing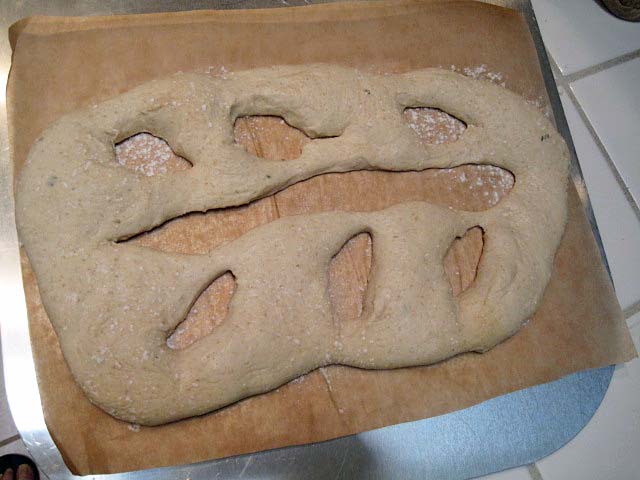 Proofed, ready to bake (450ºF for 20 minutes with steam)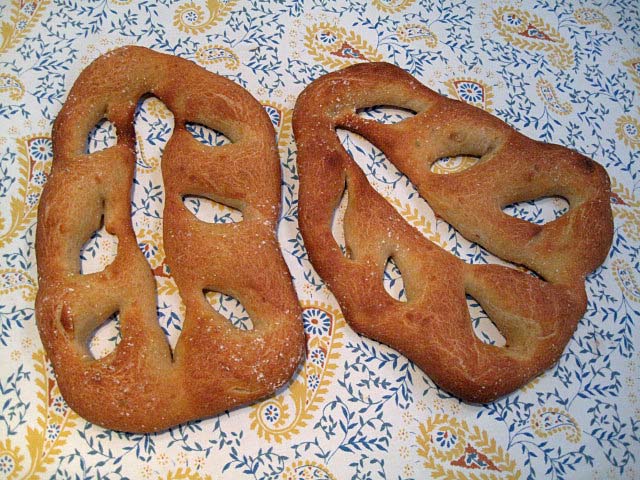 Fougasses
Fougasse is a crust-lovers' bread. It is very crunchy but with enough tender, highly aerated crumb to absorb dipping oil. I enjoyed dipping it in the salad dressing more than the oil and balsamic. I ate 3/4 of one myself at dinner, demonstrating my customary restraint.
David