Fougasse with refrigerated dough
I like to keep bread dough in the refrigerator at all times so I can make something on a whim. 'Something' often means a pizza, ciabatta, pita bread, or fougasse. My favorite is a wetter version of the boule dough recipe in the book, Artisan Bread in 5 Minutes a day. My recipe is 2 pounds flour (I use General Mills Harvest King), 28 fluid ounces water, 1.5 tablespoons instant yeast, and 1.5 tablespoons kosher salt. Mix together but don't bother kneading. Let rise two hours. Punch down and refrigerate overnight or for up to two weeks.  I keep it in a plastic shoe box. Once you have this dough you can tear off a piece and make a variety of delicious eats. (note: See my pizza recipe using this same dough http://www.thefreshloaf.com/node/18214/really-easy-thin-crust-pizza-my-way).
Today I made a simple Fougasse which is a staple on the French Riviera.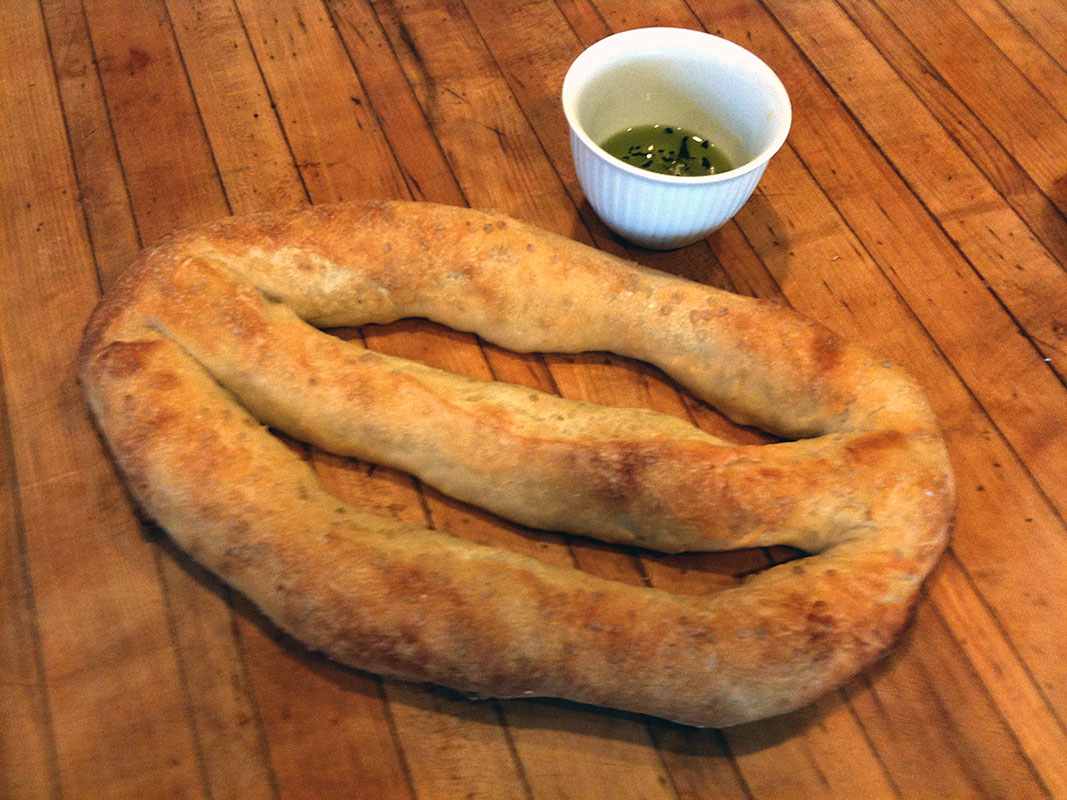 This is so easy and so delicious. Tear off a 1 to 1.5 pound piece of your refrigerated dough. Stretch and fold four or five times on a well floured surface. The dough will be sticky so use plenty of flour. Form a log about 13 inches long and press down so it is about 3 to 4 inches wide. I form the loaf on a Silpat Silicone non-stick mat on a cookie sheet but parchment paper works just as well. Cut slits with a pastry knife and spead the dough as shown in the photo so the three legs are wide apart and won't stick together when the dough rises. Cover with a clean damp dish towel and let the dough rise for one to two hours.
Preheat the oven to 450 degrees F. Brush the dough with water using a pastry brush. Sprinkle with coarse sea salt. Bake for 20 minutes or so until nicely browned.
Prepare a dip with 1/4 cup extra virgin olive oil and one crushed garlic clove. 
Serve hot out of the oven. Tear off a piece and dip in the garlicky olive oil. This is really delicious. The bread has a crispy crust with a chewy center and fairly large holes. The salt and the olive oil make a great marriage.