January 10, 2010 - 7:52pm
Bagels! bagels bagels bagels.
Hello All,
So I made the bagels from the Bread Bakers Apprentice. Towards the end of the recipe it tells you that if you like a chewier bagel than you should boil them for two minutes per side, otherwise, boil them for one minute per side. My boyfriend and I decided that we would boil one tray for one minute, and the other for two. In my opinion boiling them for one minute created a better bagel. Now there are a few things that I noticed. The two minute bagels became more crisp on the bottom than the one minute bagels. Also, the bagels were kind of deflated when I took them out of the fridge, and even more so after I boiled them. Does anyone have any insight into why this happened and how to prevent it?? Any help, as usual, would be greatly appreciated!
Here are the bagels. Overall I was too excited to be eating my own, homemade, fresh out of the oven bagels, to be concerned with much of anything. :)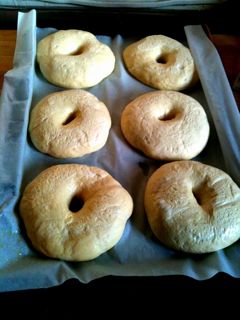 These are the bagels getting themselves prepped to be boiled.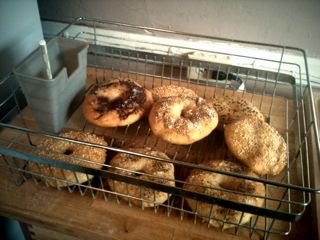 I don't actually own a cooling rack that fits more than two bagels, so I improvised with my dish drainer, ha worked out pretty well.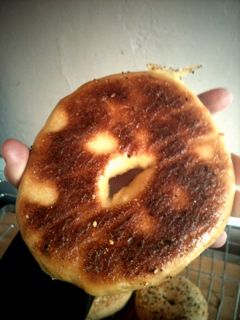 This was the bottom from the two minute bagel batch. The one minute bagel batch didn't achieve nearly the same coloring.
Thanks for reading!
Murphy