October 10, 2009 - 7:15am
comments and help on my sourdough?
after a brief (3 weeks maybe?) hiatus from sourdough ...I'm back at it again.....(fall seems to come upon me and then i am struck with baking apple dumplings, oatmeal spice whoopie pies, sticky buns, etc)   anyway, these are photos of my latest bake.....I just need some comments and suggestions here....here's the formula:(thanks to susan in SF!! i wish i could do it more justice)
50 grams starter (refreshed about 12 hours previous 10g:25g:45g as per Glezer--my house has been about 68 degrees)
204 g water
275 g wheat montana unbleached white flour
25 g www
6 g salt
2 T flax meal
Mixed by hand, rested 30 minutes-did a s&f, rose one hour,another s&f, rose another hour, s&f and let rise til doubled..shaped and put in linen lined container..Put plastic over all and refrig. overnite.  Sat at room temp for 2 hours then slashed with razor and baked 20 min. at 450 under cloche, then another 15 to finish it off...... Should i have gotten more rise out of this?  Or not?  with different slashing would i have gotten more expansion? Under or overproofed? sorry, i have a lot of questions and i've been really trying to play with temperatures to figure out what does/doesn't work....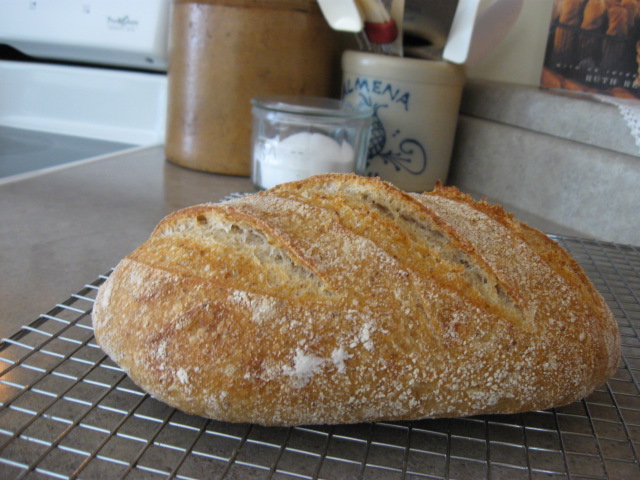 I think my slashing needs some help?? .i haven't cut into it yet as it's still cooling......