Po-Lo is a Chinese antiquity name for pineapple.  It went to Japan and then from there it went to Taiwan.  In 1931, a bakery in Tokyo obtained a patent for the cookie dough on top of a bread dough.  This cookie dough is made of flour, butter, sugar and milk.  Some experts in Japan say it had its origin from Austria ("viennoiserie," rings a bell?)  This is the bun that I had when I was a kid in Taiwan.  Today, you still find them in every bread shop and pastry shop over there.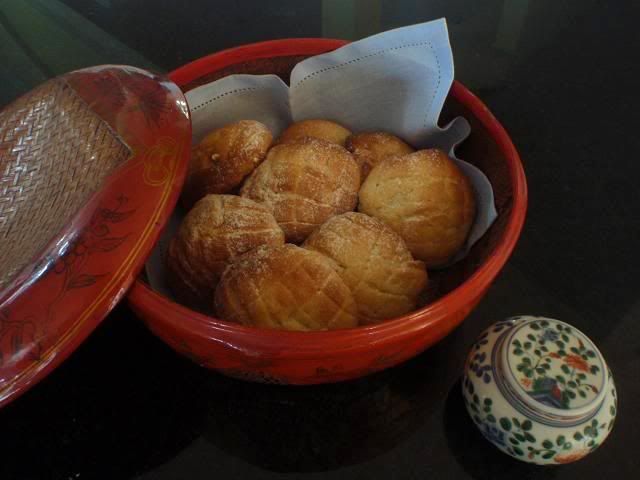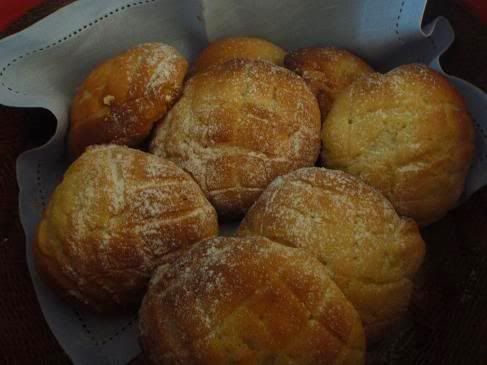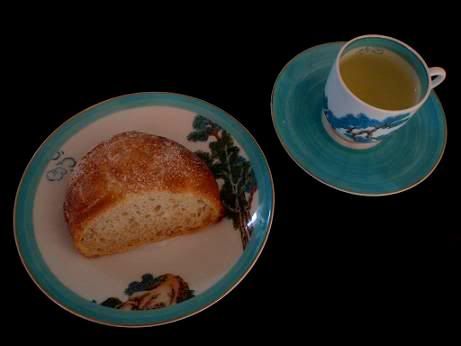 It's my son's soccer training this afternoon and it's our team's turn to bring afternoon tea for the boys.  Boys all have a sweet tooth somewhere, don't they.  I thought they would be happy with these soft buns with cookies on top - two treats in one bite.  But guess what?  I should have gone one extra mile.  I asked my boy how he liked these rolls on the way home.  He said, "Mum, some custard (in the center) would be GRAND."   
So, these are not GRAND enough.  How I adore - the economy of his words.  
My formula for the bread dough (for 12)  
350 g white bread flour
60 g almond milk powder (or just milk powder)
244 g soy milk (or just milk)
60 g water
3 g instant dry yeast (or 1 tsp)  
My ingredients are not conventional.  Normally there would be loads of butter and eggs for that rich flavor in this type of soft buns.  I simply cold retarded my dough overnight to try to improve its natural flavor.  
The dough would normally go through intensive kneading to pass windowpane test.  But I did the James MacGuire no-kneading and folding impression on this dough instead.  
My formula for the cookie dough (for 12)  
135 g white bread flour
50 g icing sugar
80 g butter
30 g egg (about 1/2 an egg)  
The trick with this cookie pastry, as with any tart shell, is time.  Once it's mixed, it needs to breath and relax in the refrigerator (overnight, preferably).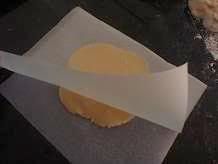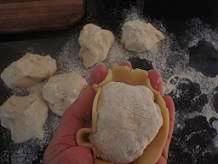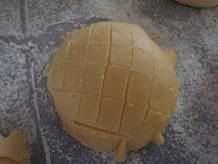 It's baked in 190C (375F) for 15 to 18 min  
A savoury variation with stir-fry noodles and vegitables (without the cookie dough on top) follows: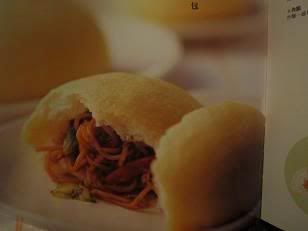 I once made it with leftover spaghetti mince, and it was a hit with my boy and his friends.  
Other sweet variations: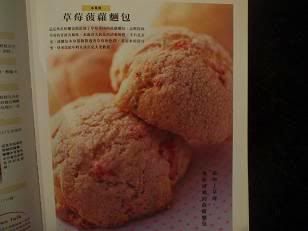 with strawberry cookie top                                                 with coffee flavoured cookie top  
My son is ordering a peanut cookie top for his sports day next weekend.    
Shiao-Ping  
p.s.  The bun has nothing to do with real pineapple save for the criss-cross indentation on some of them which resembles the pineapple skin.