James J MacGuire's Pain de Tradition
Many TFL users would recognise Mr James J. MacGuire's name as he is the technical editor for Prof. Raymond Calvel's "The Taste of Bread."   In a 10 page article entitled, "The Baguette" in the Winter 2006 issue of Mr Edward Behr's quarterly magazine "The Art of Eating," ie. No 73+74 issue, Mr  MacGuire's message about a good French traditional bread is very clear: slow & gentle mixing with autolyse, long fermentation, and high hydration.  
A 4-page formula follows The Baguette article in the same issue and is entitled "A Full-Flavored, Minimum-Kneading, All-Included Recipe for a Round Loaf with Many of the Advantages of the Baguette."    This is an old-style straight-dough formula which is superhydrated and can also be used for baguette.   My understanding from reading the article is that the method in the formula is like that applied in Prof. Calvel's younger days.  I made my bread using Mr MacGuire's formula in the magazine and I called it "James J MacGuire's Pain de Tradition" which may not be entirely accurate but it is how I understood it to be.   I would strongly encourage any one who is interested in Mr MacGuire's detailed formula to have a look at his well-written article in the Art of Eating magazine.  As a home baker, I can finally say that I have found a method that I can rely upon with consistent result, and I thank Mr MacGuire for making the formula available to home bakers as well as Mr Behr's for publishing such a quality magazine. 
As Mr MacGuire says in Prof. Calvel's "The Taste of Bread" that bakers have always been known for their desire to form friendships and for their willingness to share, to me no sharing is as useful as pointing to the right direction.   I first learnt about the MacGuire's article through the Q & A with Daniel T. DiMuzio when Floyd and Eric interviewed Mr DiMuzio back in May this year.  If Mr DiMuzioh had not mentioned about it, I would not have known about Mr MacGuire's recipe. 
The following is the bread that I made based on Mr MacGuire's formula: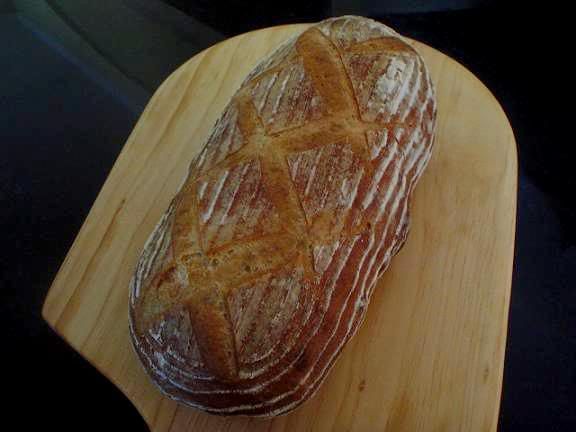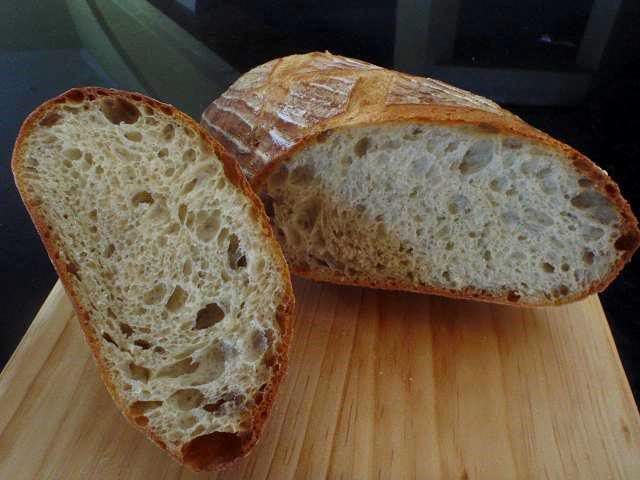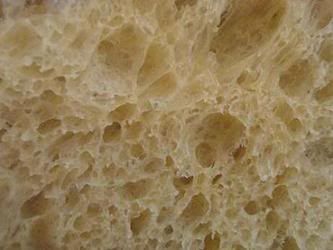 When it came out of the oven, it sang for the best part of 6 to 7 minutes.   There was a very strong nutty aroma in the crust.  The crumb was a beautiful creamy color; it's light and delicate to taste.
Shiao-Ping