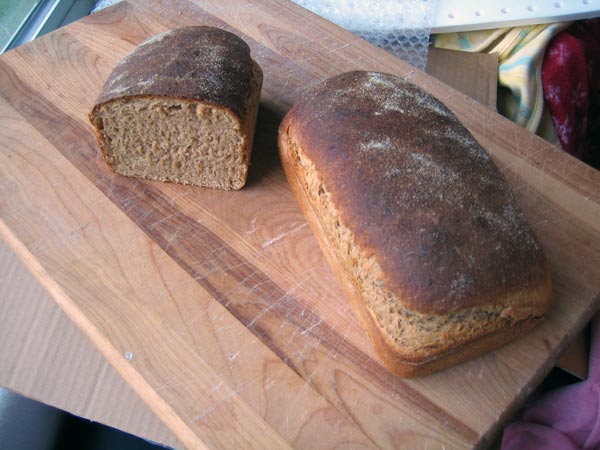 I was looking for a recipe for a whole wheat bread that would taste something like the rolls they used to serve at The Good Earth restaurant, a health food chain that used to exist in California. I couldn't find anything that looked right, so I made something up. It turned out excellent (though, if anyone can find a recipe for the original Good Earth rolls, let me know).
Honey Whole Wheat Bread
makes two loaves
1 lb whole wheat flour
12 oz hot water
8 ounces bread or all-purpose flour
1 5 oz can evaporated milk (or milk, or more water or soy if you are vegan)
1/3 cup honey
2 teaspoons salt
3 teaspoons instant yeast an additional
1/2-1 cup flour, as necessary, to achieve the desired consistency
Mix the hot water and whole wheat flour together in a bowl. Cover the bowl with plastic and set aside until around room temperature, at least 1 hour.
(My thought is that soaking the flour may help soften the bran and release some of the sugars in the wheat, though, truthfully, I don't know for sure if it does).
Add the milk, honey, salt, yeast, and bread flour to the original mixture and mix until well combined. Add additional flour and knead by hand or in a stand mixer until a tacky but not completely sticky dough is formed.
Place the ball of dough in a well-oiled bowl, cover with plastic wrap, and set aside to rise for 60 to 90 minutes.
Divide the dough in two and shape the loaves. Place the loaves in greased bread pans, cover the pans loosely with plastic (I put them in a plastic bag), and set aside to rise again for 90 minutes.
During the final 30 minutes of rising, preheat the oven to 425 degrees. Place the pans into the oven and immediately reduce the oven temperature to 375 degrees. Bake for approximately 45 to 55 minutes, rotating the pans once so that they brown evenly, until the internal temperature of the loaves is around 190 degrees and the bottom of the loaf sounds hollow when tapped.