December 2, 2008 - 9:56pm
Ficelles made with Anis Bouabsa's baguette formula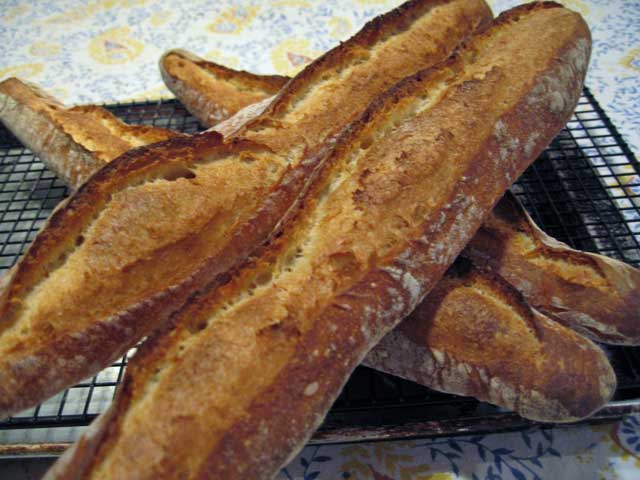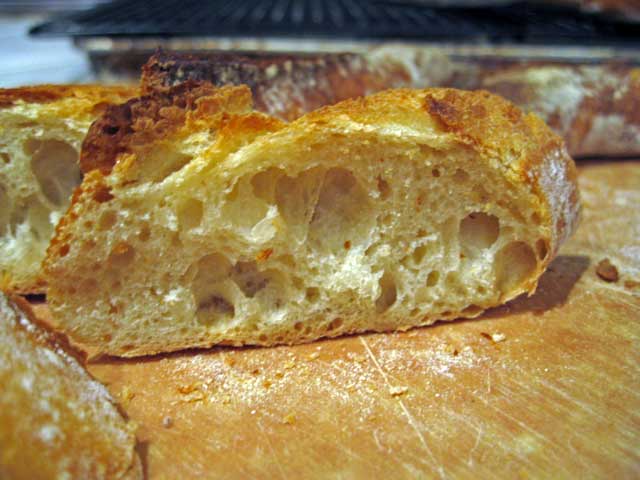 Flour500 gms Giusto's Baker's Choice
Water375 gms
Yeast1/4 tsp Instant
Salt10 gms
Mix flour and water and autolyse for 20 minutes.
Add yeast and mix by folding dough in the bowl.
Add salt and mix by folding dough in the bowl.
Mix dough by folding and stretching in the bowl for 20 strokes. Repeat this 3 more times at 20 minute intervals.
Refrigerate dough, covered tightly, for 21 hours.
Divide into 4 equal parts and preshape gently for baguettes.
Allow preshaped pieces to rest, covered with plastic, for 1 hour.
Shape into ficelles (short, thin baguettes).
Proof en couche or on parchment paper dusted with semolina for 45 minutes.
Pre-heat oven to 500F with baking stone in middle rack and a cast iron skillet and a metal loaf pan on the lowest rack. Preheat 45 minutes or longer before baking.
3-5 minutes before baking, place a handful of ice cubes in the loaf pan. Shut the oven door. Bring water to a boil.
Transfer the ficelles to a peel and load them onto the baking stone. Pour one cup of boiling water into the skillet. Close the oven door.
Turn the oven down to 480F.
After 10 minutes, remove the loaf pan and the skillet from the oven.
Continue baking for another 10-15 minutes until the loaves are nicely colored, the crust is hard all around and the bottom gives a hollow sound when tapped. Internal temperature should be at least 205F.
Cool on a rack completely before slicing.
Anis Bouabsa is a young Parisian boulanger who won the prize for the best baguettes in Paris in 2008. He gave Janedo, a French home baker extraordinaire and a member of TFL, his formula, and Jane shared it with us. He uses a technique of a long, cold fermentation which has been used, with variations, by a number of contemporary French bakers.In addition to producing wonderfully flavored bread, it also permits the home baker to make bread using two blocks of about 2-3 hours rather than requiring longer time blocks. For example, I mixed the dough yesterday evening after dinner. I took it out of the refrigerator at about 4:30 pm this afternoon, and we ate it with dinner at 7:30 pm.These ficelles sang loudly coming out of the oven. I cooled them for only 20-30 minutes. The crust was very crunchy, and the crumb had a sweetness that would make one think there was sugar in the dough. Very yummy.Variations on Bouabsa's formula, adding 100 gms of sourdough starter and substituting 10% rye or whole wheat flour for an equal amount of white flour, make a delicious pain de campagne, which has become a favorite bread of several of us.This is described in my blog entries under "Pain de Campagne" and "San Joaquin Sourdough."Enjoy!David