September 20, 2022 - 4:17pm
Hansjoakim's Favorite 70% Rye: Revisiting an old friend
Hansjoakim was a regular contributor to thefreshloaf for a long time, He was a physics graduate student at the time, as I recall, and an amazingly adventurous and talented chef and baker. In September, 2009 he posted what he called his "favorite 70% rye." I asked him for the formula and baked it myself a week later. It was easy to see why it was a favorite. It was an easy dough to handle for a 70% rye, and it was delicious to eat.
Over the intervening years, I have made this bread a few times. Every time I make it, I wonder why I have let so much time pass since the last bake. This week, I baked it again, and it is as wonderful as ever. I baked it yesterday. Let it rest wrapped in baker's linen overnight and had some with butter and smoked salmon for breakfast. Seriously yummy stuff!
Looking at my write-up from 2009, I found it could stand re-formatting  and editing. So, here it is ...
| | | |
| --- | --- | --- |
| Total Dough | Wt (g) | Baker's % |
| Medium rye flour | 441.5 | 70 |
| AP flour | 187 | 30 |
| Water | 472.5 | 75 |
| Salt | 11 | 1.8 |
| Total | 1112 | 176.8 |
55% of flour is pre-fermented.
| | | |
| --- | --- | --- |
| Rye sour final build | Wt (g) | Baker's % |
| Medium rye flour | 218 | 100 |
| Water | 218 | 100 |
| Ripe rye sour | 11 | 5 |
| Total | 447 | 205 |
Mix the rye sour final build the day before you plan to bake. Mix all the ingredients in a medium bowl and cover tightly. Ferment for 14-16 hours at room temperature. For example, if you plan on making the bread in the morning, you can mix the rye sour the night before.
| | |
| --- | --- |
| Final dough | Wt (g) |
| Medium rye flour | 218 |
| AP flour | 187 |
| Water | 249 |
| Salt | 11 |
| Rye sour (all of above) | 447 |
| Total | 1112 |
Procedure
Dissolve the rye sour in the water in a large bowl or the bowl of a stand mixer.
In a medium bowl, whisk together the flours and the salt.
Add the flours and salt to the large bowl and mix thoroughly.  If mixing in a stand mixer, mix with the paddle at Speed 1 for 3 minutes. Switch to the dough hook, and mix at Speed 2 for 3-5 minutes. You may need to scrape down the bowl once or twice during mixing. The dough should form a loose ball but remain a thick paste with little dough strength.
Transfer the dough to an oiled bowl and cover it tightly. Ferment for 1 hour at 78-80ºF. It won't expand much if at all.
Transfer the dough to a floured board and pre-shape into a round. Cover and let rest for 5-10 minutes.
Shape into a round and place in a floured banneton/brotform. Note: If you want to dock the loaf (make lots of holes in the top to release steam), put it in the basket seam side up. If you want the folds to open chaotically, place it in the basket seam side down.
Cover the loaf with a towel or place the banneton/brotform in a food-safe plastic bag and seal it.
Proof for about 2 hours. (Mine usually proofs in about 1 hour, 45 minutes). The loaf will expand by 50% or so.
One hour before baking, pre-heat the oven to 480ºF with a baking stone and steaming apparatus of choice in place.
Dust the bottom of the loaf with corn meal or semolina. Transfer it to a peel. Steam the oven and transfer the loaf to the baking stone. Turn the oven down to 460ºF.
Bake at 460ºF with steam for 15 minutes. Then, remove the steaming apparatus and turn the oven down to 440ºF.
Bake at 440ºF for 20 minutes, then turn the oven down to 400ºF. Bake for another 15-20 minutes. Note: If the crust is getting too dark, you can turn the oven down further for the last 5-10 minutes.
The loaf is fully baked when the crust is firm, the bottom of the loaf sounds hollow when thumped and the internal temperature of the loaf is at least 205ºF.
When the loaf is fully baked, remove it to a cooling rack. Let it cool completely (2-3 hours), then wrap it well in baker's linen or a tea towel, and let it rest for 18-24 hours before slicing.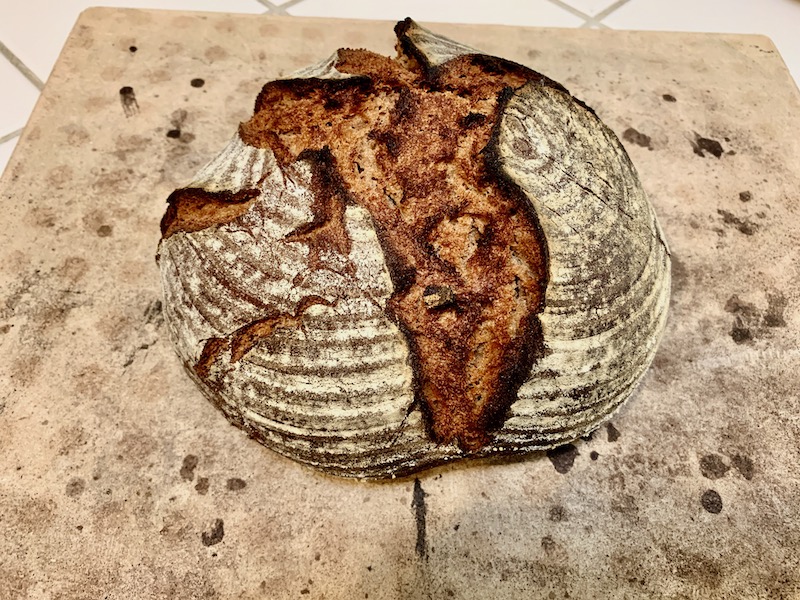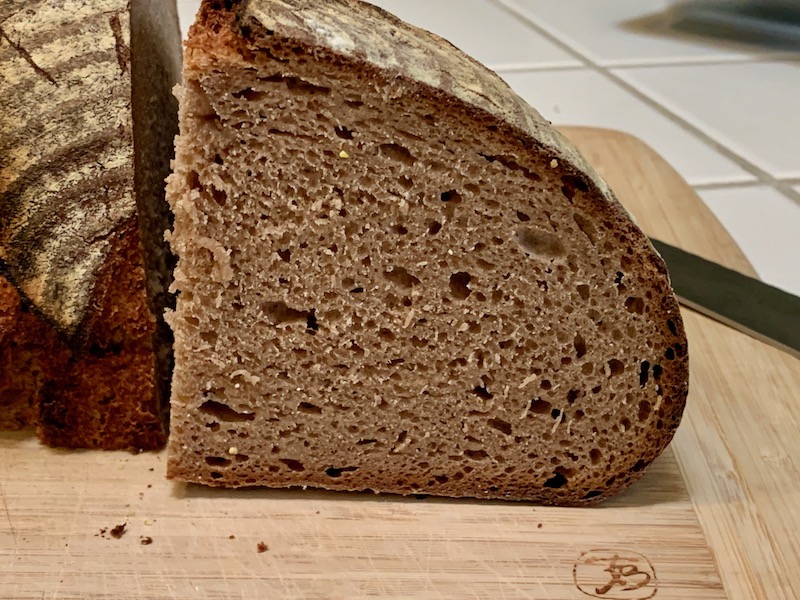 Happy baking!
David