September 18, 2022 - 7:17am
Getting a better rise on whole wheat sourdough (other advice welcome!)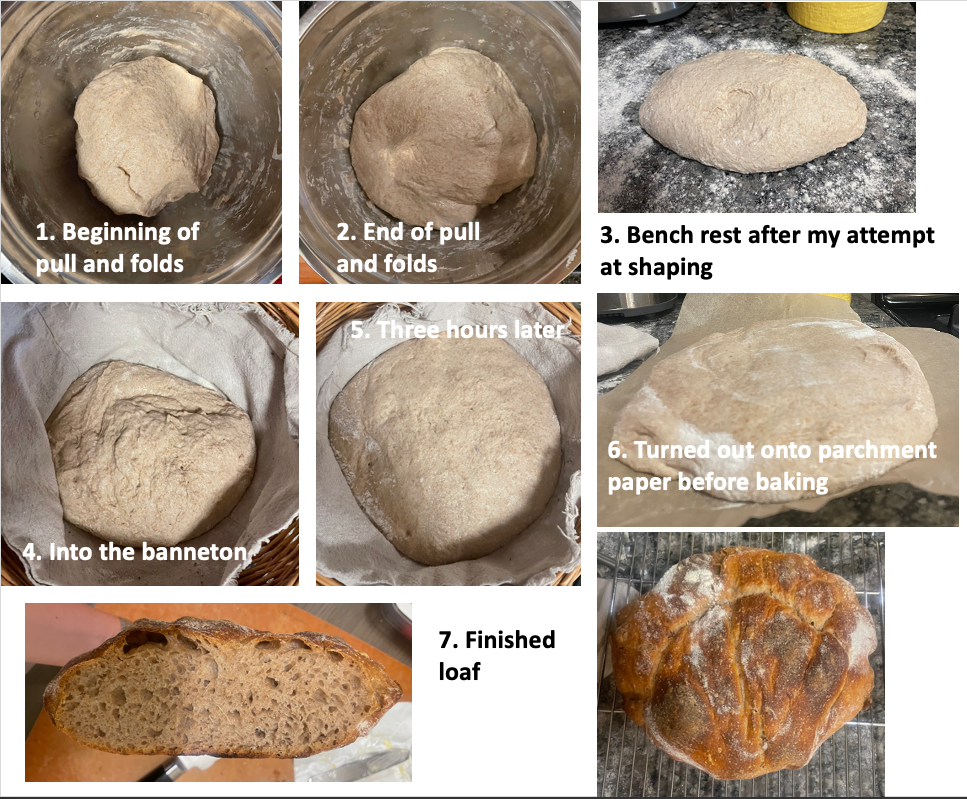 I started making 70% whole wheat sourdough last year and have ended up with a loaf that tastes pretty good, but doesn't look great or get a good rise. I'm not sure what I'm doing wrong (and I'm mostly self-taught) so I thought I'd just post my whole process here (along with photos) and ask for feedback! Thanks in advance for any advice you have.
This is based on the New York Times version of Tartine sourdough. I use a starter that my uncle's family has had for generations—it lives in the fridge but I feed it weekly with a mix of whole wheat and bread flour, and feed it at least once before starting on this recipe.
1. The night before baking, combine 1 teaspoon active starter, 66 grams warm water, and 66 grams bread/WW flour mix
2. The next day (~12 hours later), combine 100g leaven with 350g warm water and stir to disperse
3. Add 500g flour (I use 150g white bread flour, 75g rye flour, and then about 137g each of whole hard wheat flour and bolted hard wheat flour; I use all flours from a local mill, Castle Valley Mill in Pennsylvania, except the white bread flour is King Arthur), mix with hands until dry flour is gone, and let rest 30min covered
4. Add 10g salt and 25g warm water, mix in with hands, and cover. At this stage I move the dough inside a turned-off oven which is probably around 80F. I then pull and fold every 30 minutes for the next 2 1/2 hours (3 hours total, 5 pull and folds I think?) and by the end the dough has noticeably expanded. I use wet hands to handle the dough so a little more water gets incorporated each time
5. Transfer to a floured surface, stretch dough as thin as possible, fold in three like a pamphlet, and roll into a tight ball. I then try to roll and shape the ball to build surface tension following various videos I've seen, but I think I'm pretty bad at this (and it's hard to do without the dough sticking to me). Let rest 30 min (at the end of this the dough has usually flattened considerably)
6. Line a banneton with a cloth and flour generously. Transfer loaf seam-side-up to the banneton, cover with a towel, and let rest in the turned-off oven for 3 hours
7. When close to baking, move the loaf somewhere safe and heat a Dutch oven for at least 30min at 500F
8. Turn the loaf out onto a sheet of parchment paper (I don't love doing this because it gives it weird wrinkles while baking, but it's easier for me than turning it into the super hot baker) and cut it with a razor blade. At this stage the loaf is usually very billowy and airy, but also flattens like a pancake when turned out of the banneton 
9. Transfer to Dutch oven; drop oven temperature to 465; bake for 20 min covered and then 20 min uncovered.
You can see the results of all this in the photo; bread that tastes great, but doesn't look remotely close to what you'd get in a bakery! Any tips for getting a better crust, rise, ear, etc.?