September 7, 2022 - 5:00am
Aiming for taller, rounder loaves
Hi there,
I've been baking sourdough for a couple of years and probably bake two or three times a week (focaccia, babka and crusty sourdough loaves). I'm mostly satisfied with my loaves - I tend to get a nice crisp crust, and a decent crumb, but I'd quite like the interior to be a bit lighter/more tender. I'd also like more height/roundness in my loaves, but I'm not sure what to change in my method to achieve this - in well over 100 loaves with varying recipes, I've rarely had a loaf any taller or with better upward oven spring than the one pictured below. The slices tend to be long, not tall.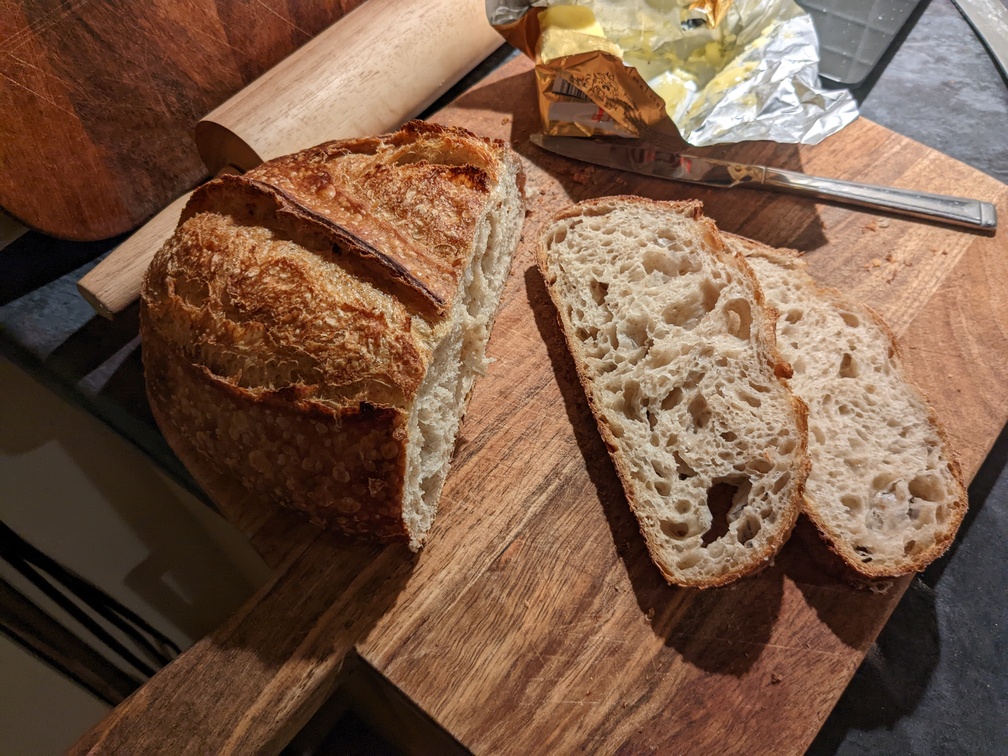 My typical recipe usually looks something like this:
-> 10-30% freshly milled grain (typically some combination of rye, spelt and wheat, no sifting)
-> High protein (~14%) bread flour
-> Between 70-80% hydration
-> 2% salt
-> 20% inoculation
-> 30-1hr autolyse
-> Mix in starter, 30 minute rest (all fermentation is @26-28deg C)
-> Mix in salt, 30 minute rest
-> 2 coil folds, spaced 30 minutes apart
-> 3 coil folds spaced 1 hour apart
-> Typically another hour wait until the dough looks risen a bit jiggly (but not a crazy amount)
-> Gentle coil fold onto counter and round with bench scraper, 20 minute rest
-> final shape (typically as batard) and into banneton
-> at this point I either rest the dough in the banneton for 30 minutes or put it straight into the fridge overnight (<5degC)
I spray the loaf, score with a lame (usually a double slash) and bake in a pre-heated iron cloche (similar to challenger but not as heavy) at 230 (have tried up to 250) for 20 minutes with lid on and 30 minutes with lid off. My oven is a fan oven.
I feel like my bread is decent but I know it can be better (I live near an excellent bakery which uses fresh milled grain and the loaves are tall and round). I'm not sure what I need to be doing differently. I have wondered if :
 - I am building too much strength into my dough (not enough extensibility)?
 - I'm not quite nailing the fermentation - perhaps I can be pushing it a bit further?
 - My shaping is not quite up to par? Although it typically sits pretty strong after I've shaped it and when it comes out of the banneton
 - The bread flour/freshly milled flour is adding some limitations/I need to adjust technique for this?
 - Something to do with my oven/cloche set up is limiting oven spring?
I wonder if anybody has any thoughts on my technique/recipe? Any help is much appreciated :)
Thank you,
James