February 26, 2022 - 7:57pm
"Rustikale Mischbrot" - closed crumb
It doesn't matter whether it's a highly hydrated wheat levain, or this, which is a rye-spelt-wheat mixed bread from Ploetzblog.  I cannot for the life of me get an open crumb and I don't know why.  Something somewhere in my process is killing it, I think.  I don't know if I have gorilla hands during shaping, or where it is - and massive and variegated alveoli aren't really the end goal, but the ability to do them as desired would be a skill I'd like to recapture.  I say "recapture" because it's weird but I used to be able to do it, many years ago, when I first came on here.  
Anyway, here's the formula:
sourdough (sauerteig)
400 g rye flour 1150
400 g water (50°C)
80 g starter
8 grams of salt
pre-dough (poolish)
100 g wholemeal spelled flour
50 g water (cold)
1 g fresh yeast (I use .33 diy)
main dough
whole sourdough
entire pre-dough
460 g wheat flour 1050
200 g water (35°C)
13 grams of salt
Mix the sourdough ingredients and leave to rise at room temperature for 12-16 hours.
Mix the pre-dough ingredients into a very firm dough and leave to mature at room temperature for 12-16 hours.
Knead all ingredients for 5 minutes on the lowest setting and 6-8 minutes on the second setting to form a smooth, sticky dough (dough temperature approx. 26-27°C).
Leave the dough to rest at room temperature (approx. 20°C) for 60-70 minutes. Stretch and fold after 30 minutes.
Round the dough tightly and place in a floured proofing basket with the open end facing down.
Leave to mature for 75 minutes at room temperature.
Bake with seam side up at 270°C (250°C) falling to 210°C for 75-80 minutes with steam.
Preparation time on baking day: approx. 4 hours
Total preparation time: approx. 16-20 hours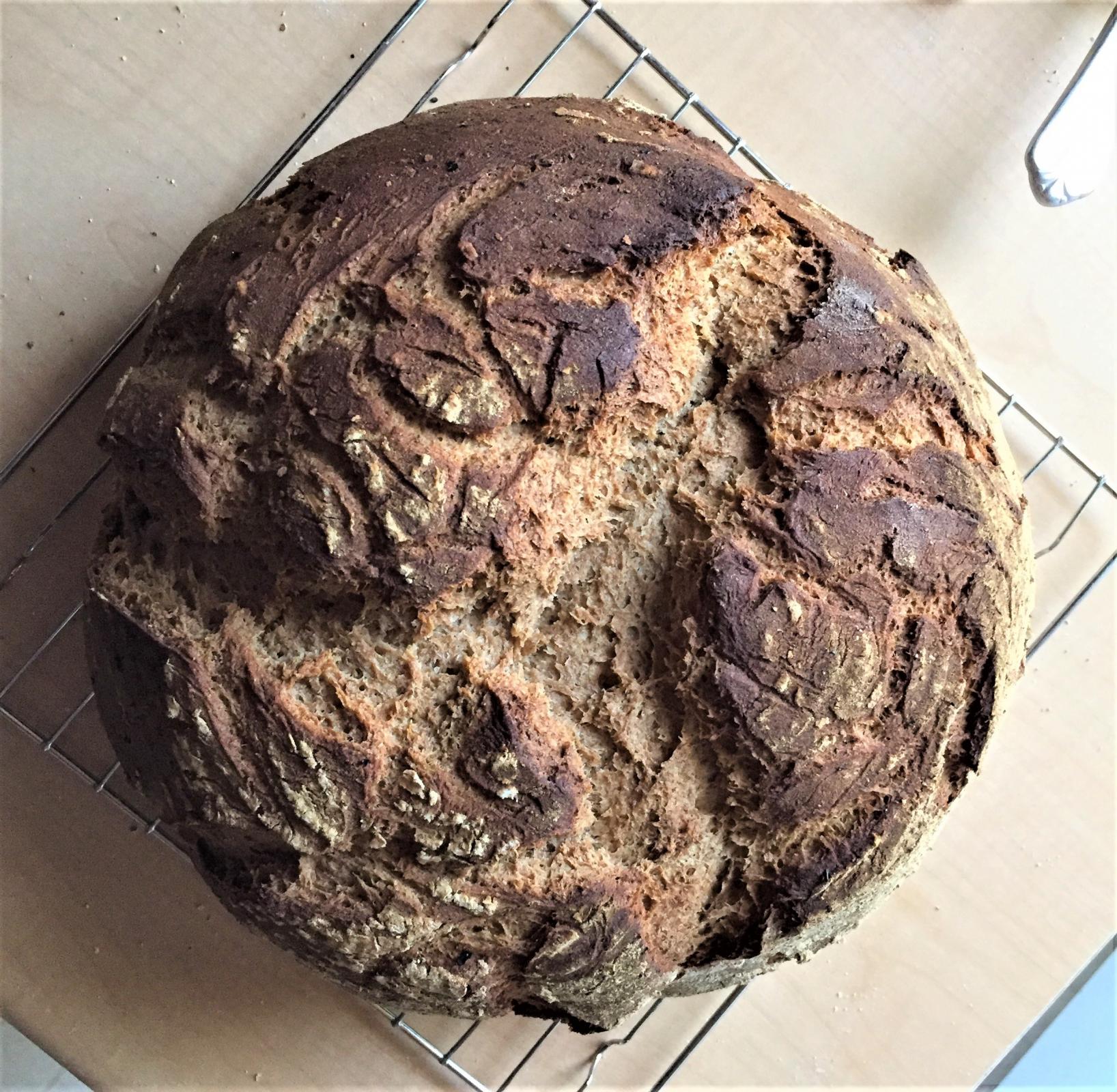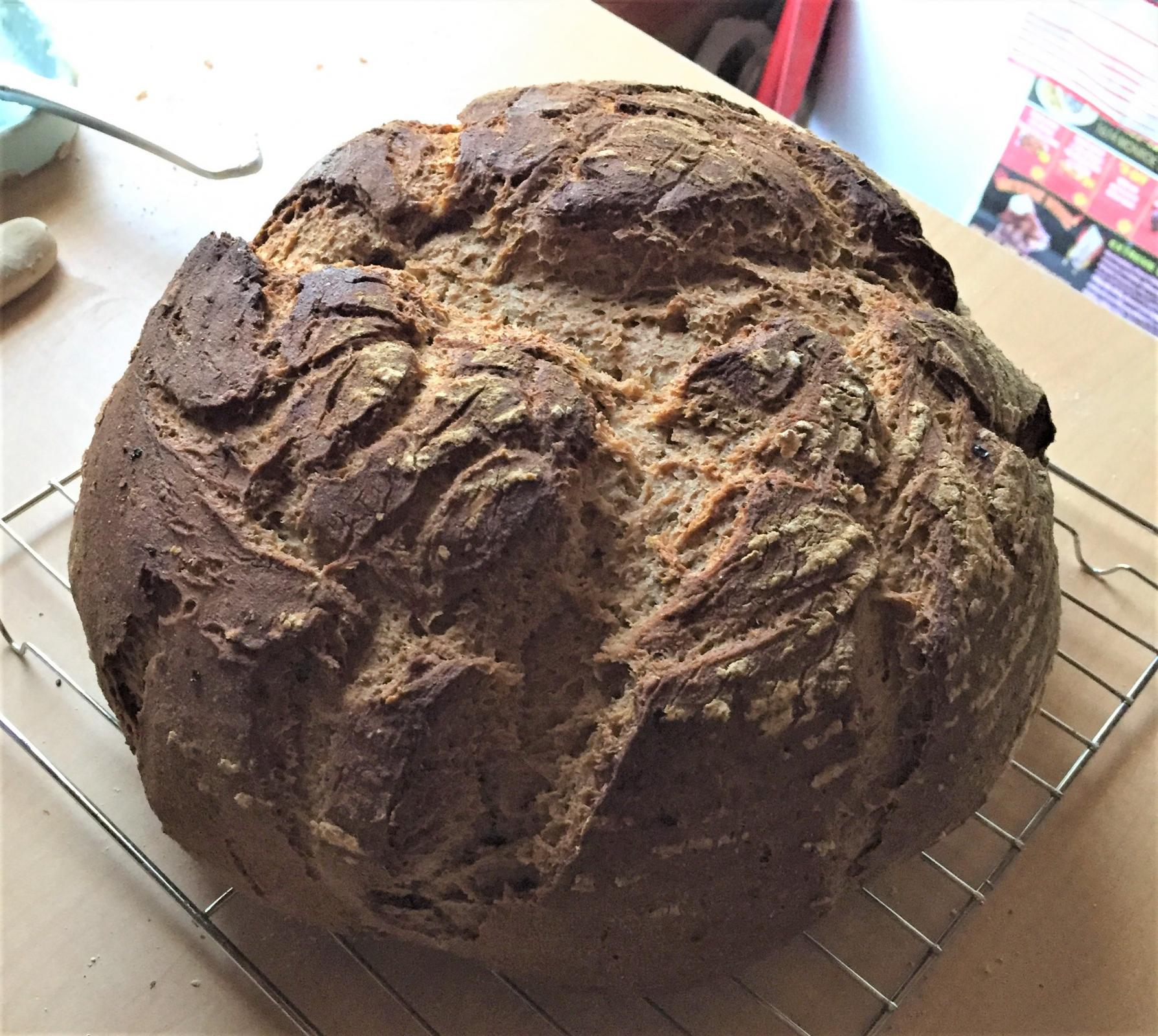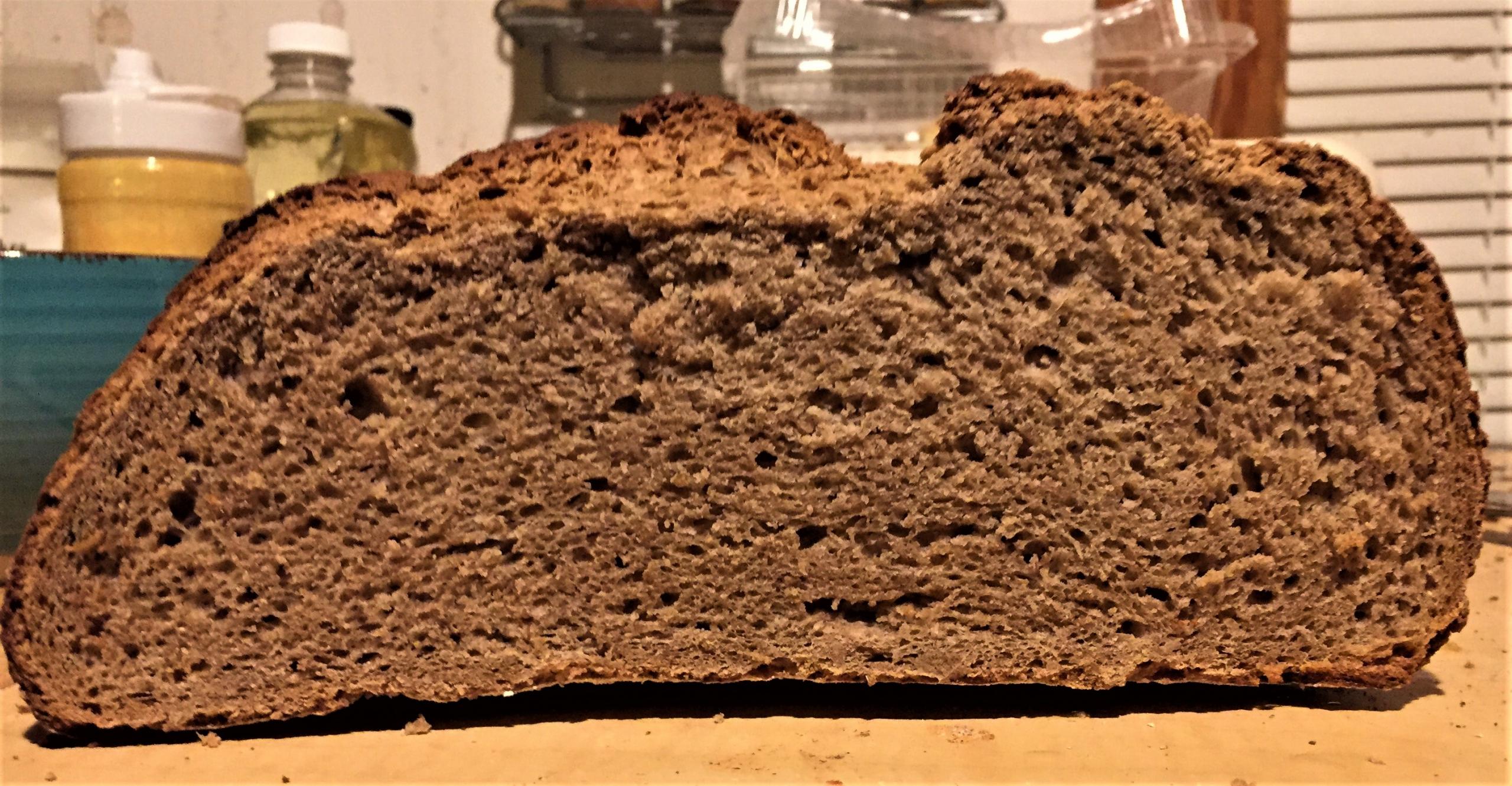 By way of reference, here's his.  First, I wonder why mine is so much darker?  I used Central Milling's T85 for the T1050 wheat of the recipe, my own 85% yield bolted spelt, and KA medium rye.  Seems much, much darker to me.