January 28, 2022 - 9:50pm
Inconsistent results with levain boules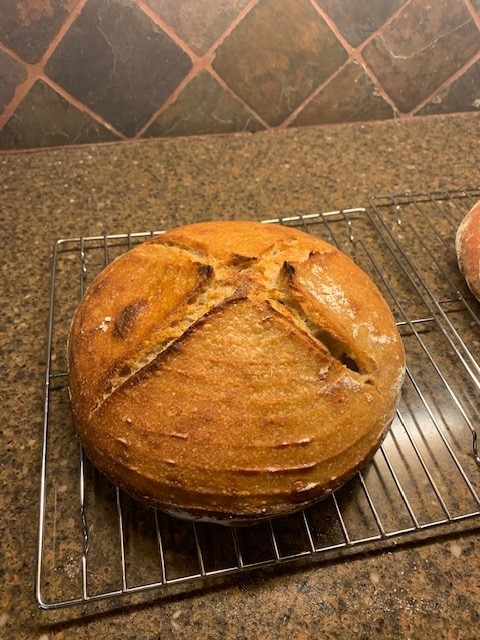 This novice would appreciate advice on some challenges I'm having baking with levain. Yesterday, I tried a version of Ken Forkish's FWSY Overnight Country Brown recipe, which I adapted due to concerns about overfermentation expressed in other posts. Essentially, I used his recipe but shortened the bulk fermentation and tried an overnight proof in the fridge. The results were better than my first try (which produced flat but tasty loaves), but only one of the loaves rose much in the oven, and the crumb with very large holes is a bit odd. 
The formula is 70% white flour (KA AP), 30% whole wheat flour (KA), 78% water, 2.2% salt, and 12% of the total flour is levain (that I prepared using Forkish's methods).
1. I began with autolyse for 30 min followed by mixing the dough with pincher method. Dough temp at this point was 75 degrees (a bit cool despite using warmer water than the recipe calls for). 
2. I did four stretch and folds and then bulk fermented by putting the tub in the oven on the proof setting. Oven temp in this setting is about 75-80 degrees. 
3. Following TFL guidance, I watched the dough carefully (including a 30 g aliquot in a small container), with the goal of stopping BF when the dough was approach twice its volume. The dough seemed to rise to about 125% after 2 hours but then seemed to stop. After close to 8 hours after mixing, the dough remained only perhaps 125% of its initial volume, and I decided to stop, as some posts had tables suggesting a fermentation a bit shorter than this for this formula. 
4. I divided and shaped the dough, put in proofing baskets, and put into the fridge for 9-10 hours.
5. After proofing in the fridge, the dough had shrunk down and was a bit difficult to extract from the baskets. But I managed to pry the loaves out intact, score them, and baked them in two dutch ovens at 475.
As shown above, one loaf seemed to open up and rise, while the other didn't have much spring. Taste is delicious, but the crumb is somewhat odd with many large holes but areas with less aeration.
Am I completely off track with this approach? Could there something wrong with my levain, such that the dough doesn't rise during BF? Does the odd appearance of the crumb point to a specific technical problem my approach? Or is my "good" loaf what I should expect for levain boule with 30% whole wheat?