November 21, 2021 - 7:46am
100% WW Sandwich, Jewish Sour Rye Deli, and Overnight Sourdough with Kamut
Had the opportunity this weekend to make a couple of loaves that I've been wanting to try.  First time breads are SO MUCH easier when you have a detailed method to follow, and I certainly have to tip my hat to Gavin for his explanation of Debra Wink's 100% WW loaf and David for the detailed method of his Jewish Sour Rye.
100% WW Sandwich Loaf
I followed the recipe exactly as described by Gavin.  Based on Gavin's suggestion, I increased the flour and went up to 425g total flour for a single loaf.  For my whole wheat, I used mostly KAF, which has the ~14% protein content called for by Debra Wink, but I also added some flour from a local mill.  The method was very easy to follow and went as described.  This was my first time using Roasted Black Walnut oil, and it added a very nice aroma and flavor to the finished loaf.  I think the only thing I would try next time would be holding back 25-50g of the flour and mix it with the oil.  I wonder if it would make getting the oil into the dough easier. 
 At the end of the bake, the internal temperature was 190 deg F, and I think I should have gone for another 5 minutes.  The crumb is just a little bit on the moist side but is not gummy at all.  It is tender with no bitterness.  A good tasting loaf!
Whole Wheat flour – 425g (100%)
1% or Skim milk – 170g (40%)
1 large egg – approx. 50g (~12%)
Water – 99g (~23%: Weigh milk and egg.  Add water until combined weight is 319g (75%))
Salt – 9.4g (2.2%)
ADY – 5.8g (1.4%)
Honey – 51g (12%)
Roasted Black Walnut oil – 25.5g (6%)
 Mix: Combine all ingredients except the oil; combine until flour wetted; cover a refrigerate for fermentolyse to keep dough cool
Fermentolyse: 20 minutes
3 sets bowl kneading: Develop good gluten; 5-10 min rests between sets
2 sets bowl kneading: Slowly add oil; continue kneading until oil worked into the dough; place dough in lightly oiled container and refrigerate and let dough double overnight; take out after 12 hours and bench rise for up to 2 hours if needed (<73 deg F).
Stretch and Fold: Degas dough and fold; place back in bowl and let double again in cool room (<73 deg F)
Pre-shape: Degas dough and shape into a boule
Bench rest: 20-30 minutes
Final Shape: Blunt cylinders; place in lightly oiled loaf pan and final proof at 72 deg F 
Bake: Pre-heat oven to 375 deg F; bake 25-30 minutes; remove loaf from pan and place on center rack to set crust; target internal temperature 195-200 deg F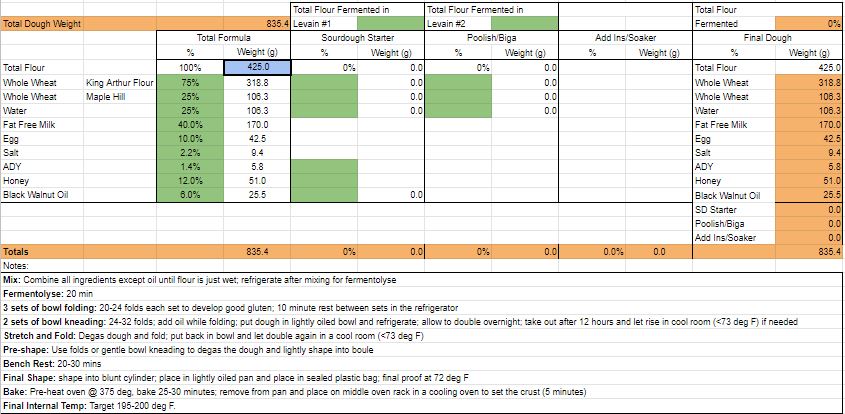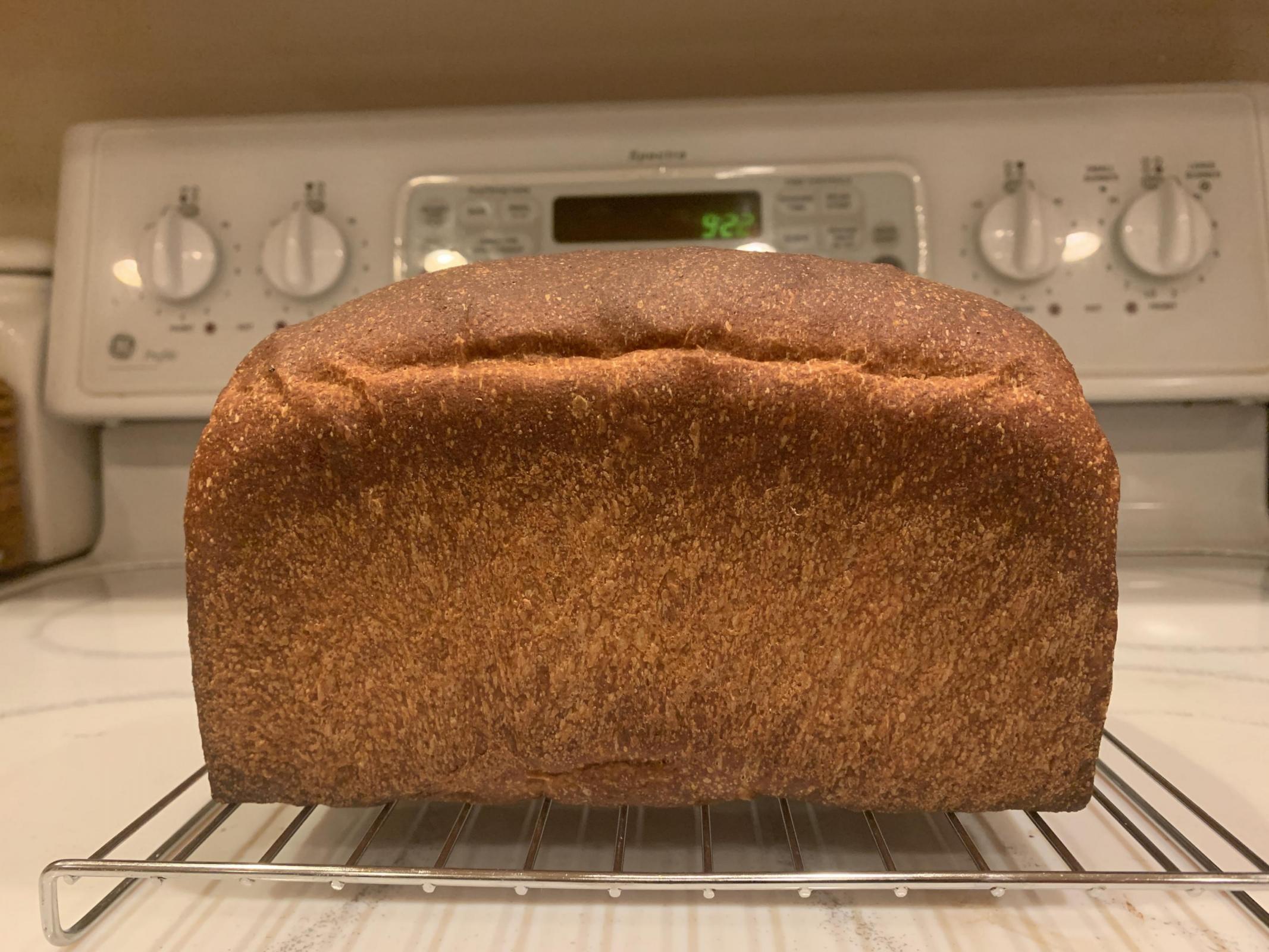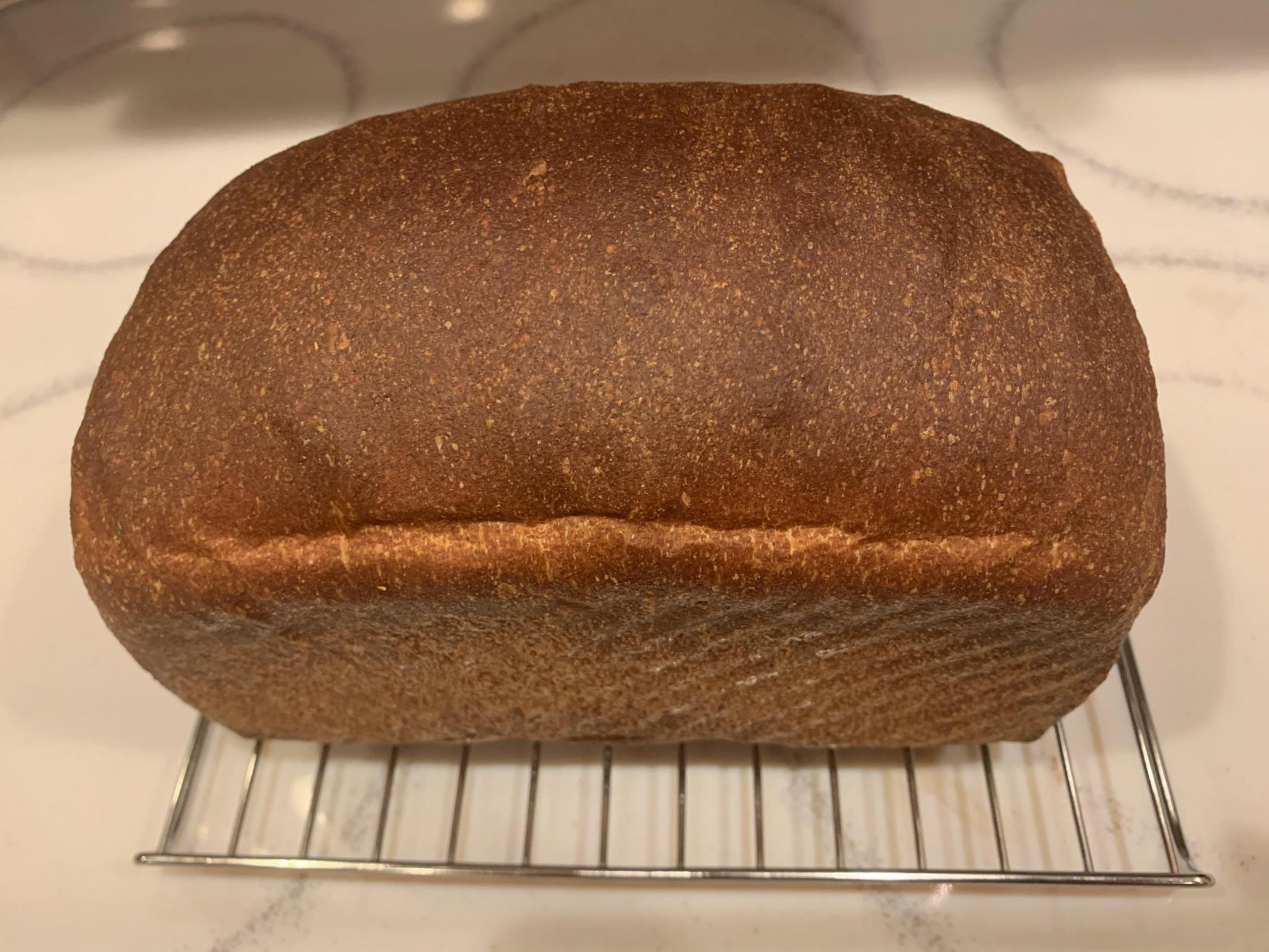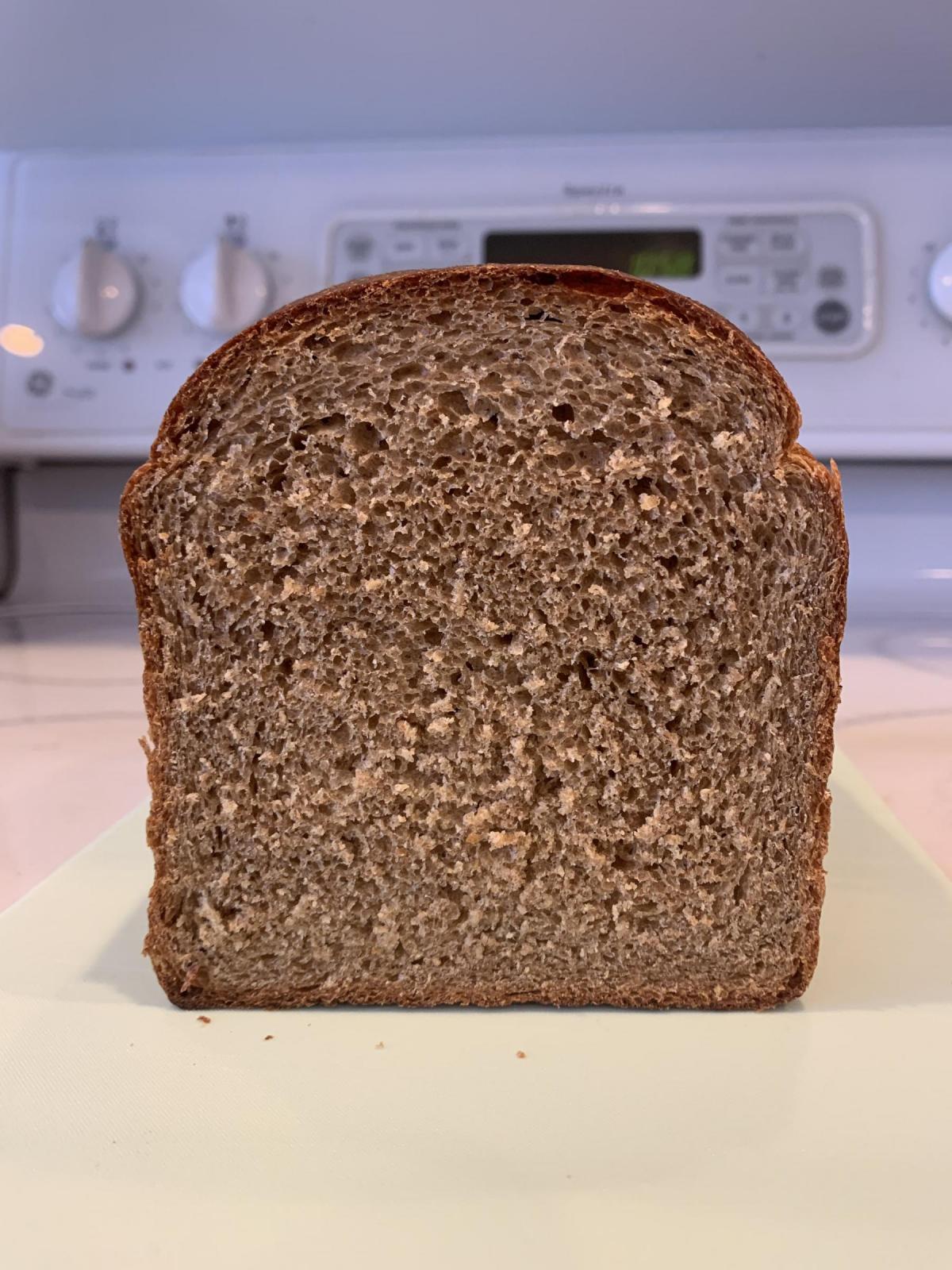 Jewish Sour Rye
Likewise, I followed David's method exactly with one exception.  I used multiple sets of bowl kneading with short rests instead of bench kneading on a floured surface.  I think it went quite well and I was surprised at how easy the dough was to handle.  I was expecting a sticky mess with that much rye, but it wasn't bad at all using the food prep gloves when kneading.  I used a 3-part build on the Rye Sour starting with my white starter and KAF medium rye.  I added some fresh milled whole rye on the final build.  It progressed well, and the final build was done in about 4 hours.  The Rye Sour was refrigerated overnight.
I'm happy with how this turned out for the first attempt.  I used bannetons for the final rise, and I wish I would have tried a free-standing loaf.  The doughs were close to overflowing the bannetons when I baked them, but I think they could have used a little more time, which would hopefully open the crumb a bit more.  I was surprised that there wasn't any noticeable caraway aroma coming from the cooked loaf.  Just a very nice rye.  However, it definitely comes through in the sliced loaf, and can't wait to have a grilled turkey rueben with this bread!
David has a very detailed description of the method in his blog post, so I won't duplicate it here.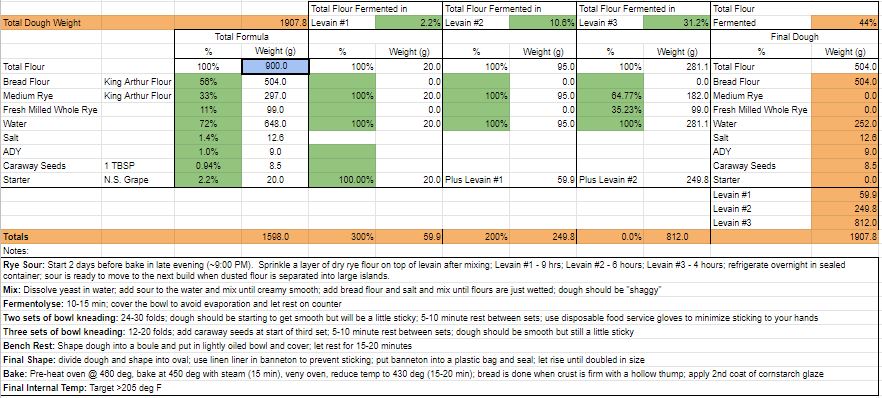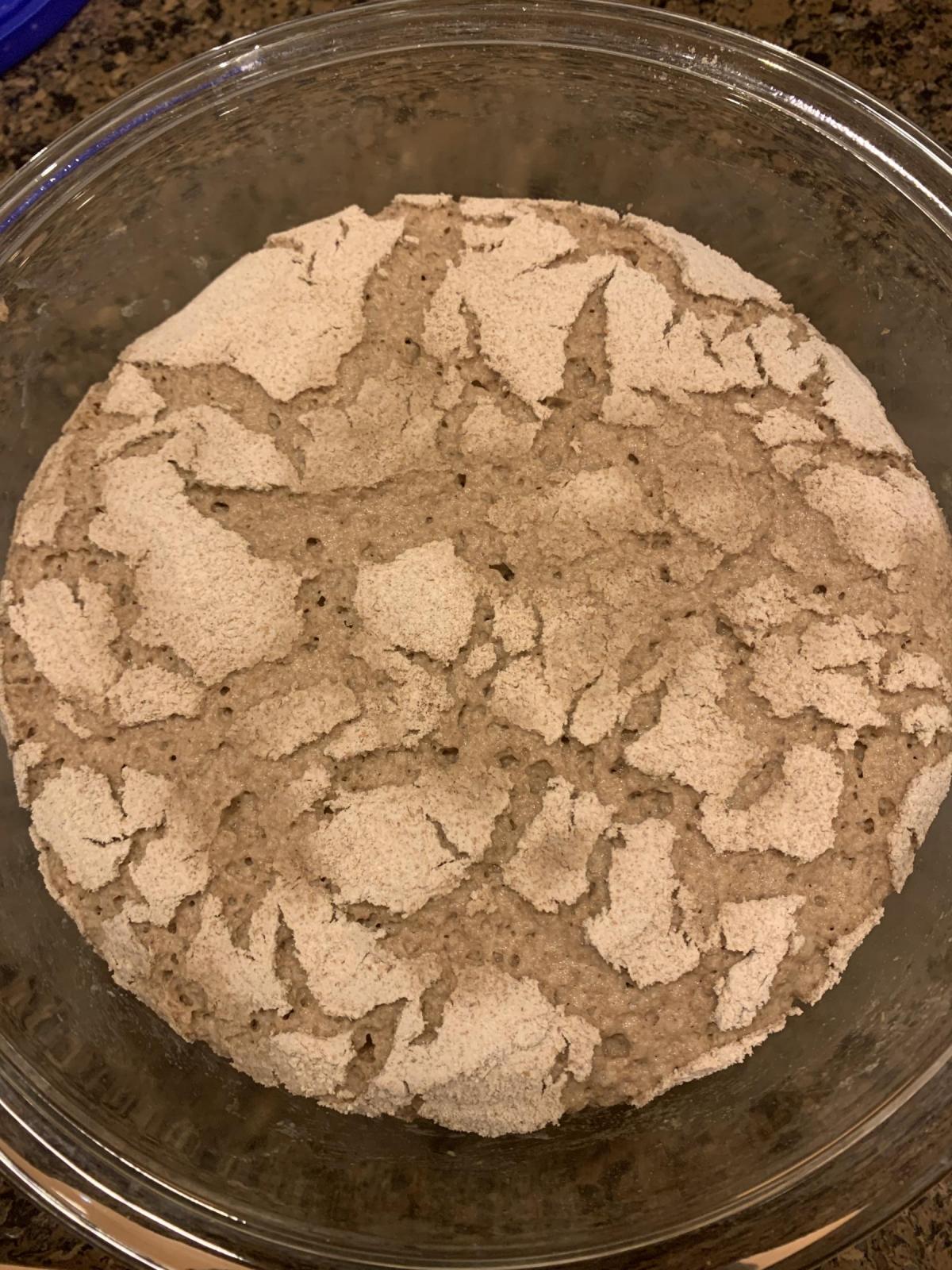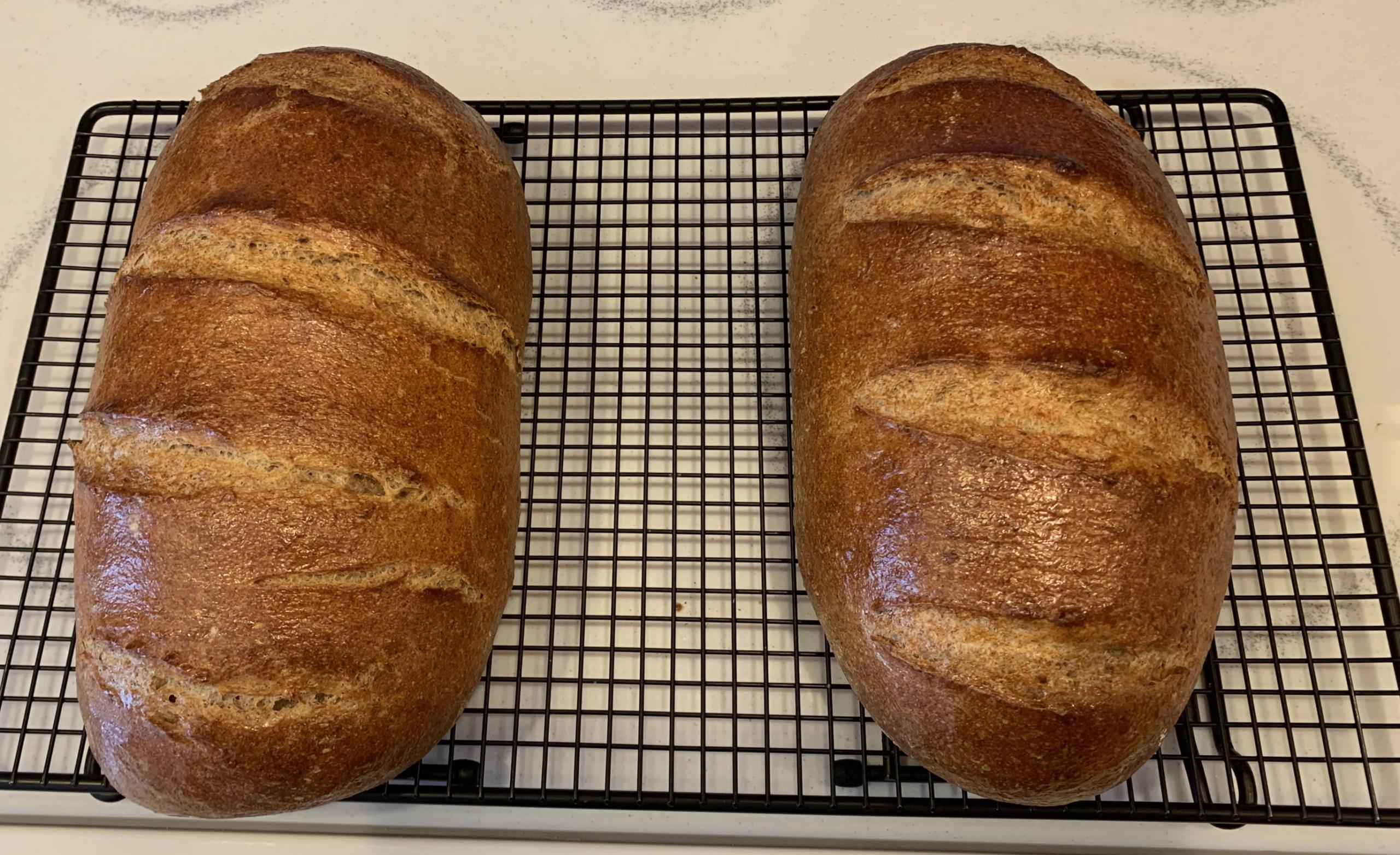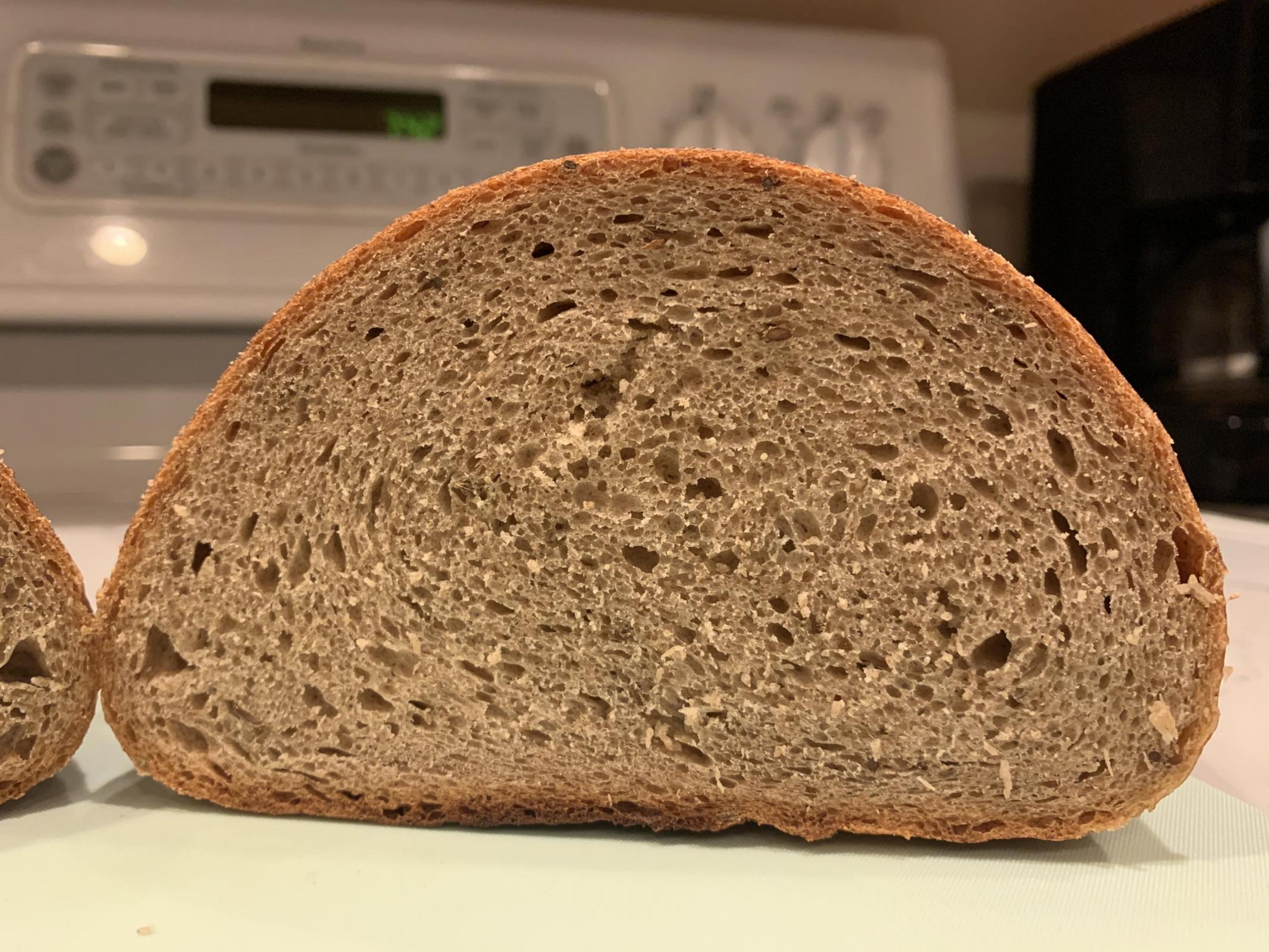 Overnight Sourdough with Kamut
This is one of my favorite methods.  It's slow and forgiving, and it works well on a day when you have distractions.  I usually do the mix at lunch time and the final proof in the late evening.  I follow the same formula and substitute different flours for the whole grain.  This time, I used fresh milled Kamut.  
The doughs came out of the bannetons a little different.  One was already kind of short and fat, so I scored it with four horizontal cuts, which helps it elongate during the bake.  The other I scored so it would open wider.  I created a time lapse video of this bake.  There isn't as much noticeable spring in the elongated loaf as it started a little taller and it tended to expand longer.  Both of these loaves are spoken for and were just baked this morning, so no crumb shot.
Makes two loaves...
AP flour - 405g (45%)
Bread flour - 315g (35%)
Whole grain flour - 135g (15%)
Barley flour - 45g (5%)
Raisin Yeast Water - 135g (15%)
Water - 495g (55%)
Salt - 16.2g (1.8%)
Seed - 36g (4%)
Mix: Hydrate Kamut flour 1-2 hours before mix; combine all ingredients including salt and mix until flours are just wetted.
Fermentolyse: 20-30 minutes
1 set of bowl kneading: 24-30 folds to develop a medium gluten
Bowl Stretch & Fold: Every 60-90 minutes until dough starts to get "puffy"; usually takes me about 8-9 hours
Pre-shape: Degas dough and form a boule
Bench rest: 15-20 minutes
Final Shape: ovals and place banneton in sealed plastic bag, final proof at 76 deg F for 45-90 minutes
Cold Retard: refrigerate dough overnight
Bake: Pre-heat oven to 460 deg F; 440 deg F with steam (18 min); vent oven; 430 deg F (10 minutes)
Internal temp: Target 205-208 deg F