October 11, 2021 - 7:11pm
Seeded Loaf Success...Finally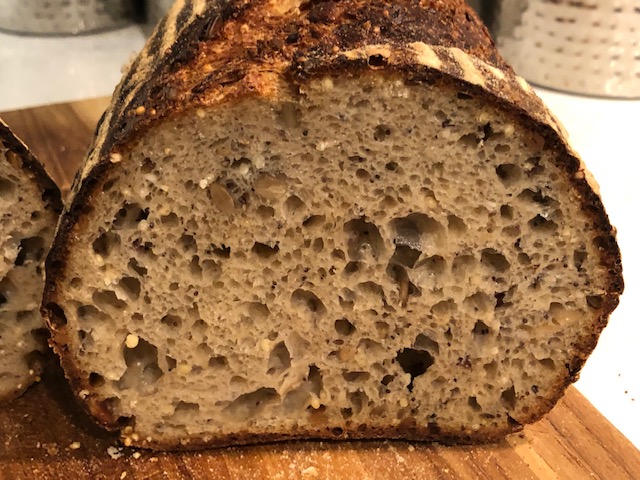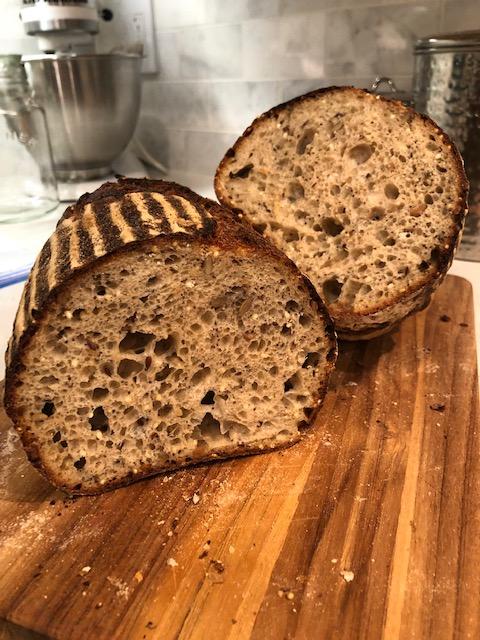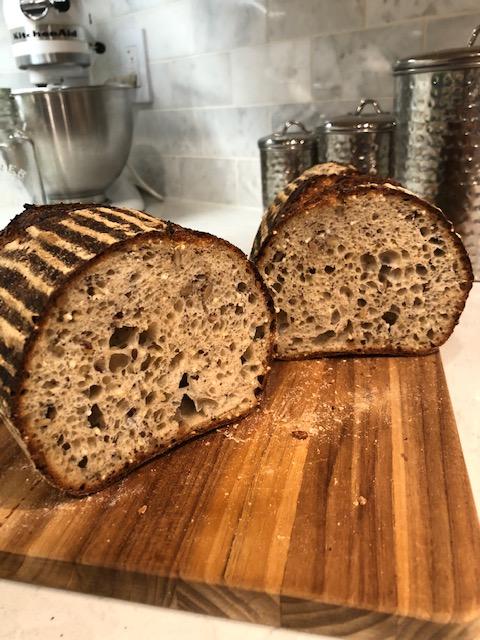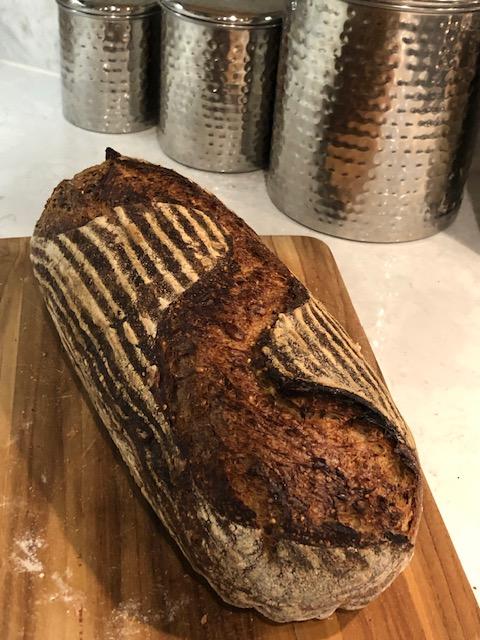 After many attempts, I finally achieved a light, (fairly) lofty seeded loaf, while utilizing a pretty high percentage of non-white flour.  The first experiments were tasty but pretty dense.  However, I will be cutting back on total volume next time as this dough literally filled the clay baker from edge to edge, resulting in...a torpedo!  The texture of the crumb is divine...soft and springy without being gummy.  I may have gotten even a little more loft if I had scored a little deeper--I think the crumb structure looks a little tight at the top.  I never quite know how to score the longer loaves.  Parallel slashes always result in broken bands across the top.  Any advice on the best way to score this type of loaf would be appreciated--I may just let it do its thing next time and go for a 'natural' score.  I used a long, thin clay baker, rather than a traditional batard or boule, in an attempt to make a more toaster-friendly bake.
Ingredients:
1:2:2 starter fed in the early morning (to double/triple in about 4 hours...will need 150 g fed starter for the dough)...I maintain a 60/30/10 starter mix of WW/AP/Rye respectively
365 g warm water (I used to use bottle spring water, but our tap water here is great quality, and I haven't noticed any change in my bakes since switching to tap)
300 g strong bread flour
135 g sifted/bolted Hard Red Winter Wheat (aka Golden Buffalo from Heartland Mills)
50 g duram flour
15 g dark rye flour (I used freshly ground since I had some berries on hand)
--total of 500 g flour with a 300/200 ratio
30 g honey
12 g salt
140 g mix of seeds (I used an eyeballed mixture of pumpkin, sunflower, sesame, poppy, flax and millet)
Enough boiling water to cover seed mixture by at least one inch
Day 1: Feed starter in the early morning (as noted above)
Around noon, mix the Autolyse ingredients (flour, water and honey), making sure no dry flour is visible, and let sit, covered, for 1 hour.  
Immediately after mixing flour/water/honey, place the seed mixture in a bowl and pour boiling water over to generously cover and allow for absorption.  Cover and set aside.
After one hour, spread 150 g of starter over the top of the autolyse mixture, and pinch into the top layer of the dough, then work in further by pulling small sections of the dough from the edge up and over the top, moving the bowl around in a circular motion.  Continue this action (essentially mini stretch and folds) for approximately 5 minutes, to fully incorporate the starter; cover.
Rest 15 minutes.
Sprinkle 12 g salt over the top of the autolysed dough, and with wet hands, pinch in and then repeat the working in method from above, pulling small sections of dough from the edge over the center.  Continue to work in for 5 minutes to fully incorporate the salt; cover.
Rest 15 minutes.
Complete 2 stretch and folds 20-30 minutes apart.  After the 2nd S&F, rest 20-30 minutes.
Drain the seeds over a bowl, immediately after the last S&F, which allows excess moisture to drain out in time for the next step.
Complete a lamination of the dough on a lightly dampened counter top, using wet hands, stretching out the dough fairly thin without tearing.  Spread about 2/3 to 3/4 of the seed mixture over the top of the dough, careful to not tear the dough.  The mixture will be a little slimy from the flax seeds.  Letter fold each side of the dough (right and left) so that all the exposed seeds are covered.  Spread the remaining seeds over the thin strip of dough, then fold up the top and bottom over the exposed seeds.  Cut away a small knob of dough, place in a fermentation jar (I use an old spice jar) flatten and mark the level.  Gently lift the remaining 'package' of dough into a lightly greased 8X8 or 10X10 square, glass dish and cover.  (Alternatively, I have also had some success just working in the seeds over the top of the dough while still in the bowl.  The dough will kind of 'break' but will come back together with numerous stretch and folds.  For me, the lamination method works better.)
Rest 45 minutes.  Complete a series of 2-4 coil folds every 30-45 minutes, or until the dough feels strong and supple, then let rest undisturbed.  The dough in the fermentation jar should rise around 30%-50%, which can be tricky to judge with so small a portion.  Essentially, I try to make sure it doesn't double, in either the jar or the main dough.  Under proofed is better than over with this dough.  (In a 70-degree kitchen, I'm usually ready to shape around 6-7 hours after starting the autolyse.)
Sprinkle some flour around the edges of the dough in the dish, loosen edges slightly with a flexible dough scraper, and gently tip out onto a lightly floured surface.  Gently shape as desired, careful not to deflate, and place into rice/flour-dusted banneton.  Place the banneton and dough in the freezer for 15 minutes, then switch to the fridge for a cold 12-hour retard.
Day 2:
12 hours later, pre-heat oven and DO of choice (I use clay bakers) to 500F for at least one hour.  Remove dough from the banneton onto a piece of parchment paper, score and bake at 500 for 25 minutes covered, reduce heat to 450 and remove lid and bake for a further 20 minutes.  Turn the oven off and leave the bread in the DO for an additional 10 minutes.  Remove to a cooling rack and cool completely, at least half a day.