October 10, 2021 - 4:00pm
Creating a Nancy Silverton Grape Starter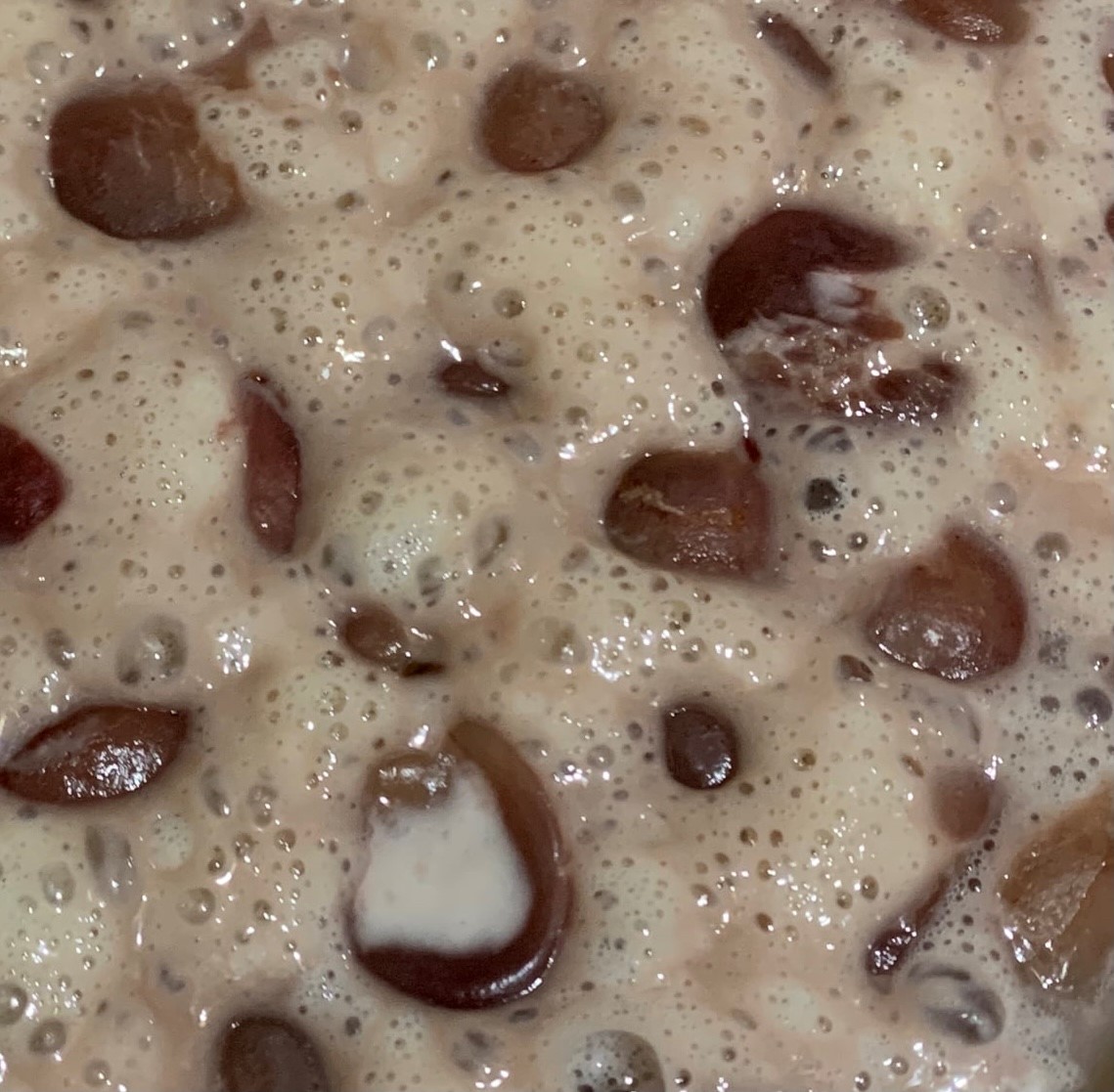 A while back I reached out to Mariana about a comment she had made regarding keeping a starter's microflora consistent with the use of white flour.  That led to some back and forth DM's, and in the end, I am in the process of attempting to create a Nancy Silverton grape starter.  I may be building the starter and sharing my data/observations so far, but this post is as much Mariana's as it is mine.  She has guided me through it step-by-step!
My starter isn't done yet, but I've made the transition from establishing a sourdough culture to feeding it and allowing the microflora to take on a life of its own.  For now, I'll provide the method as it was described to me and my observations so far.  I'll edit the post with any final observations and if all goes well, pictures of my first loaf using it!
Method
Day 1: Combine 400g unwashed red or black grapes (crushed), 800g water, and 480g bread flour (not AP flour).  You can cut this amount in half, but do not go any less than that or you risk not forming a stable culture.  Place the mixture in a bowl and cover with a cheese cloth or tea towel.  Allow mixture to ferment anywhere between 70-80 deg F (I used my proofing box set at 76 deg F)
Day 2-3: Allow to ferment.  Stir 1x per day if you want but not required.  The gas generation due to microbial activity will naturally provide enough agitation to keep things well fed.
Day 4: Feed the growing culture a little snack.  Add 200g water and 100g bread flour to the initial mixture.
Day 5-9: Allow to ferment and let natural selection take place.  The microflora is feeding and sorting out who will survive and who will die off.  It's taking on its own unique characteristics at this time.  Again, you can stir daily but not required.
Day 10-14: Time to start feeding and strengthening the culture.  The next 5 days take the mixture from a sourdough culture in its infancy to a strong sourdough starter.  Take 200g of the mixture (strain out any grape pieces) and discard the rest.  To that 200g, add 120g of water and stir.  Then add 80g of bread flour (150% hydration) and mix enough to wet all the flour.  Let rest for 10-60 minutes then "whip" the mixture with a fork to develop gluten.  After whipping, let the culture sit still and ferment for the remaining time.  Repeat the feedings 3x per day with the following schedule: 6-hour feeding, 6-hour feeding, 12-hour feeding.    Because of the high hydration, the starter will not double like the traditional 100% hydration starter.  It will develop a froth on the top and will swell.  Do not worry about feeding at the "peak".  Stick with the schedule.  For the first couple of days, your starter may have a layer of liquid on top of the flour at the feeding point.  Remove the liquid before stirring and then feed as described above.  As the starter and gluten structure strengthen, the layer of liquid should disappear on the subsequent feedings.  If you are in a climate with high humidity, you may need to drop to 125% hydration to keep the flour from separating.
Day 15: You now have a starter that's ready to use or be refrigerated.  When you refresh, remove from the refrigerator and let warm up for 30-60 minutes.  Give it three feedings as described above on the 6-6-12 schedule to re-establish the microflora.
Observations
I noticed a "sour" aroma that resembled Greek yogurt after 48 hours.  The aroma changed to something more like wine/alcohol as things progressed.
On Day 3 and again on Day 6-7, I had a gluten-like foam floating on the surface.  
pH of the mixture dropped rapidly in the first 48 hours and then slowly dropped to just under 3.4 where it stayed.
pH Chart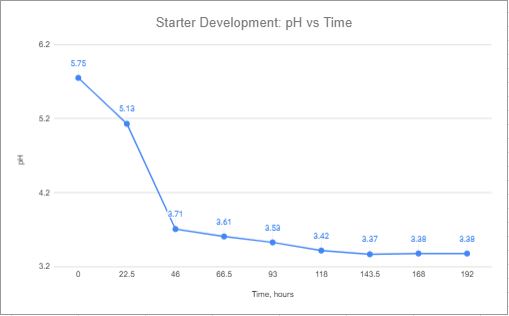 Photos
Gluten-like foam after 46 hours...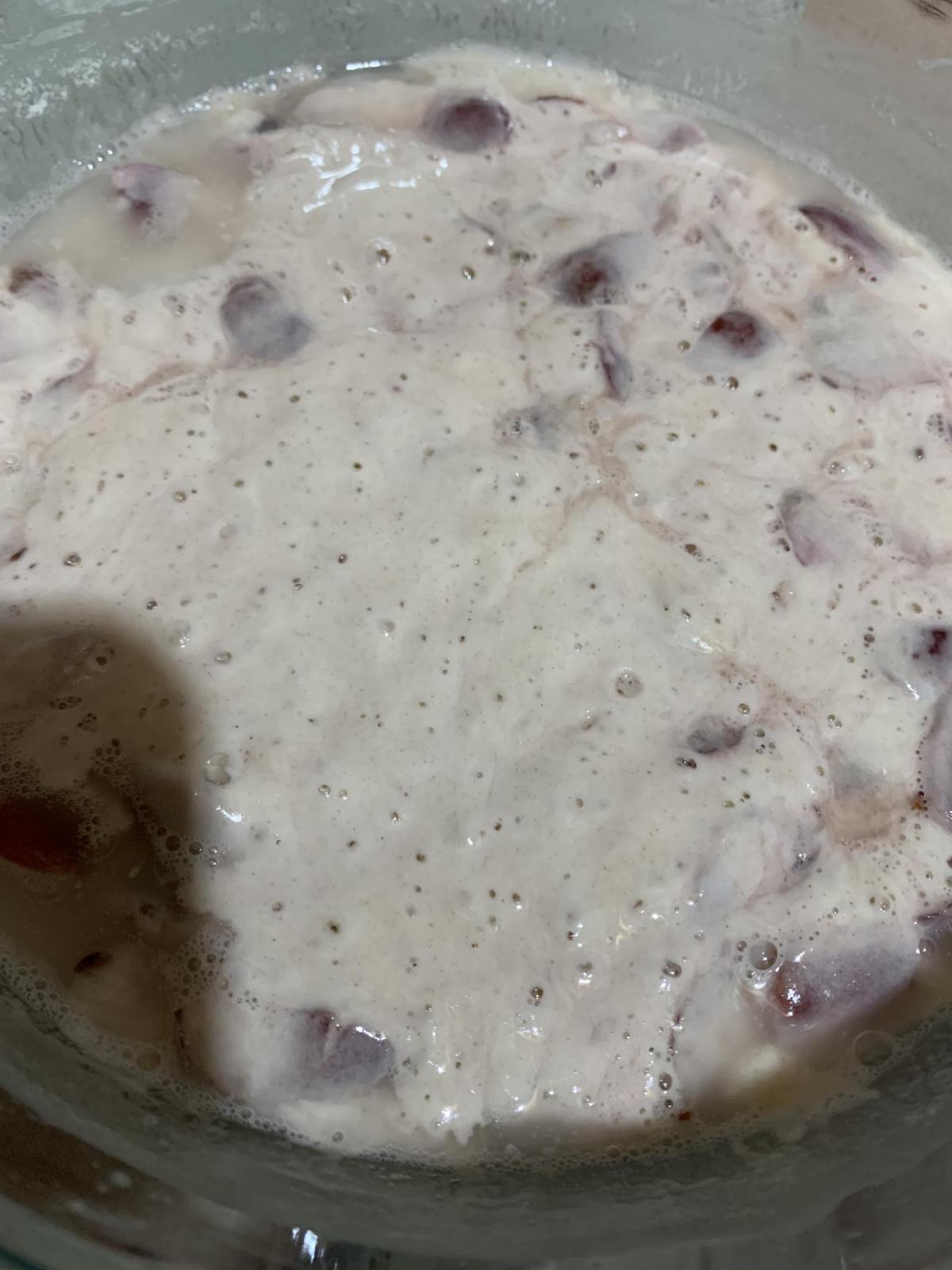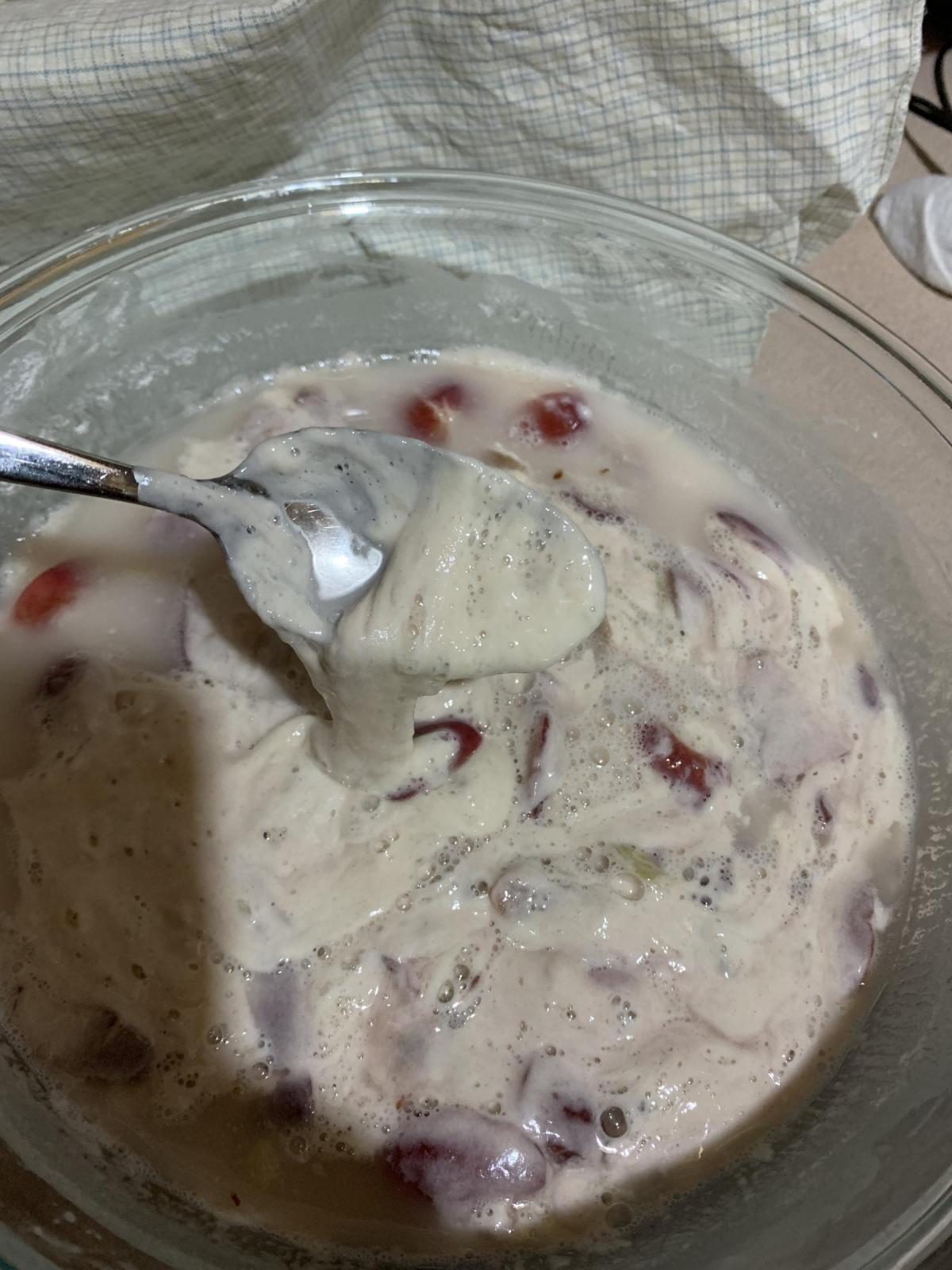 Liquid on top of flour with signs of slight yeast activity - Day 5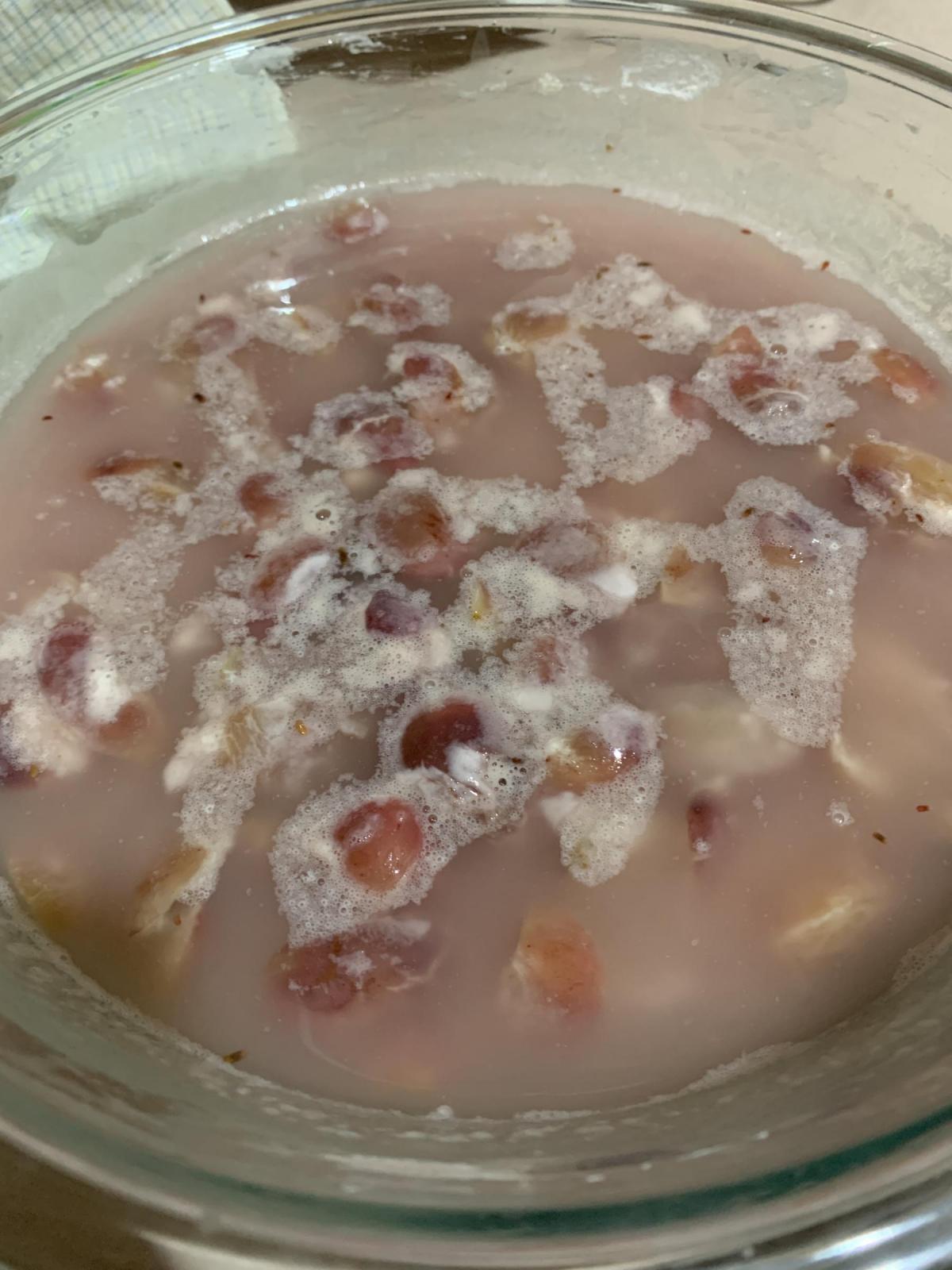 Strong yeast activity and foam floating on surface - Day 6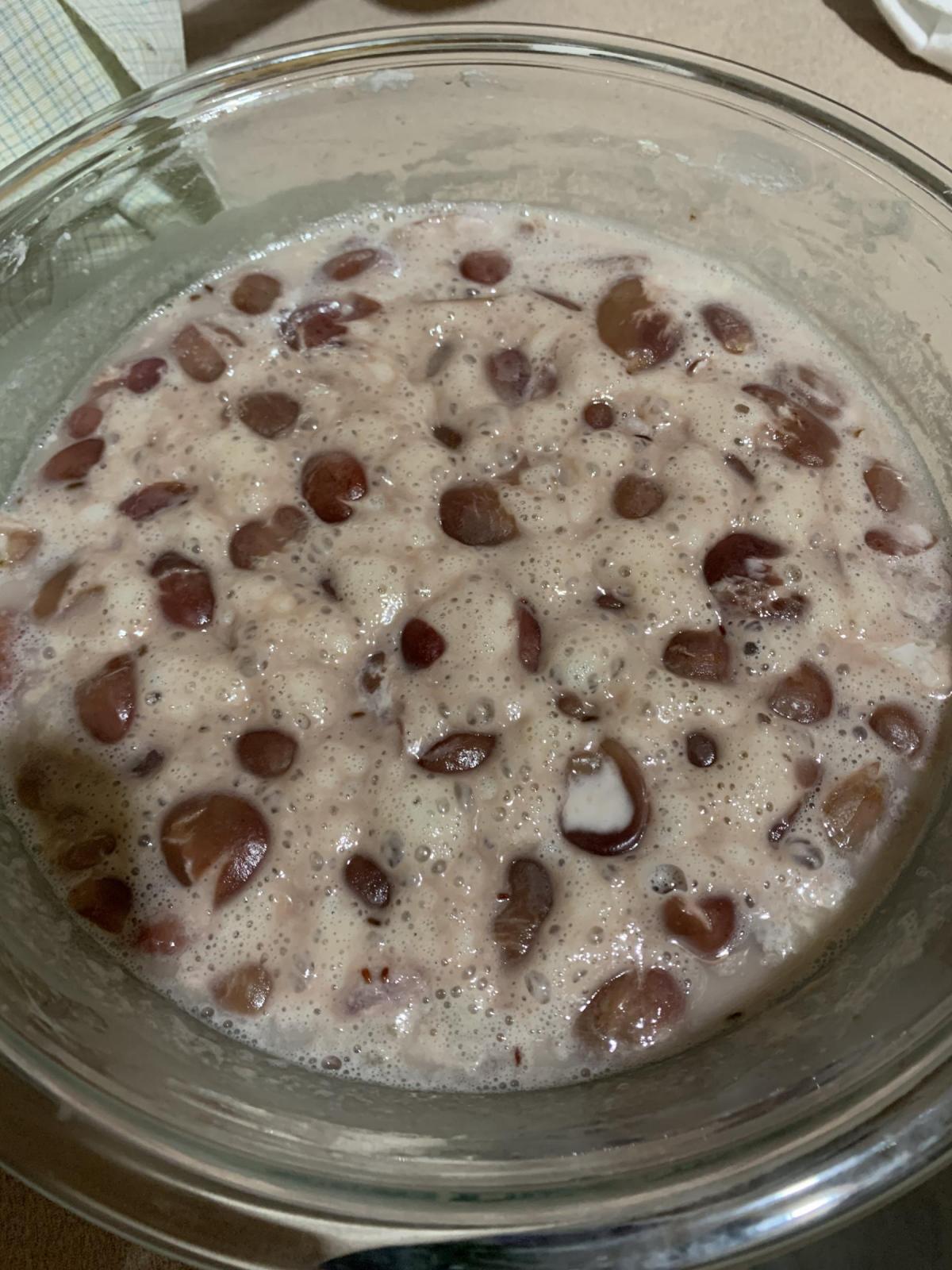 Nice foam formation at the end of the second feeding! - Day 10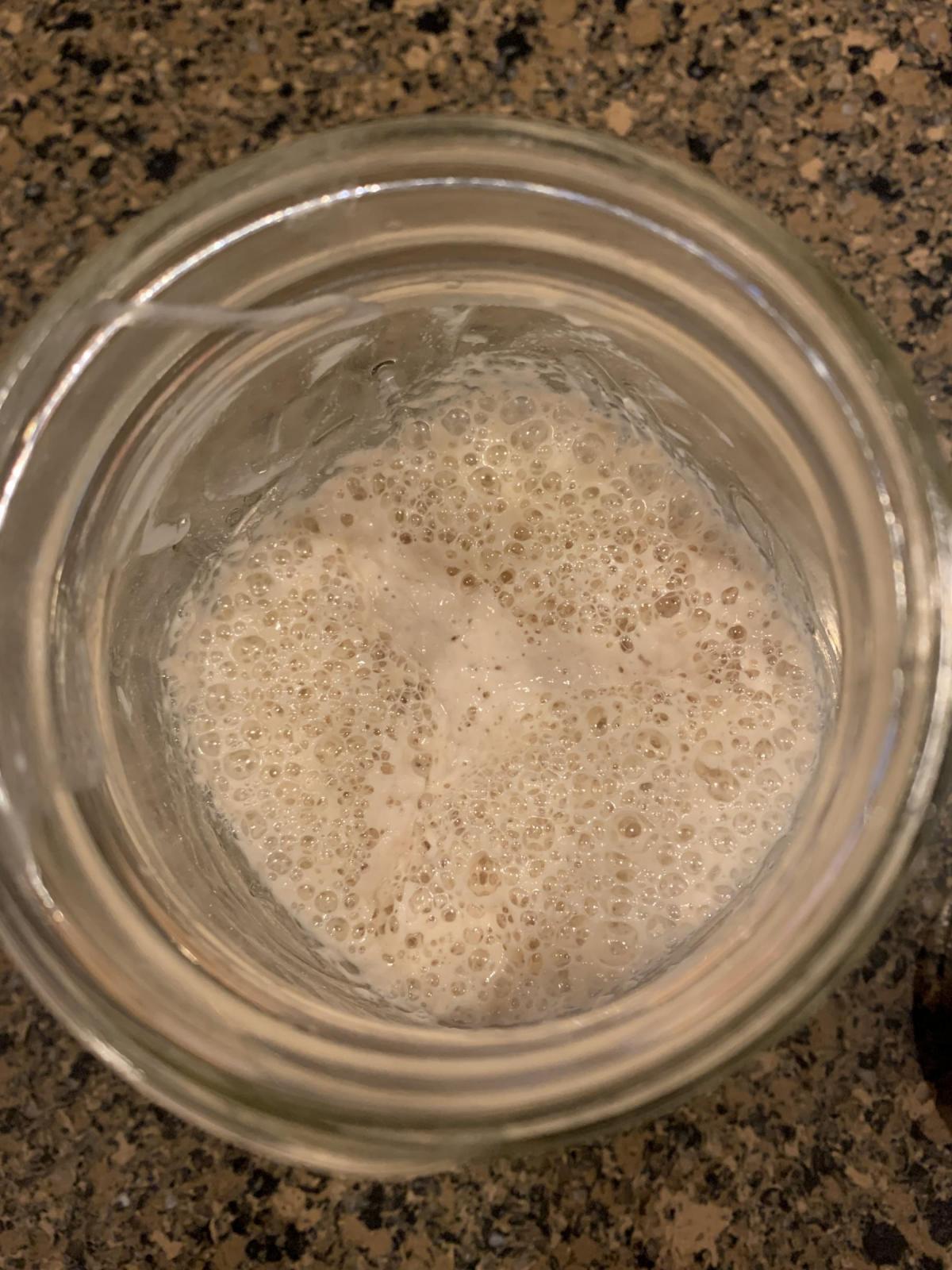 Data Log
EDIT: Day 1 amount of KAF flour should be 360g.  NOT 3600g.
That's it for now.  Will post edits as the starter matures and the first bake is finished!