Garlic, herb & cheese rolls, coffee & walnut mischbrot, and other bakes
I made these rolls for a lil trip to Chertsey QC last week. Usually I make these rolls with a sweet filling like Nutella+espresso or jam. Also, I wanted to try using buttermilk in the dough, and this resulted in lovely soft rolls!
Garlic, herb & cheese rolls:
Tangzhong
20g TZ flour
100g TZ milk

Dough
All of the TZ
120g buttermilk*
100g SD discard (100% hydration)
1 large egg (+2 tbsp milk, whisk, then remove 2 tbsp to be used as egg wash)
320g all purpose flour (mine has 12% protein)
60g Kamut flour
5g instant yeast
20g sugar
7g salt
30g unsalted butter
15g light olive oil

*Buttermilk - I used store-bought cultured buttermilk here and homemade version (soured milk) in subsequent bakes and I find making this from scratch is easier especially when I can use either lemon or orange juice - 1 tbsp juice/vinegar to 1 cup milk, cover and leave it to curdle for about 15 minutes.

Garlic, herb & cheese filling:
6 cloves garlic, chopped fine
2 tsp chopped fresh parsley (1 tsp of dried, I think?)
a pinch of dried rosemary
a pinch of dried thyme
1/4 cup onion, chopped
30g unsalted butter
1/2 cup shredded cheddar

1st proof: 70 minutes (I believe my starter helped here)
Shaping: deflate and gently stretch the dough, then with a rolling pin, roll to about 18" x 12". Spread filling (except cheese) all over the dough leaving 1" of the longer edge clear. Sprinkle 2/3 of the cheese. Lightly flatten and brush the clear edge with water. From the opposite longer edge, roll the dough up and seal the edge. Cover and let this rest for 5 minutes. Then, slice the dough into 15-16 rolls. Place pretty side up in a lined bake sheet. Gently brush with egg wash, sprinkle the remaining cheese.
2nd proof: 60 minutes (preheat oven 30 minutes into the proof)
Bake: 180°C 20 to 25 minutes


The next bake was a Sourdough coffee & walnut mischbrot (mixed bread) since it's pretty good as a cake, I figured why not in a loaf. :)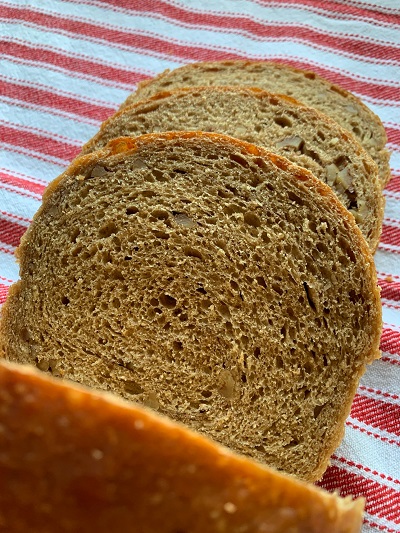 (it does look like the molasses bread doesn't it? This one is all nutty and full of coffee flavor)

Tangzhong
20g TZ flour
100g TZ milk

Dough
All of the TZ
120g buttermilk
1large egg
150g stiff starter (50% hydration)
90g rye flour
180g all purpose flour
60g whole wheat flour
1 tbsp espresso powder
A pinch of cocoa powder
50g brown sugar
7g salt
15g light olive oil
50g toasted walnuts, chopped

Baked in a 9x5 glass loaf pan at 160°C for 45 to 50 minutes until internal temperature is at least 93°C/200°F.

For the next bake, I wanted to make coffee swirls! At the same time, there was a number of chores to run, so I left a piece of dough in water for the bulk this time. Almost 5.5 hours later, the lil dough was floating. I know this method isn't the right way to determine when bulk ferment has ended but it's easy! There's a thread on this here (I dunno if I'd soak a shaped loaf in water though)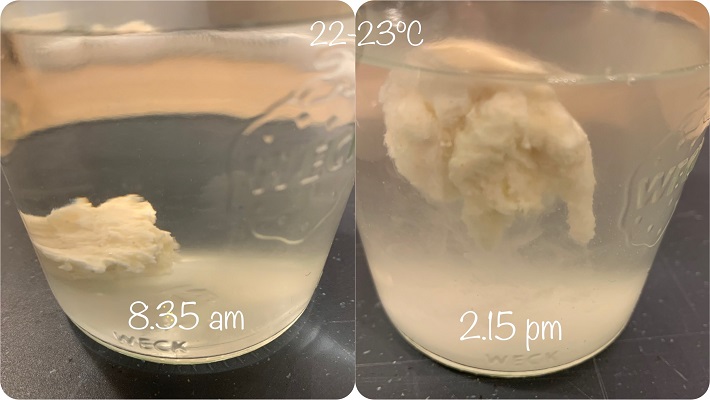 Sourdough Coffee Swirl Milk Loaf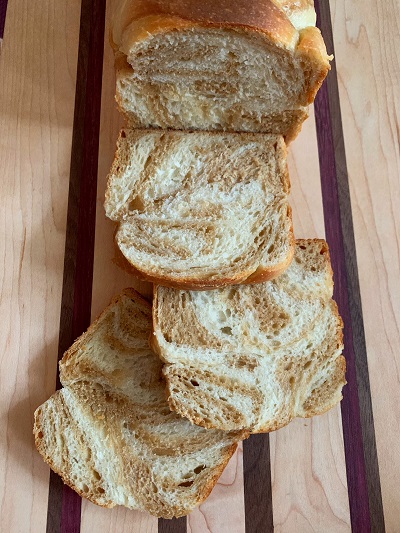 Tangzhong
20g TZ flour
100g TZ milk

Dough
All of the TZ
110g buttermilk
150g stiff starter (50% hydration)
45g sugar
1 large egg
260g all purpose flour
60g kamut flour
7g salt
50g unsalted butter
10g light olive oil

With espresso swirl, to 400g dough:
Dissolve 2 tsp espresso / instant coffee powder, a pinch of cocoa powder in 1 tsp water. Add to the dough, pinch and fold, knead until fully absorbed.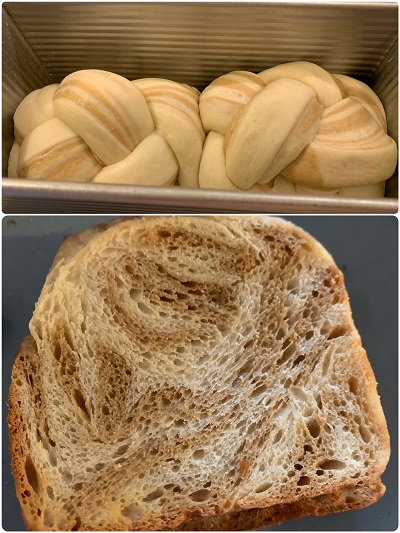 Roll the plain dough to a rectangle and the coffee dough to a smaller rectangle to fit 2/3 of the plain dough (I did not measure here). Lay the coffee dough over the plain dough, letter fold twice. Cover and rest for 15 minutes. Then roll to about 10" x 15", slice the dough into 6 strips (this depends on the type of braid, usually I make 3 - 4 strand braids). Make two braids, roll the ends under and place in a buttered pan (9x4x4). Cover and proof (24°C about 2.5 hours)

Bake at 180°C for 35 - 40 minutes until the internal temperature is at least 93°C/200°F.


The final bake (from yesterday) was made from leftover carrot purée. I made two loaves of swirly loaves as gifts and decided to use the remaining purée for our own loaf for the weekend. (yes, buttermilk and a braid, again)

Carrot + orange milk loaf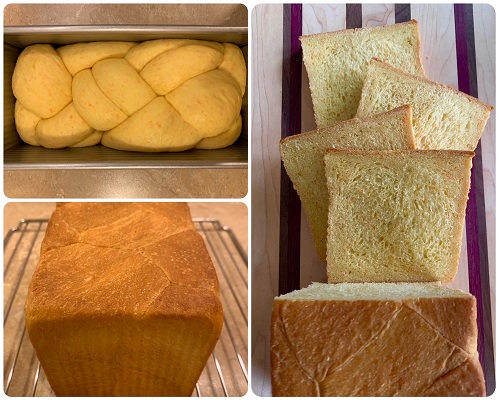 Tangzhong
15g TZ flour
75g TZ milk

Dough
All of the TZ
70g carrot purée
100g buttermilk
40g sugar
zest of 1/2 orange
4g instant yeast
1 large egg
340g all purpose flour
60g Kamut flour
6g salt
10g light olive oil
50g unsalted butter

Pullman 9x4x4 
Bake at 180°C for 25 minutes with the lid on, 15 - 20 minutes with lid off, or until internal temperature registers at  93 - 97°C/200 - 206°F.