Carrot swirls and other bakes
I made this carrot swirly bread as one of the things to do with a big bag of carrots. 🤣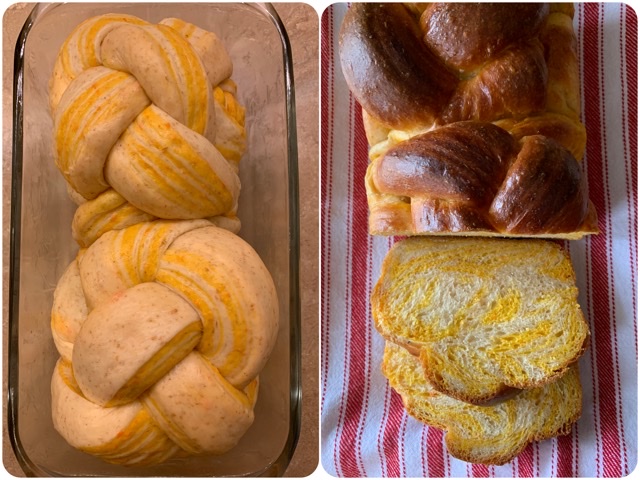 Here's the recipe, just prepare the yudane a few hours ahead of time (some recipes call for it to be chilled overnight). Also it's easily modified to exclude the sd discard. 

Yudane
100g all purpose flour 
100g boiling water 
use 100g for white dough, 70g for carrot dough 
 White dough
100g yudane
120g sourdough discard 
180g all purpose flour 
50g whole wheat flour
5g salt
20g sugar 
3g instant yeast 
1 large egg (50g), beaten
80g milk (I used 2%)
20g lght olive oil
30g unsalted butter, softened 
 Carrot dough
70g yudane 
100g *carrot purée
180g all purpose flour
30g whole wheat flour 
3g salt
20g sugar 
1/2 tsp lemon zest
2g instant yeast
20g egg, beaten (to the balance egg, add 1 tbsp milk and pinch of salt - use as egg wash)
15g milk (I used 2%)
15g light olive oil
20g unsalted butter, softened 
*carrot purée: steam carrot chunks for 20 minutes. Remove from heat, mash the carrot. Weigh and mix 80g of mashed carrot with 40g water (2:1). Blend this mixture until smooth or with tiny pieces scattered (adds nice specks of bright orange). Use 100g in the recipe
180°C Loaf pan (9x5") 45-50 minutes; freeform loaves like braids, 25-30minutes. Braided version here where one is folded under to make a small loaf and the other not folded 👇🏻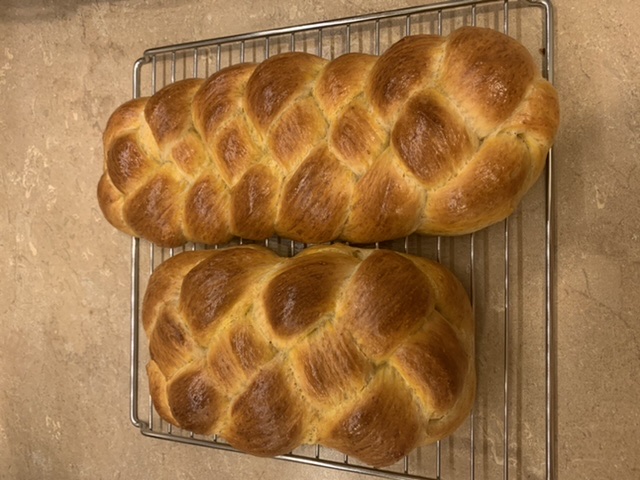 This past week, I made some of my favorite baked goodies: crostata with a woven crust and home made jam, mocha cake and espresso Swiss roll (did a fantastic mess cutting into this one), with espresso ermine frosting and rum raisin sandwich biscuits - lil things I miss baking back home in Malaysia.