Molasses bread, SD pain brié, and others
Made 2 versions of molasses bread before making others this last 2 weeks or so. One with toasted walnuts and one with drunken raisins - accidentally soaked the raisins in whiskey instead of rum, resulting in puffy, pretty strong tasting drunken raisins. Must make mistakes like this more often!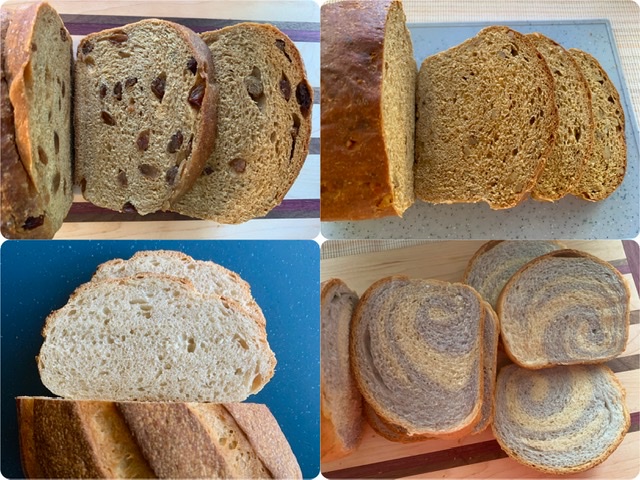 Molasses Bread
Makes 1 loaf
160°C/180°C 40 - 50 minutes or until the internal temperature reaches 88-95°C


Tangzhong:
20g all purpose flour
100g milk

Dough:
All of the TZ
200g all purpose flour
150g Kamut flour 
60g whole wheat flour 
6g instant yeast
6g salt 
160g milk
100g molasses 
2 tsp lemon juice 
1/4 tsp ground cinnamon 
A pinch of allspice/ground cloves
50g unsalted butter
10g light olive oil
Optional: 3/4 to 1 cup raisins soaked in water, juice or rum, overnight. Drain and pat dry or, 100g toasted walnuts, chopped 
Next one was Pain brié. This is always a favorite of mine thanks to its soft crumb and buttery taste. This time, I made it using my liquid starter with a lil bit of salt to slow the fermentation a little bit.

Sourdough Pain Brié
2 small loaves
220°C/430°C 15 minutes with steam, 10-15 without.

Stiff Starter 60% - 8-12 hours:
10g starter (100% hydration)
290g all purpose flour 
172g water 
1g salt

Dough:
150g all purpose flour 
150g kamut flour 
140g water or 160g milk 
10g salt
50g unsalted butter

Yesterday, I made was a sourdough tea-infused loaf. Basically, I just wanted to have a favorite tea in my bread (and there are several more to try). Milk is slowly infused with tea over a simmer, then used in the dough the next day. I used chamomile and lavender tea here with butterfly pea flowers for a pastel blue swirl. The baked loaf has a light scent of chamomile, while the lavender's gone. 
Sourdough Tea-infused loaf 
Makes 1 loaf 
160°C/ 180°C 40-50 minutes or until the internal temperature reaches 88-95°C

Stiff starter 50% hydration: 
30g stiff starter
50g water
90g all purpose flour
10g whole wheat flour
10g sugar 


Tangzhong:
100g infused milk*
20g all purpose flour 


Dough:
All of the TZ
180g stiff starter
160g all purpose flour
100g Kamut flour 
50g whole wheat flour (or 150g kamut for lighter crumb)
6g salt
30g sugar/honey 
160g infused milk*
10g light olive oil
30g unsalted butter


*Tea-infused milk - boil then simmer 15 minutes, cover and chill overnight 
400g milk
15g honey 
5 x chamomile & lavender tea bags

Optional: 30 x Butterfly pea flowers
 
The dough is mixed with 120g milk then, 10g with salt. 20g milk is heated to create a blue milk with butterfly pea flowers. After mixing in butter and oil, the dough is split to 2 equally before mixing in the remaining 15g plain and blue milk respectively. This bit is tedious and I could've just make two doughs from scratch…but for the lazy me, there's less mixing time this way. 


The other bakes and makes:
The other small batch goodies I made were pineapple tarts (used 2 egg yolks in the pastry dough), followed by pastila (used the 2 egg whites, sugar and lots of apples), 2 batches of espresso biscotti with spelt and mocha ganache - recipes at the bottom of the post :)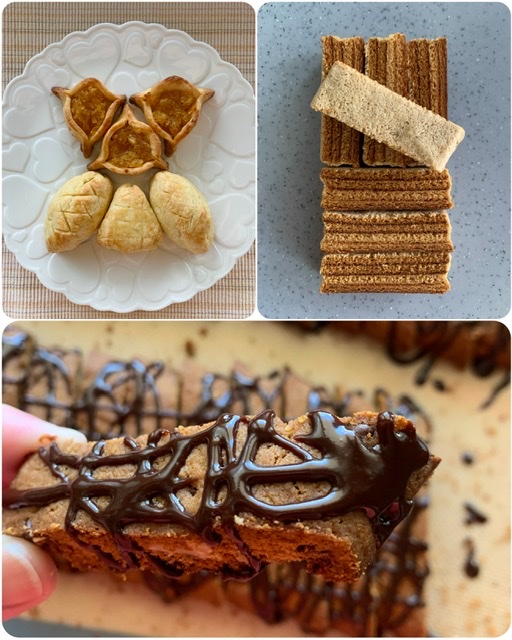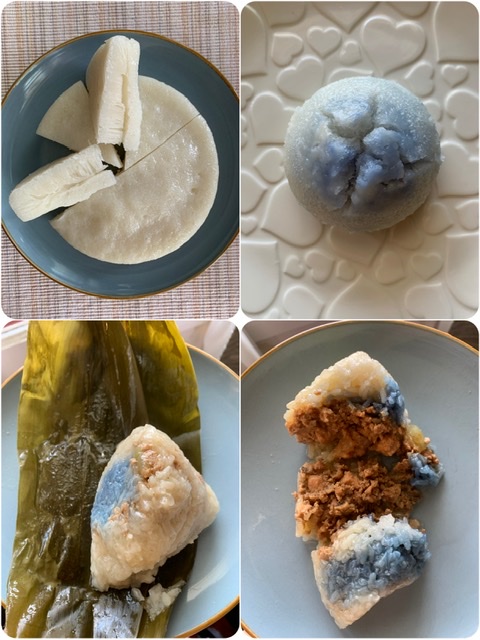 For the dragon boat festival this year (14 June; next year it'll fall on 3 June) I made steamed rice cakes and nyonya-style sticky rice dumplings (zongzi), 2 of my late grandmother's favorites. These were my first attempts and I'm so happy with the results!  Despite having trouble folding the bamboo leaves (my hands can't quite fold them like my grandma), some filling and rice leaked, they cooked up soft and fragrant thanks to small pieces of Pandan leaves, bamboo leaves and spices in the filling. The rice flour that I used had a strange smell to it. The steamed cake had a chalky taste to it! Will have to test this recipe with a different brand or make it from cooked rice next. 

Here are the other recipes:


Pineapple tarts
Adapted from: https://rasamalaysia.com/best-ever-pineapple-cookies-pineapple-tarts/
160°C 25 minutes, until golden brown

Pastry
175g unsalted butter, room temperature
50g sweetened condensed milk
1 egg yolk
230g all purpose flour
20g cornflour
5g salt
Egg wash: 1 egg + 1 tbsp milk + a pinch of salt

Pineapple jam (tart, lightly sweetened)
1 pineapple, diced, or 2 x 400g cans
1" cinnamon stick
2 cloves or 1 star anise
1 tsp lemon juice
50g sugar (use 30g for canned pineapples)



Pastila
Adapted from: https://www.rbth.com/russian-kitchen/329836-pastila-master-apple-russian-treat

8 apples (or 6 large apples)
100g sugar
2 egg whites
A pinch of ground cinnamon


Espresso biscotti
Adapted from: https://www.kingarthurbaking.com/recipes/barista-biscotti-bites-recipe

Biscotti
120g all purpose flour
120g spelt flour
1/4 tsp salt
1 tsp baking powder
80g unsalted butter
90g brown sugar
1/2 tsp vanilla extract
1/4 tsp coffee extract
2 to 3 tsp espresso powder
2 large eggs
60g dark chocolate chips
60g toasted walnuts or almonds, roughly chopped

Easy mocha ganache
150g dark chocolate chips
30g milk
10g unsalted butter
1/2 tsp espresso powder

Steamed rice cake: https://whattocooktoday.com/bai-tang-gao.html
Nyonya Zongzi: https://whattocooktoday.com/nyonya-chang.html & https://mykitchen101en.com/nyonya-chang-nyonya-glutinous-rice-dumplings/