Tip - Commercial Yeast, testing, expiration, & storage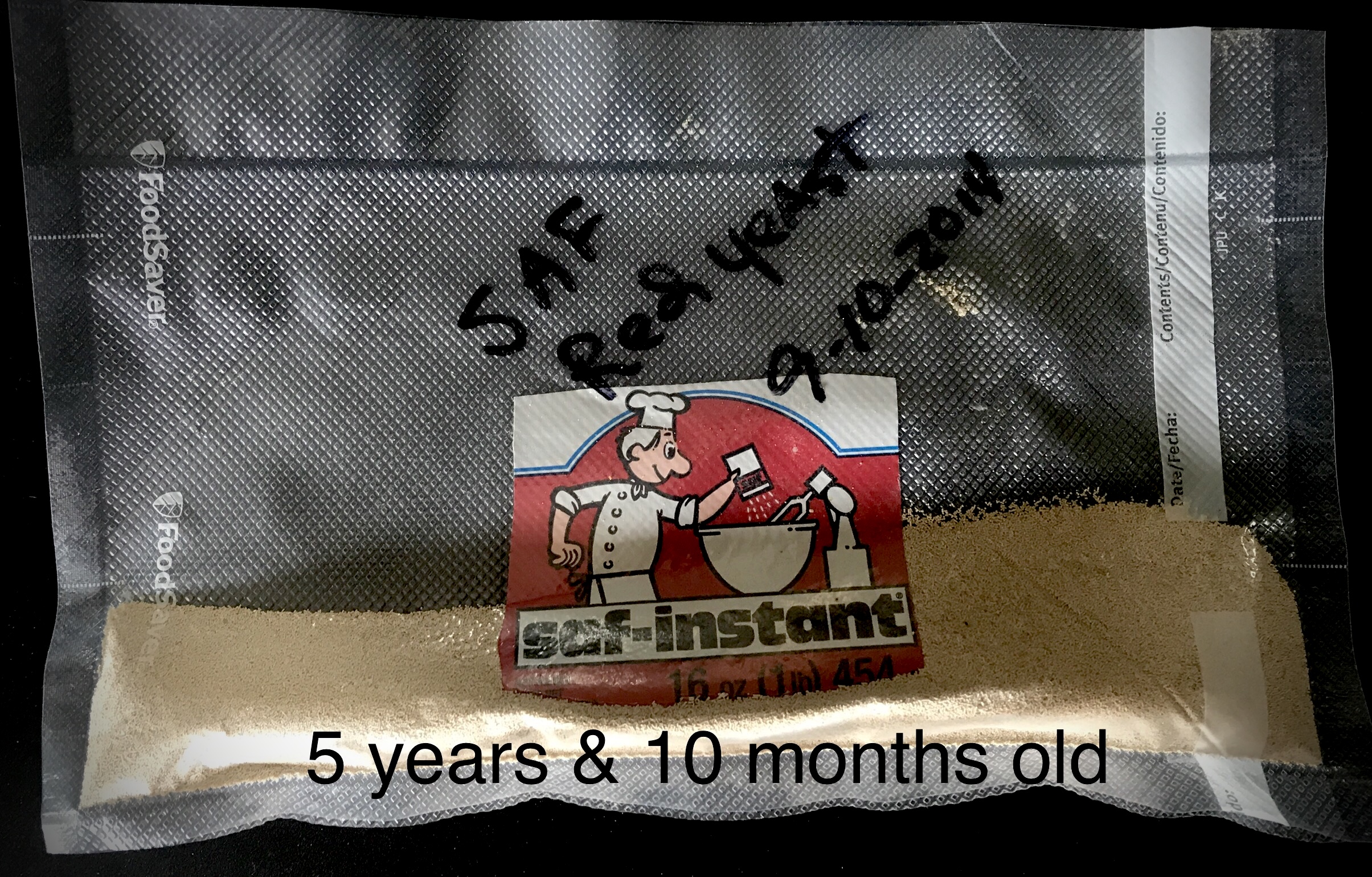 Commercial Yeast
Storage
How long does it last
Testing for viability 
Bulk Purchasing is economical 
Temperatures for Commercial Yeast
1. Storage
The image above shows bulk SAF Red Yeast that is stored in the freezer in a vacuum sealed bag. A small amount is removed from the original supply and is stored in the freezer in a ZipLok bag for easy access. The yeast has lost some strength, but it is 2 months shy of 6 years old.
2.  How long does it last
Stored properly, yeast is good for many years past the expiration date. Testing your expired yeast is a good idea. Checkout the "Update" at the bottom of this post.
3.  Testing for viability 
According to the Red Star Yeast (Lasaffre) website -
Yeast Freshness Test
 Follow these steps if you are unsure of the freshness of your yeast (or just want to give it a 'good start').
To 'proof' or test dry yeast, use the steps here:  (if proofing fresh cake yeast scroll down.)
Using a one-cup liquid measuring cup, dissolve 1 teaspoon of granulated sugar in 1/2 cup warm tap water at 110°F-115°F.

Using a thermometer is the most accurate way to determine the correct liquid temperature. Any thermometer will work as long as it measures temperatures between 75°F and 130°F. 
If you don't have a thermometer, the tap water should be warm but NOT hot to the touch.
Stir in one 1/4 oz. packet (7g) or 2 1/4 tsp of dry yeast until there are no more dry yeast granules on top. Yeast should be at room temperature before using.
In three to four minutes, the yeast will have absorbed enough liquid to activate and start to rise.
After ten minutes, the foamy yeast mixture should have risen to the 1-cup mark and have a rounded top. It should look like the picture below.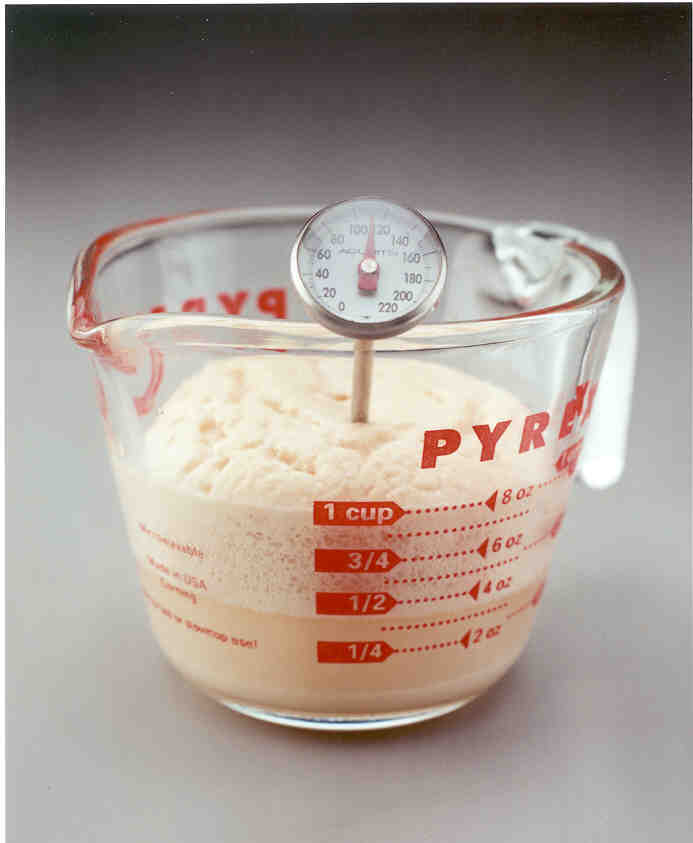 If this is true, your yeast is very active and should be used in your recipe immediately.
Remember to deduct 1/2 cup liquid from the recipe to adjust for the water used in this test.
If the yeast did not rise to the 1-cup mark, your yeast has little or no activity. Discard this yeast.


4.  Bulk purchasing (1 pound) is economical
Compare THIS PRICE to the small packs available at the local grocery.
By-the-way - many artisan bakers choose SAF Red. It is an Instant Dry Yeast and requires no proofing. It can also be mixed dry into the flour, which is convenient.
After almost 6 years it appears a new bag is in order. The old yeast is still raising the dough quite nice, but upon testing it fell a little short. And besides it's so inexpensive.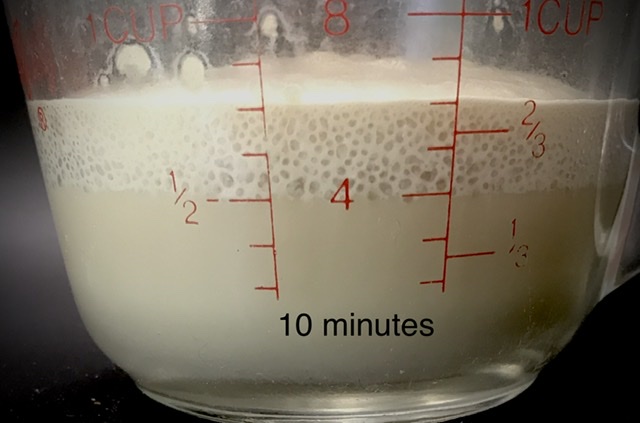 5.  Temperatures for Commercial Yeast
The article on  Bob's Red Mill site is thorough and very informative. 
*** begin Bob's Red Mill ***
Rough Temperature Recommendations
The guide below will give you a rough idea of ideal water temperatures for proving your yeast.
     Water at -4°F means your yeast will be unable to ferment.
     Water at 68° to 104°F means that your yeast's ability to grow will be hindered, and its growth rate will be reduced.
     Water at 68° to 81°F are probably the most favorable range for the yeast to grow and multiply in.
     Water at 79°F are considered the optimum temperature for achieving yeast multiplication.
     Water at 81° to 100°F is the optimum temperature range for the fermentation process.
     Water at 95°F is the fermentation temperature that yields the best result.
     Water at 140°F or higher is the kill zone for yeast. At temps like this or higher, you will have no viable live yeast left.
Of course, these tentative estimations can be higher or lower depending on the type of yeast you are using, and whether it is active dry yeast, live yeast, or rapid rise yeast. The bottom line is that yeast thrives in warm water, sleep in cold water, and die in hot water. So, like Goldilocks and the Three Bears, it's important to get the temperatures "just right" for your yeast to thrive and your bread to obtain the best rise and flavors possible.
*** end Bob's Red Mill ***
Update - the new yeast arrived and a test was run.
Even though your expired yeast is raising your dough, it may be less effective than a fresher batch. If you pay attention to fermentation timing, you may be ending your bulk ferment prematurely.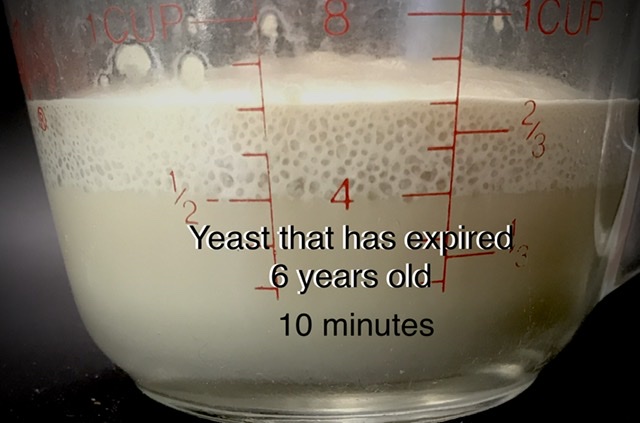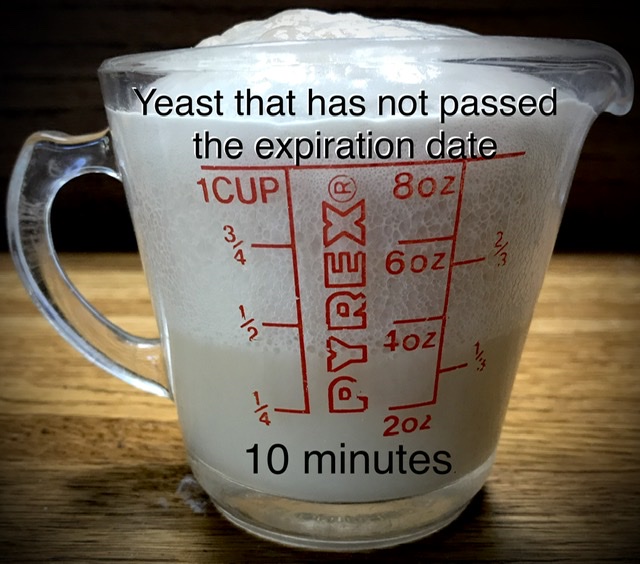 For those that are calorie conscious and want to use No Calorie Baking Sweeteners, THIS LINK should be informative.
Danny