We're going to sneak in a special Community Bake (CB). Every body likes a da pizza! The promised Swiss Farmhouse Bread will be featured towards the end of July. But for now, "When the moon hits you eye like a big pizza pie, that's Amore..."
 In researching all things pizza, it is obvious that great pizza is a extremely subjective thing to each individual. Everyone has their own opinion. With that in mind we are going to throw this CB wide open. Use whichever formula and process that you like. For those that want to try a tested formula, see The RoadSide Pie King's go-to dough. It is posted in both Instant Dry Yeast and Sourdough versions. The spreadsheet is set to a Total Dough Weight (TDW) of 350 grams, which should be suitable for a 12" pie. If anyone is interested in a larger size dough, I can post a link to my spreadsheet. The TDW can be changed to any weight you desire. Let me know if you are interested. The spreadsheet was built in Excel.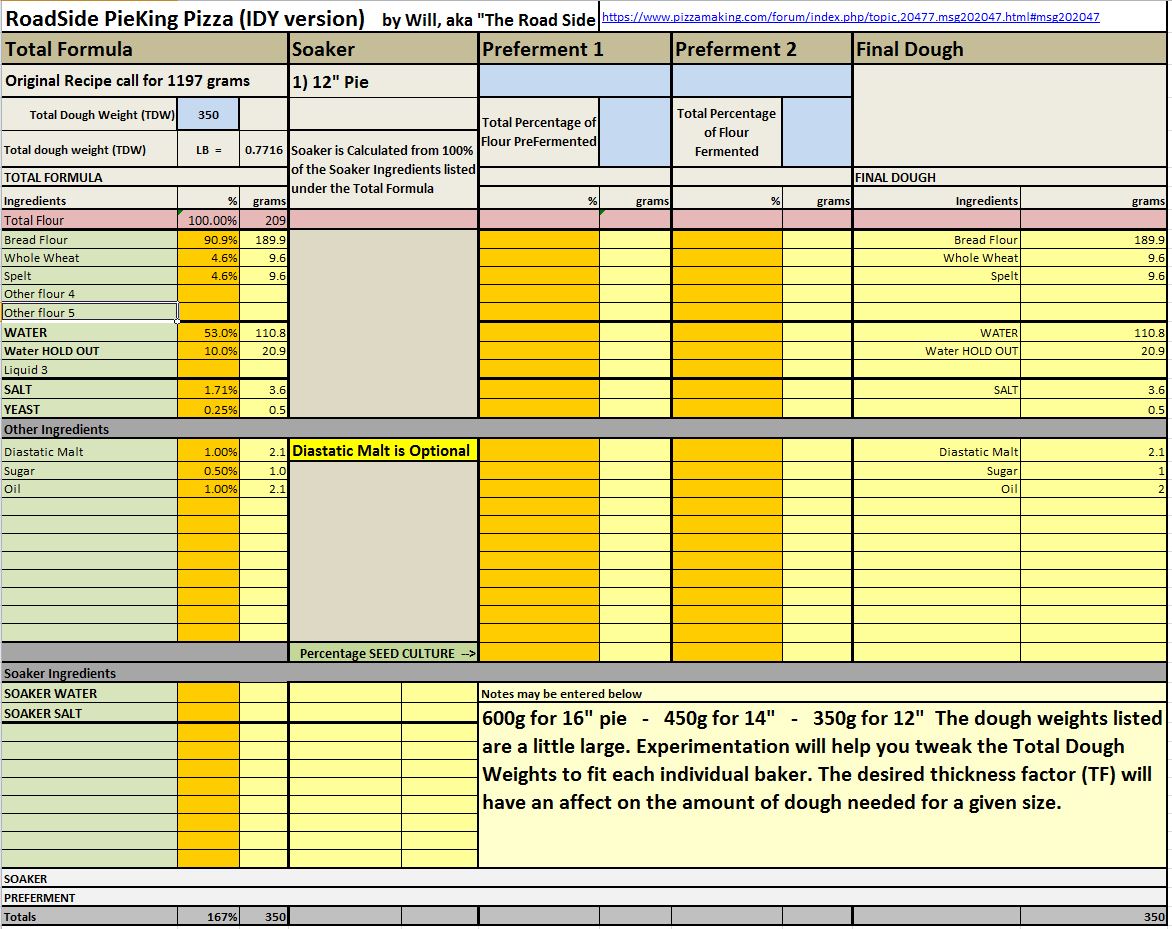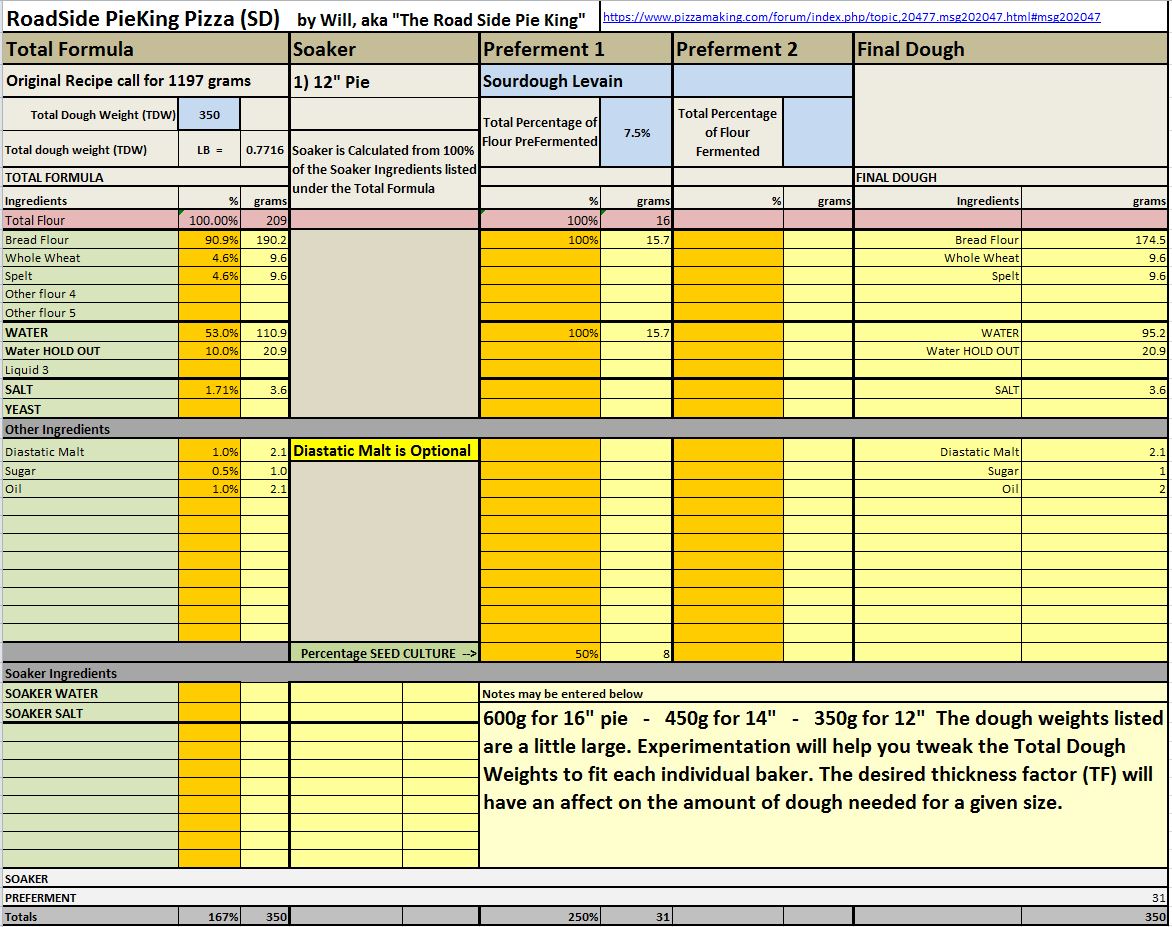 Instruction for the YEASTED version - - - NOTE - - - If using the sourdough version you may have to adjust the amount of levain. At 7.5% PreFerment Flour (PFF) 24- 48 hr. retard should work. For longer retardation, it might be best to reduce the PFF to 5 or even less. A little goes a long way.
(1) In your mixer bowl(or by hand) dissolve the Starter or yeast in all of the Final Dough Water except the HOLD OUT Water. (2) Mix in the flours until well hydrated (3) Allow to fermentolyse for 1hr (4) Mix in the remaining HOLD OUT Water, salt, sugar, and malt (if using), mix until well-incorporated. (5) Slowly drizzle in the oil until well combined. (6) Beat or knead by hand until dough is moderately developed. The dough will be sticky and elastic. If kneading by hand, use slightly wet hands and avoid adding more flour. (7) Oil your hands and a suitable container. (8) Shape into a tight ball (9) Cold ferment in the refrigerator for 24hr-48hrs. (10) Remove to warm up to room temp 1hr or so before use, or you can ferment at room temp. for 6hrs. 1(11 Stretch the balls into your desired size skins (see video below), top and bake at 500F-550F (as high as your oven will go) Until the crust is browned and the cheese has melted. Spin the pie at least once to avoid burning due to oven hot spots. I have included a link to a skin stretching tutorial. Watch this video, more than a few times then go through the motions in your head. If you can see it in your mind's eye, you too can be a home oven pizzaiolo! 
I plan to add videos and other resources here as they become available. Check back often
By-the-way - a great pizza forum for researching all things pizza is www.pizzamaking.com . The pizza bakers on that site have been extremely patient and helpful towards me. I ask a lot of questions :-D
Let's have a blast and have a great time learning...
Danny