November 23, 2007 - 11:19am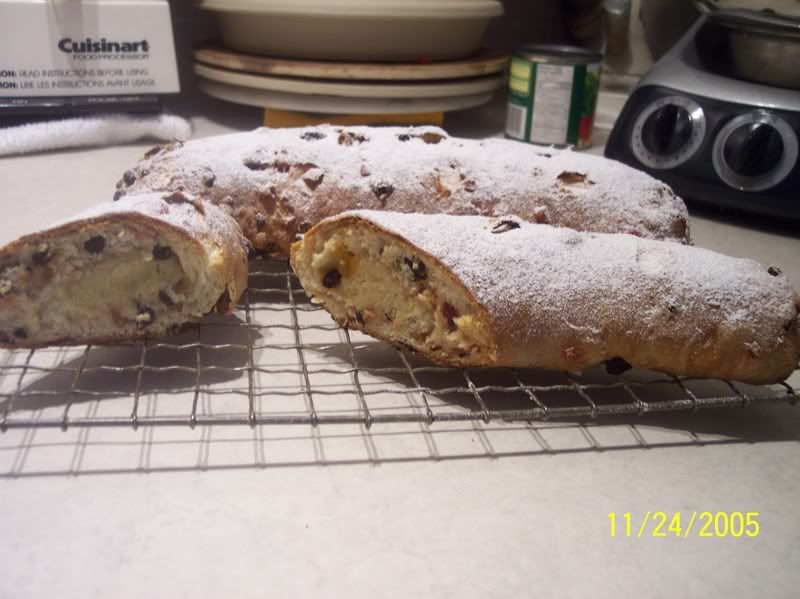 Stollen, Tried and True sainsbury's

12 ozs white bread flour, I use regular all purpose.
1/4 teaspoon salt
2 teaspoon yeast, (easy blend)
1/4 pint milk so this is 5 fluid ozs UK, and 4 fluid ozs U S.
3 ozs softened butter
2 ozs sugar
1 egg
2 ozs currants
2 ozs raisins
4 ozs sultanas (white raisins)
1 oz mixed peel chopped fine
2 ozs cherries, quartered
1 ozs chopped walnuts, (I left these out)
6 ozs almond paste
4 ozs icing sugar
1 tablespoon fresh lemon juice

Set oven to 375'

Mix salt with flour and place in warm bowl, place in low oven few minutes to completely warm flour mix, add yeast and stir in. Warm milk, butter and sugar, stir to dissolve. Whisk egg into liquid make sure it's not hot only warm, then pour onto flour mix. Mix well until the mixture leaves the sides of the bowl cleanly, now add fruit and walnuts if wanted. Turn out onto board and knead 5 minutes, until fruit are evenly distributed through dough. Return to bowl, cover with Saran/cling film and leave in warm place to double.

Turn out, lightly knead a moment, roll into oblong about 14 inches x 8 inches. Roll almond paste into sausage-shape about 13 inches long, lay down middle of dough, then roll dough round it, squeeze ends to close. Neaten shape, place on oiled baking sheet, cover with damp clean tea towel, when well risen bake about 35 minutes, at 375F. Allow to cool, remove from baking sheet to cooling rack.

Meanwhile mix icing sugar with enough lemon juice to make stiff paste, spread on warm stollen add a few extra chopped cherries down center, let cool completely, This recipe freezes well. I added extra almond paste.



Related Recipe: Stollen