November 16, 2014 - 1:25pm
Sprouted Flour - Revolution or Fad?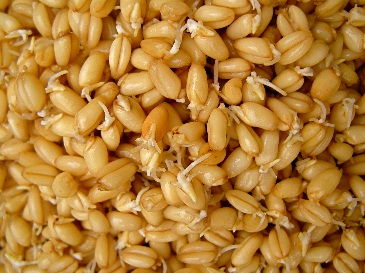 Two days ago I took delivery of Peter Reinhart's latest book 'Bread Revolution' which as most will know is in no small part advocating the benefits of sprouted grains and flours.  As I am fortunate enough to have both a grain mill and food dehydrator I am currently in the process of sprouting a bunch of spelt grain to make my own sprouted spelt flour to see what the fuss is all about.
Meanwhile, I decided to take a look at a number of flour suppliers to see if all this faffing about to create my own sprouted flour is worth it or whether I might be better to just buy a 25kg sack instead from a reputable source.
Wow, was I in for a shock !   The cost of sprouted flour is unbelievable, to the point of ludicrousness !
Some comparisons of sprouted flours vs standard flours is in order:

Let me summarise this.  The price of sprouted wheat flour is running about 5 times the price of non-sprouted organic wheat flour.   Sprouted rye flour is running about 4 times the price of non-sprouted organic rye and sprouted spelt about 2-3 times the price of non-sprouted organic spelt.
When one considers that the additional processes for sprouting grains are substantial compared to just harvesting grain, cleaning it and milling it, then one has to expect some additional cost.  Commercial sprouting involves special equipment that will maintain grains at specific moisture and temperature levels and do so with top sterility/hygiene standards throughout.  The problem isn't really one of additional cost, it's one of simple business models.
Most small scale artisan bakeries that I know are working on a shoestring.  Micro bakeries are often working "for the love of it" rather than making any significant profit.  Only the bakeries churning out huge volumes are making decent profits as far as I can see.
I ask myself, under these circumstances, in a world that is largely still ignorant of "real bread" vs cheap supermarket horrible bread, is there really any viable business solution here with sprouted flours?
If the cost of the flour is 4-5 times higher, then the cost of the loaf has to rise by similar proportions.  Where is such a customer base going to come from?  I'm just not seeing it.
In terms of people sprouting their own grains at home, yes, absolutely 100% and people have been sprouting all manner of seeds and grains for many years now.  It's great, healthy and nutritious and crucially . . . not expensive.  I can buy a 25kg sack of say, organic wheat grains, for circa £20 and sprout the lot with no extra cost other than some personal time and effort and a little electricity (to dry it out) and then mill it myself.   That's great !  
In terms of translating this to commercial bakeries though,  buying in pre-sprouted flours, I'm strugging to see the business model.  A few niche bakeries maybe but a "revolution"?  No I can't see it.   Even for the home domestic situation, this isn't going to be a revolution.  It's too specialised.
A real revolution would be converting 75% or more of the population to stop buying bread and making their own full stop !  But we are a ways off such a noble milestone I think.
Maybe I have missed something here, and in many ways, I'm really hoping I have, because getting more nutrition into our breads via sprouted grains is a worthy thing, but right now I confess to being utterly confused!