Having never made Ezekiel Bread before, this was a real treat for Lucy.  Us older ex-Hippie types haven't made it for decades.   One reason is the 2 day sprouting for the beans and rice in one large pile and then sprouting whole grains in another.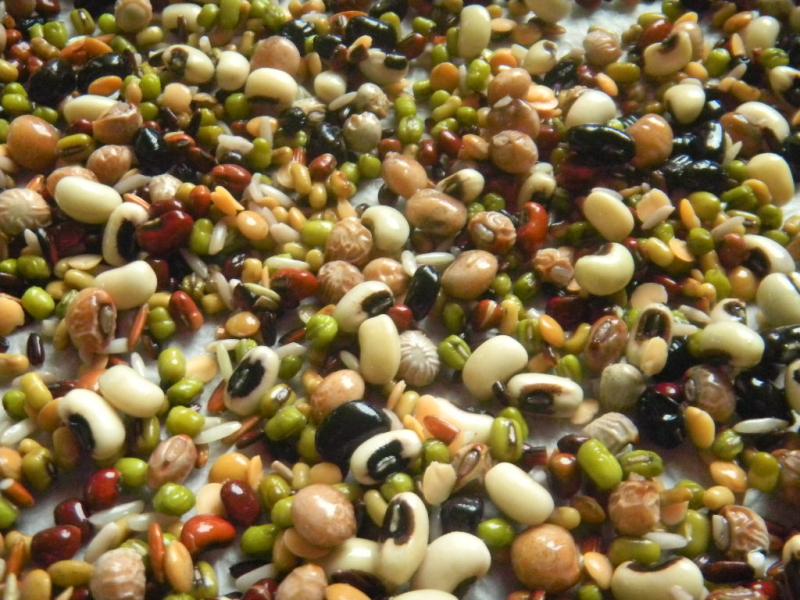 Then you mix half of each pile, add the dough liquid to it and then chop them up in a mini Cuisinart chopper.  Chop them into the smallest pieces you can for adding to the dough as a horrible looking gruel .....that doesn't smell too good either.  My apprentice appreciated me thinking of her by having this mix smell especially horrid.
There were 3 leavens for this recipe; SD, YW and a poolish.  Ezekiel is famous for rising from the dead and making the bread named after him into bricks.  He nmght do this just for fun or possibly spite since he was forced to eat an unleavened version of this bread for two years while wandering in a harsh desert.  I'd really be mad about that but maybe gladder at being alive at the end of the ordeal…. I guess.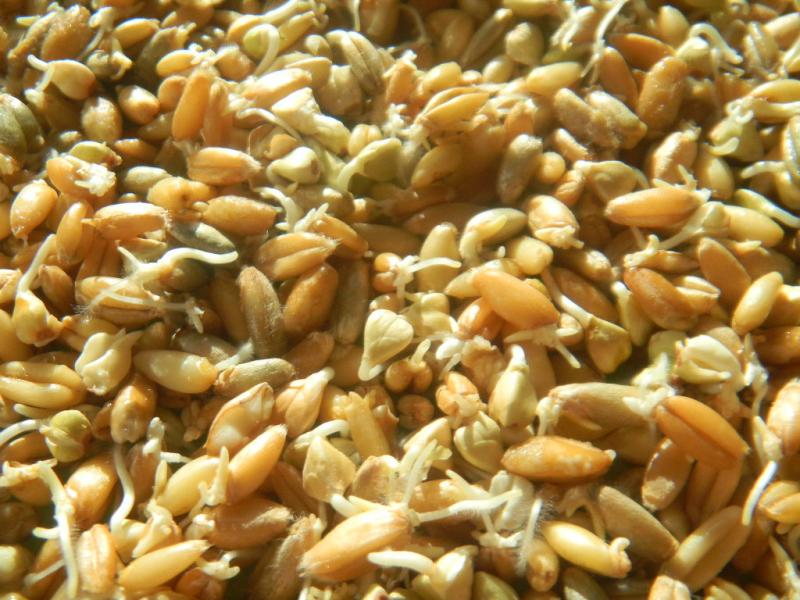 The leavens were not made from sprouted grains but were made in (3) 4 hour builds.   The SD portion was then refrigerated overnight.   The poolish took 12 hours to double after the last feeding as did the YW levain.  Why they were so slow is unknown, but mysterious none the less as are most things coming out of this kitchen now a days.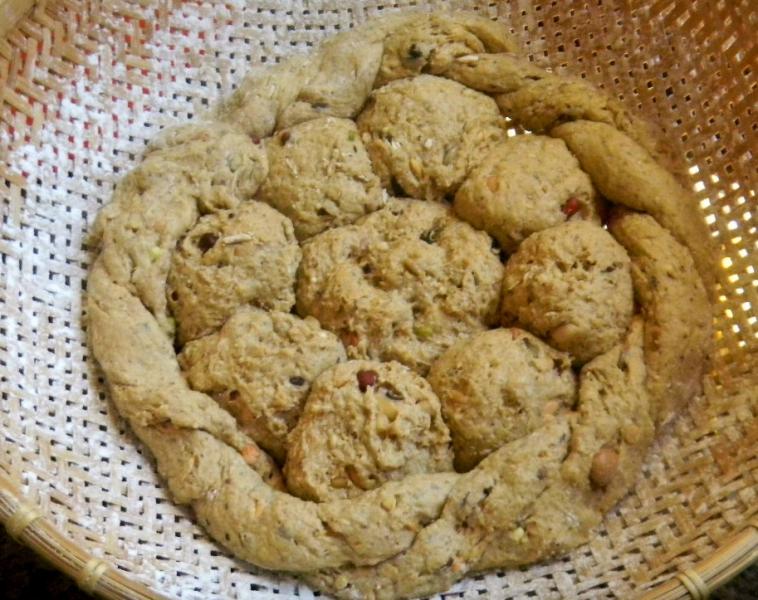 As for using non sprouted grains in the leavens, Lucy said she is crazy as any other baking apprentice but she isn't as stupid as some of them.  This is debatable and isn't saying all that much anyway when you think about it a second longer than she does.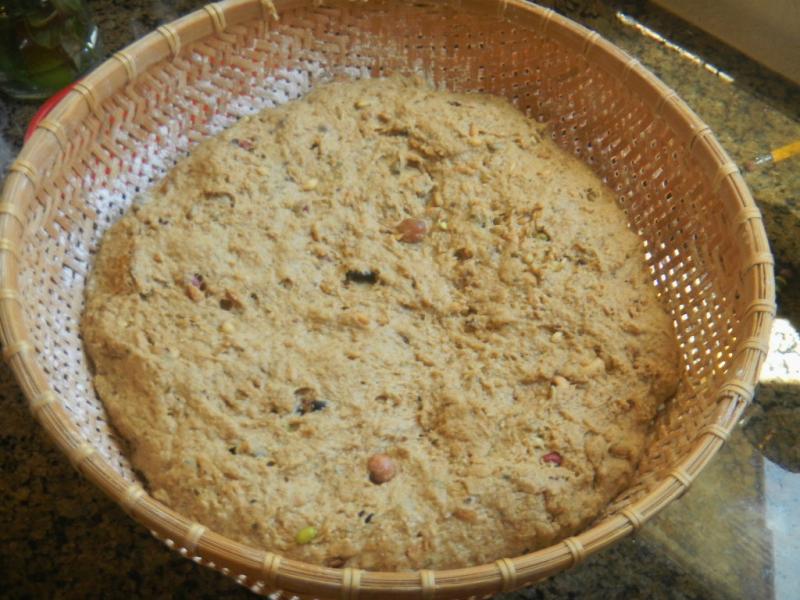 We were going to make this a 100% whole grain affair in keeping with the door stops that Ezekiel actually ate but thought better of it.   We could always do another bake at 100% whole grain if this one doesn't end up breaking rock in a quarry.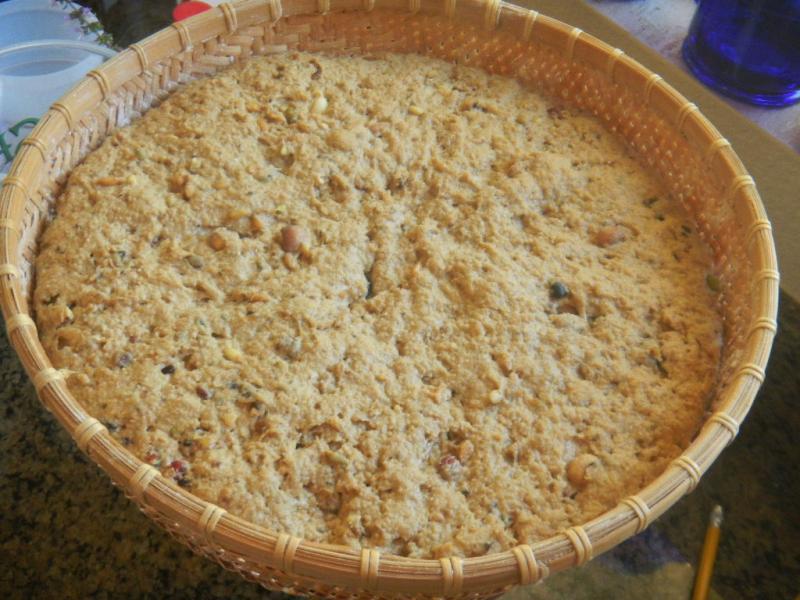 The leavens ended up being such a huge portion of this bread, we decided not to retard it and risk a possible IED in the fridge.  We are old enough to want to live forever so, tempting fate is not one of our strong suits - even though it seems we we do it all the time with much more dangerous things.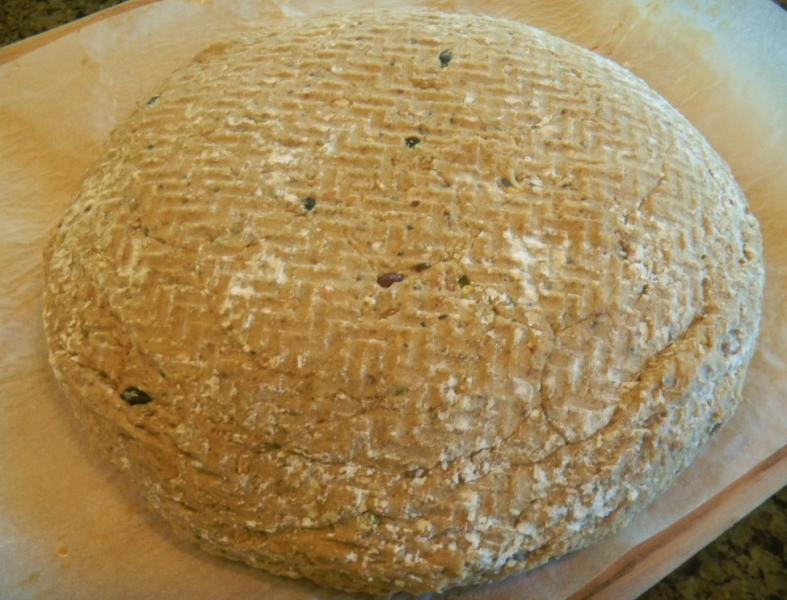 We did our usual 10 minutes of slap and folds even though this dough, if you could call it that, was a sticky, goopy mess that wouldn't begin to get tame until 5 minutes of being slapped around had passed.  Eventually it came together enough to let rest 15 minutes before 3 sets of S&F's were done on 20 minute intervals. The left over half of the beans and rice sprouts, as well as, the grain sprouts were incorporated on the first set.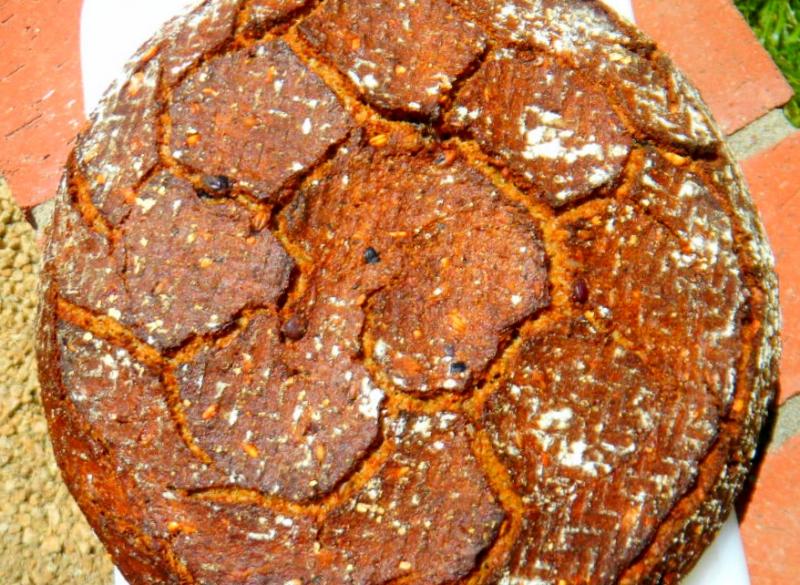 The dough was allowed to ferment for 30 minutes before it being formed into one large chacon using a knotted roll in the middle, surrounded by 8 balls and then one twisted twin sister rope.  The design was then covered by the remaining dough that was shaped in the air into a huge bialy - a near unmanageable thing and I was glad my apprentice had 4 paws to make it into the basket in some decent shape,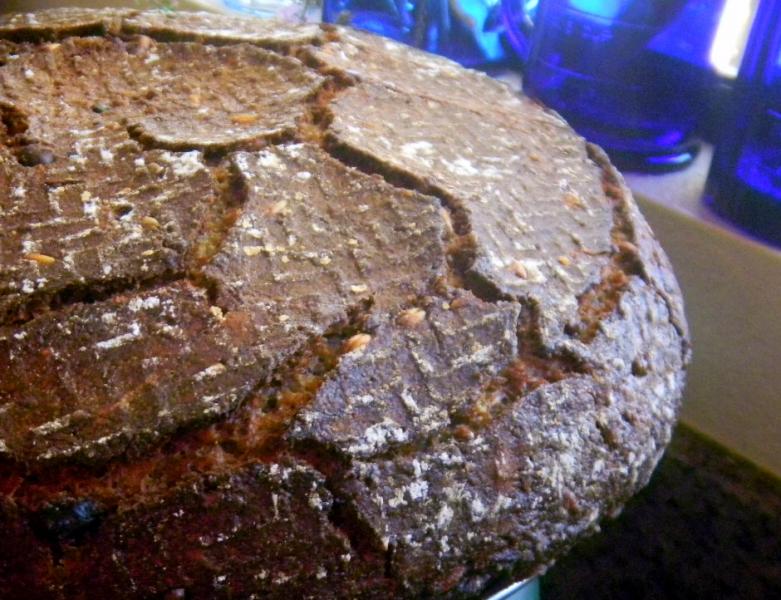 The basketed dough was placed into a used trash can liner to final proof on the counter for 1 ½ hours before Old Betsy was cranked up to 500 F with top and bottom stones  .  Once the temperature hit 450 F we slipped in the CI skillet full of lava rocks, half full of water, on the bottom rack to create steam and set the timer for 20 minutes to allow the temperature lagging stone to get at least 450 F.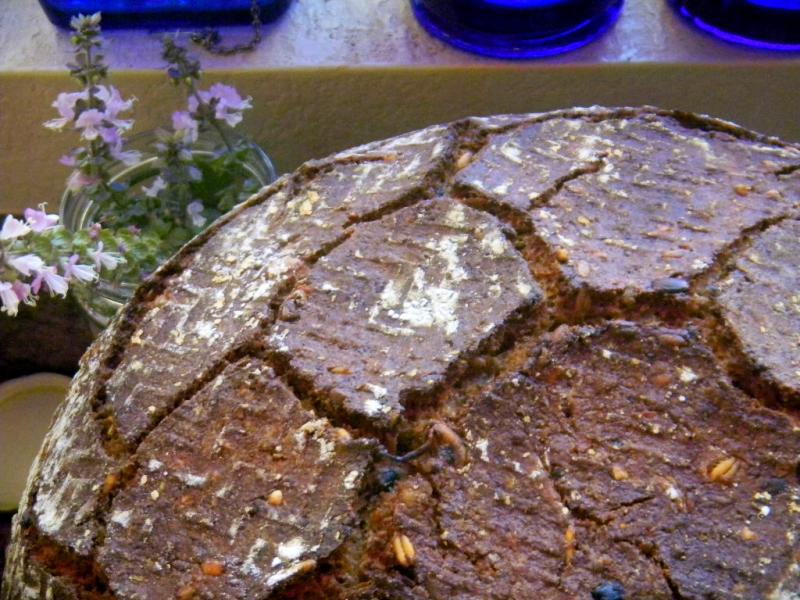 When 20 minutes was up, steam was aplenty and we un-molded the chacon onto a peel covered in parchment and slipped the bread into Betsy's steaming hot maw.  After 2 minutes we turned the temperature down to 450 F.   13 minutes later we removed the steam and turned the temperature down to 400 F, convection this time.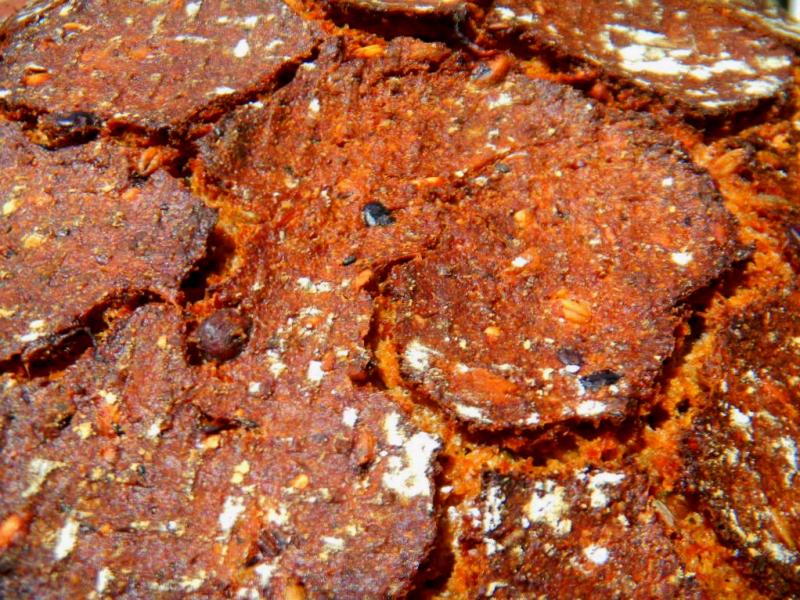 We rotated the bread every 5 minutes on the stone for 25 minutes until the bread hit 203 F in the middle.   Then we turned off the heat and let the bread come up to 205 F when it was removed to a cooling rack.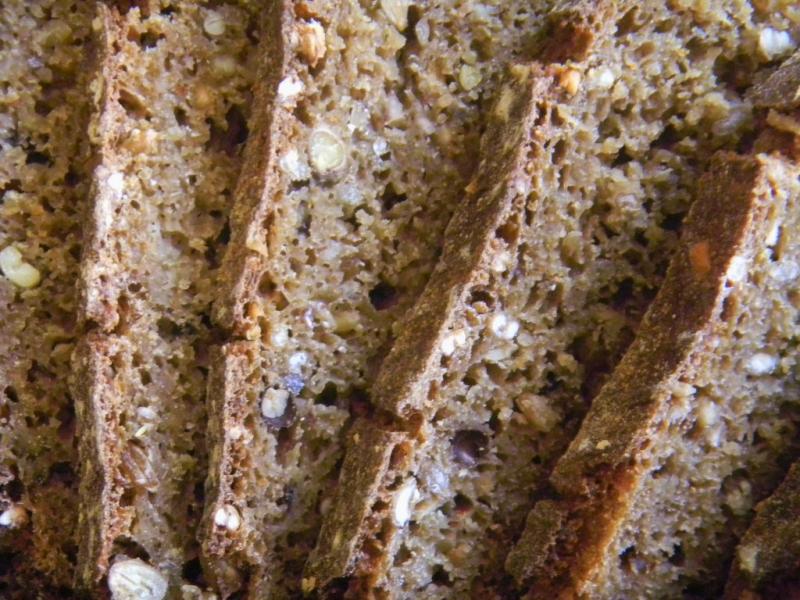 The bread took on a handsome, if unusually deep, mahogany color that we have never seen before but like very much.  The crust was very crisp which we also like and it stayed that way as it cooled.   It wasn't as aromatic as a bread containing aromatic seeds.  Even so, it smelled very earthy.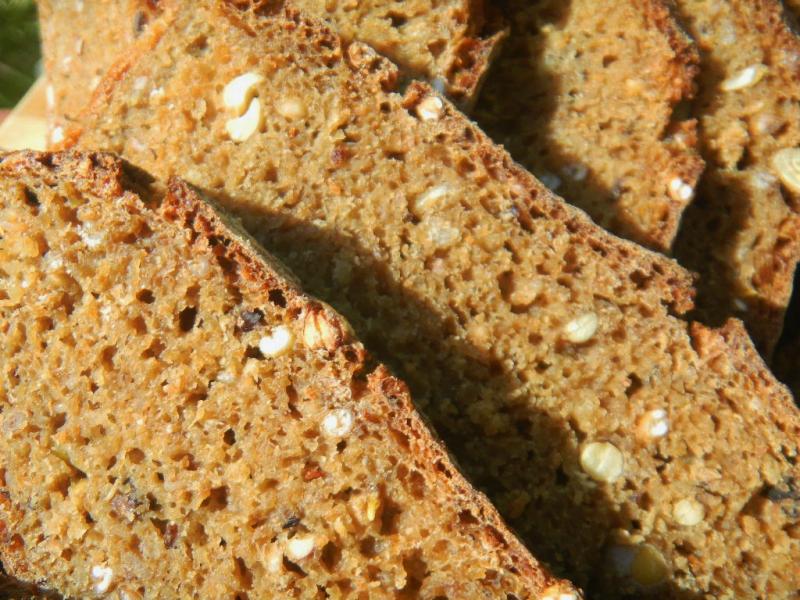 We can't wait to taste it and see what this unusual ingredient list with beans, rice sprouts and grain sprouts will taste like.   The crust cracked beautifully right where we expected.   The taste wait is over and we have never had a bread that tastes like this.  Deep and rich like a pumpernickel... and with all the beans - Satan's Farts may be closer than you think.  It has its own taste but the taste isn't beans or grain.  My daughter liked it with butter out of the microwave.  I loved it toasted - a whole meal in one bread.  The process was long but the rewards were great.  One of those great meals in a bread.  Perfect as a salad foil.  The crumb was soft and moist but not as open as we thought it would be - not dense and heavy but not as open as we will get it next time.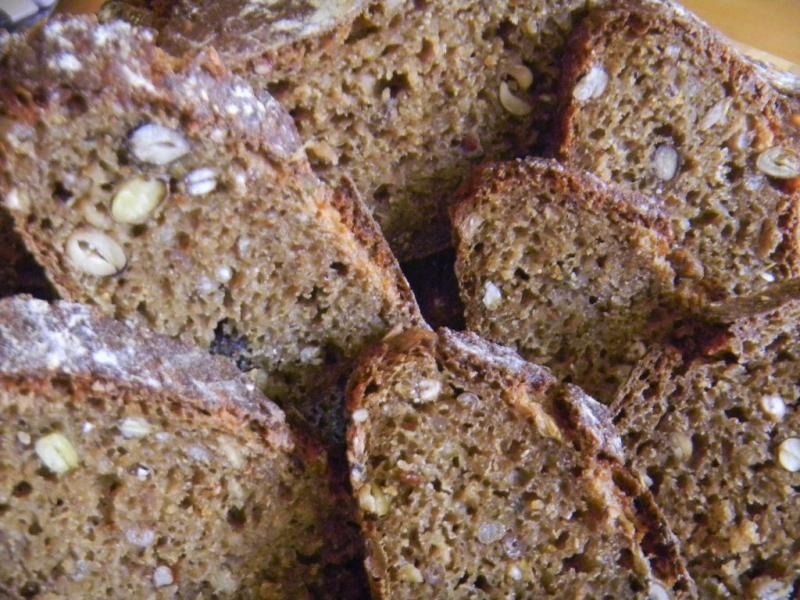 Next time...... and there will be one, we will omit the YW levain - no need, do an overnight retard, make it 100% whole grain by subbing WW for the AP and get some crunch in there with whole hemp and millet seeds....possibly some dried edamame.  Haven't decided on the dried fruit but apricots come to mind.   It's a lot work for a baker and his apprentice compared to normal bread bakes - but worth it.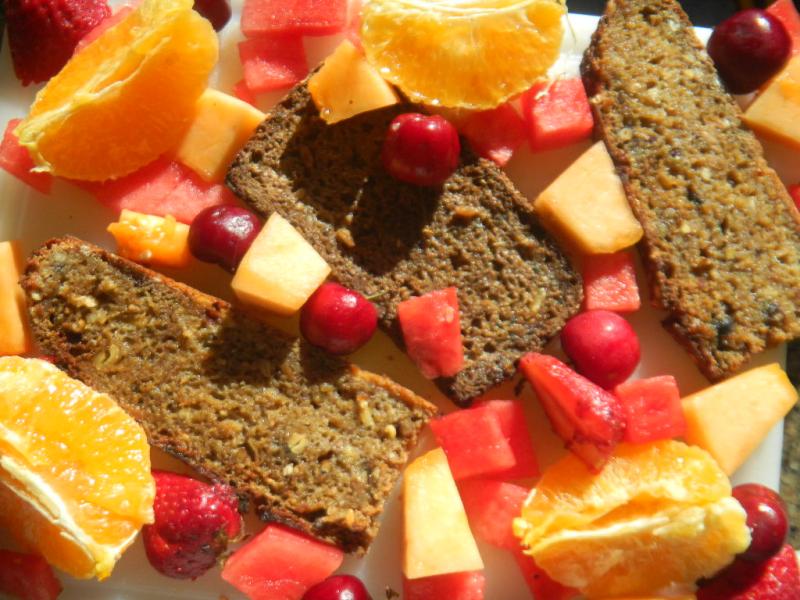 There is a  toasted and buttered slice of multi grain Dapumpernickel in the middle of this fine breakfast in order to compare it to the Ezekiel Chacon.  We like the Ezekiel even better and we love the pumpernickel.  Testament to a fine bread and breakfast.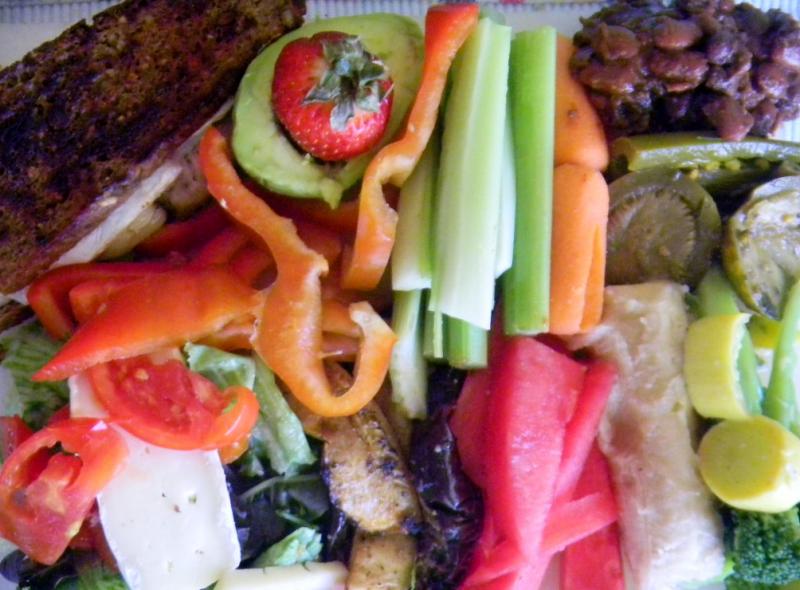 Lunch wasn;lt bad either with a smoked pork, brie and hot pepper jack grilled cheese sandwich, watermelon, strawberry, pickled Thai eggplant, grilled summer squash and eggplant, salad and all the fixin's with home grown tomato, steamed broccoli and yellow squash, half a banana, BBQ baked beans, celery, red pepper and carrot sticks and a half an avocado.  Just yummy!  We like thsi bread very much and the sour has really started to come out on day 2.
Formula
YW, SD & Poolish

Build 1

Build 2

 Build 3

Total

%

Yeast Water

50

30

0

80

12.07%

WW & Rye  SD Starter

20

0

0

20

3.02%

Amaranth

10

5

5

20

4.52%

Rye

20

12

12

44

6.64%

Oat

10

12

12

34

5.13%

Kamut

20

12

12

44

9.95%

Farro

20

10

10

40

6.03%

WW

20

18

18

56

8.45%

Buckwheat

20

12

12

44

6.64%

Barley

20

12

12

44

6.64%

Spelt

20

12

12

44

6.64%

Quinoa

10

5

5

20

3.02%

Millet

10

5

5

20

3.02%

Water

100

60

90

250

37.71%

Total

350

205

205

760

 

 

 

 

 

 

 

YW, SD & Poolish

 

%

 

 

 

Flour

340

51.28%

 

 

 

Water

340

51.28%

 

 

 

Hydration

100.00%

 

 

 

 

 

 

 

 

 

 

 

 

 

 

 

 

Levain % of Total

46.88%

 

 

 

 

 

 

 

 

 

 

Dough Flour

 

%

 

 

 

AP

250

37.71%

 

 

 

Mixed Whole Levain Flour

43

6.68%

 

 

 

 Dough Flour

 

44.39% 

 

 

 

Salt

11

1.66%

 

 

 

Water

102

15.38%

 

 

 

Dough Hydration

34.81%

 

 

 

 

 

 

 

 

 

 

Total Flour

663

100.00%

 

 

 

Water

442

 

 

 

 

T. Dough Hydration

66.67%

 

 

 

 

Whole Grain %

62.29%

 

 

 

 

 

 

 

 

 

 

Hydration w/ Adds

69.99%

 

 

 

 

Total Weight

1,621

 

 

 

 

 

 

 

 

 

 

Add - Ins

 

%

 

 

 

Red Rye Malt

5

0.75%

 

 

 

White Rye Malt

5

0.75%

 

 

 

Toadies

10

1.51%

 

 

 

Honey & Molasses

100

15.08%

 

 

 

VW Gluten

20

3.02%

 

 

 

Total

140

21.12%

 

 

 

 

 

 

 

 

 

Sprouts

 

%

 

 

 

WW

25

3.77%

 

 

 

Buckwheat

25

3.77%

 

 

 

Oat

25

3.77%

 

 

 

Spelt

25

3.77%

 

 

 

Farro

25

3.77%

 

 

 

Rye

25

3.77%

 

 

 

Whole Wheat

25

3.77%

 

 

 

Barley

25

3.77%

 

 

 

White Rice

15

2.26%

 

 

 

Black Rice

15

2.26%

 

 

 

Brown Rice

15

2.26%

 

 

 

Moth Beans

15

2.26%

 

 

 

Mung Beans

15

2.26%

 

 

 

Pigeon Peas

15

2.26%

 

 

 

Black Eyed Peas

15

2.26%

 

 

 

Red Beans

15

2.26%

 

 

 

Black Beans

15

2.26%

 

 

 

Orange Lintels

15

2.26%

 

 

 

Green Lintels

15

2.26%

 

 

 

Total Sprouts

365

55.05%

 

 

 

 

 

 

 

 

 

Dry weight for the sprouts.  Wet weight was 500 G