Help with Argentine flour: wet doughs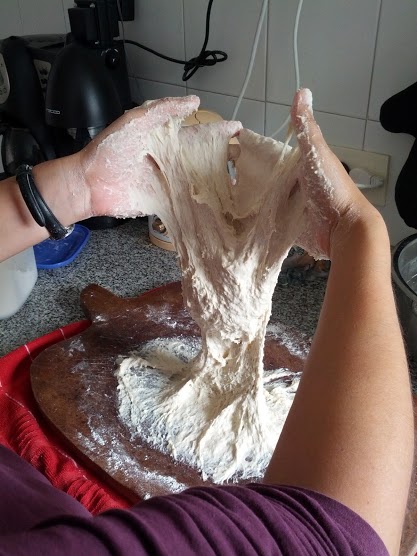 I've gotten a lot of useful advice from TFL over the past years but finally after a year and a half of breadmaking failure I am reaching out for help.
I've been a bread baker for about three years. For the past year and a half I have been living in Buenos Aires, Argentina and have been trying to recreate the breads I loved in the US using locally sourced ingredients and
equipment, mostly with disastrous results. I'm reaching out now for help to see if anyone with more experience can help me interpret what's happening to my breads.
The short version of the story is that the doughs I produce end up too wet and with no structure, compared to similarly hydrated doughs I produced in the US. After some research, I believe this is because Argentine bread 
flour has a lower percentage of protein/gluten than either AP or bread flour in the US. I documented this in detail on my blog: http://tlau.org/food/2013/05/argentine-bread-flours/
To compensate for that, I have been trying to supplement the flour with more gluten. I can obtain something called harina glutinada which claims to have 42% protein according to the label. So I have been mixing this with the standard bread flour to obtain what I believe should be flour with around 14% protein.  (From this link it looks like US bread flour has 12-14% protein.) I also imported some Bob's Red Mill vital wheat gluten during my last visit to the States (75% protein) and have experimented with adding that to the flour as well.
My first experiments seemed promising. My basic recipe is Emily Buehler's "basic bread" from her Bread Science book. It's a 70% hydration dough, optionally made with a poolish, that I am forming into two baguettes using a French bread pan. Experiments with increased gluten levels yielded decent-looking baguettes: http://tlau.org/food/2013/05/a-tale-of-two-breads/
More often, however, I struggle with doughs that are too wet and gloppy, coming out more soupy than firm. For one example, I tried making Bittman's original No-Knead Bread recipe using a mixture of bread flour and harina glutinada to end up with a supposedly 12% protein flour mix (435g of 10% protein flour, 45g of 42% protein flour -- can someone check my math?). After the first 14-hour rise, the dough poured out of the bowl, more soup than dough:
It's the same result as if I hadn't increased the gluten at all -- I had been seeing similar results trying to use unmodified flour.
More recently, I made my first dough using a sourdough starter that I began a week ago. The final dough had 64% hydration, plus a 21% proportion of starter (which has been maintained at a 1:3:2 starter:flour:water ratio, according to Reinhart's Artisan Breads Every Day starter formula).  I made a 16% gluten flour mix (471g 10% flour, 109g of 42% harina glutinada). With this low hydration, I would expect the dough to be rather dry, and in fact right after I mixed all the ingredients together, the dough was indeed very dry -- when I started kneading, not all the flour had been incorporated into the dough. After kneading, the dough felt tacky but not sticky; my fingers would stick to the dough but peel away clean. The windowpane test showed that the gluten had developed.
Yet after an overnight rise, the dough had turned back into soup:
It's behaving like an extremely wet dough, sticking to my fingers and to the counter, not at all how I'd expect a 64% hydration dough to behave based on what I've read online and seen on YouTube.
These experiments are very consistent with what I've been experiencing in the past year and a half (without a starter, just using commercial yeast) using locally sourced ingredients. I have read that higher protein levels enable the flour to absorb more water, which is why I have been trying to increase the protein level using glutinated flour. Yet it still does not seem to be enough. Does anyone have any other possible explanations for why my doughs are turning out so wet?
Yes, I know that I can reduce the amount of water, but I am (of course) still striving for those big holes characteristic of artisan bread, and decreasing the water seems to be at odds with trying to get the big airy breads.
Help?