December 24, 2012 - 3:04pm
Traditional Sourdough Pandoro - Merry X'mas!
Sending this to Yeastspotting.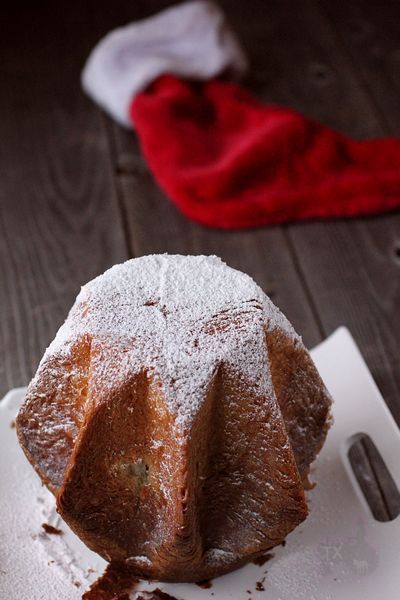 I have made sourdough Pandoro before (here), the process was similiar to soudough panettone - sweet starter, long rises, and thorough kneading. Just when I thought that was labor intensive enough, I came across this post, nicodvb's answer really peaked my interest: lamination AND sweet starter? Wow, that's like combining two most difficult breads in one, how can I not try?!
I followed this recipe nocodvb linked to, essentially, the steps are: sweet starter->first dough mix and rise at 26C for 5-6 hours->2nd dough mix and rise at 28C for 5 hours->lamination, fold 3 times->shape and rise until ready ->bake. Looks clear enough and the original poster's picture tutorials were so helpful. But of course the reality was a tad different ...
I decided to push my first dough to rise for 8hours, the dough has expanded 4 times by then. I feel a fuller first rise will help the crumb and rising speed later (...maybe not so much actually). Since I mixed 2nd dough to full developement, a strong windown pan was achieved.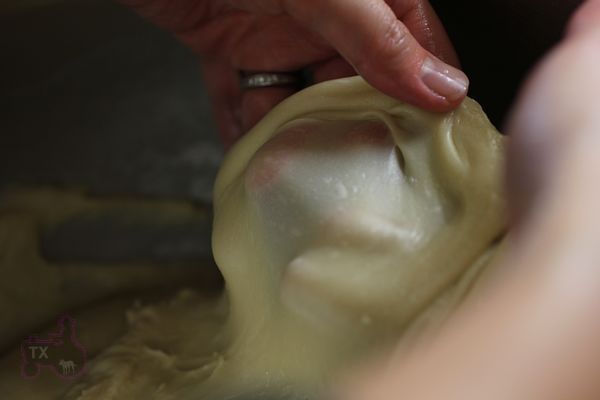 After 5 hours, 2nd dough has expended a bit, but not too much, I started lamination. OMG, the dough's much stronger than my usual croissant dough AND not that wet. The most difficult part is that the amound of fold-in butter to dough ratio is significantly lower than croissant or my laminated sandwich dough. All that means it's hella difficult to roll it out evently without smearing butter into dough. Given that butter ratio, I knew the crumb won't be honeycomb like, however I still tried my best to keep layers. It was an arm breaking 4 hours.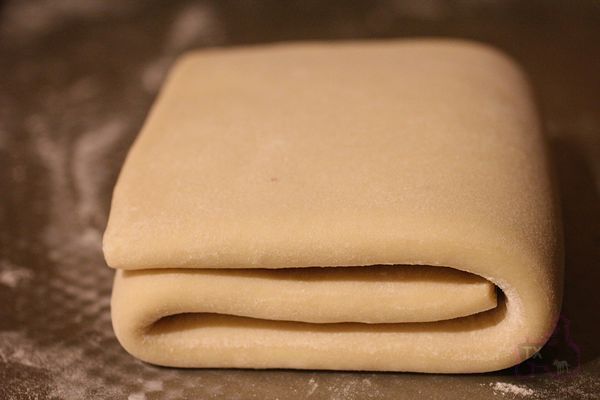 Now it comes to shaping. According to the recipe link, my larger pandoro mold should take in 750g of dough, and my smaller one should take 550g. However, my previous attempt showed that 550g was enough for the larger mold. I debated and put 650g into the larger mold, and the rest (500g) into the smaller one. Well, now I know it's too much for both. Then it comes to final rise, and it went on, and on, and on... Due to the laminated butter layers, I didn't want to have temperature higher than 26C in fear of buter melting, so it took fully 24 hours for the dough to reach the top!! I felt the dough, it's still strong and bouncy, it could've used more time to proof. However, 24 hours was my mental limit for proofing, I could take no more! Of course, the ovenspring was tremendous due to slight underproof. And, judging from the pic below, 550g (rather than 650) would've been enough for this larger mold. This huge dome was rather inconvenient when I had to flip it upside down.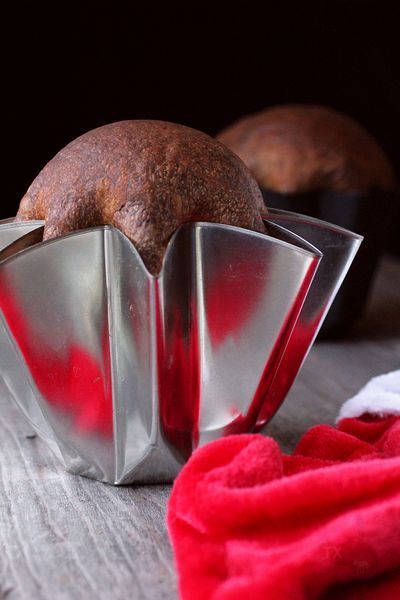 And the smaller mold was even more overfilled. 400g would've been enough (there's 500g of dough in there).

The good news is that all that work and time was worthwhile. First noticable effect from lamination was the flaky croissant like crust.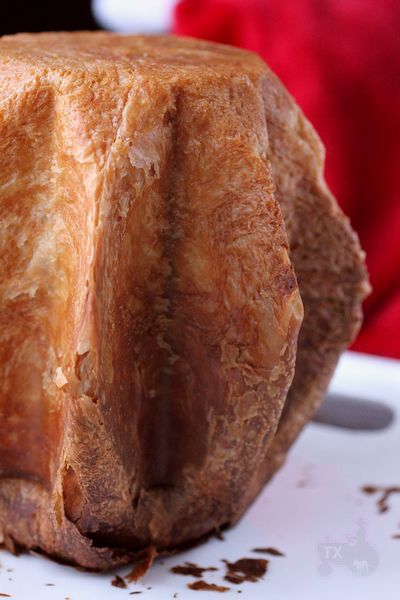 Crumb was light as air, with some random pockets from laminated butter

Note some honeycomb like cells near the top, from lamination

It's very  "shreddable", I am guessing due to both intensive kneading and lamination.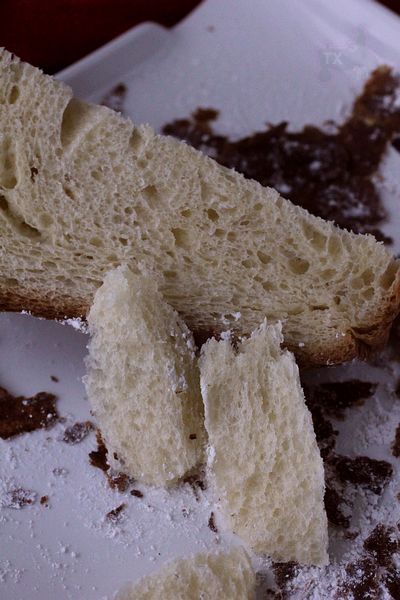 Best eaten by "peeling off". Thank you nicodvb for directing me to this wonderful recipe, happy holidays everyone!