January 12, 2012 - 2:32pm
SFBI Miche Again - with high extraction flour, rye starter, in a cast iron pot
Sending this toYeastspotting.
Click here for my blog index.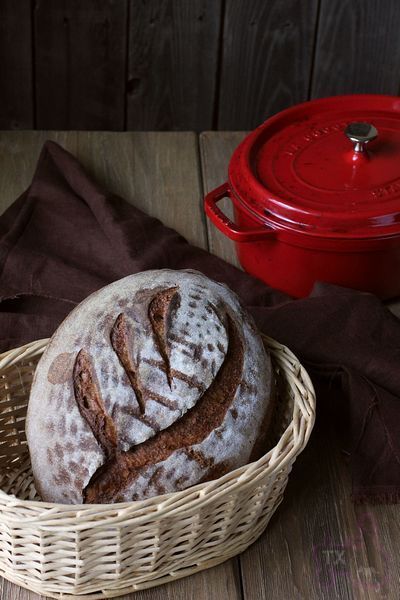 It all started with a trip to my neighborhood organic market. My first time there, and I was quite disappointed actually, way overpriced (Whole Foods seemed practically frugal in comparison), and the selection is just OK. However they did have Poilane Miche straight from Paris, which ended up being my only purchase from there. It was sold by quarters, but I did get a sense of how large the bread is. Crumb is fairly dense, but full of flavor, a bit more sour than what I usually bake. Crust is not hard or crispy, due to the packaging and shipping time I assume. 

Inspired, I decided to bake a miche of my own. Still went with the SFBI formula I used before (posted here), which was originally posted by David (here). I did do a few things differently:
1) Instead of a blend of ww and AP flour, I used Golden Buffalo, which is an organic high extraction flour.
2)Instead of a white starter, I used my rye starter, which is VERY active and flavorful.
3)Instead of bakion on the stone with steam, I baked it in my large Staub cast iron pot. Preheated at 500F for nearly one hour, slash, load the loaf, cover, bake at 450F for the first 20min, remove lid, lower temp to 430F, bake for another 40min, turn off oven, open the oven door a little, leave the loaf (in the pot) in oven for another 20min before taking out.
4)My cast iron pot is oval so I shaped the dough into a batard, which is not the "usual" shape for miche
5)The scoring was borrowed from breadsong's post here, thank you so much!
Everything else remained the same, including the 2KG size, as well as fermentation/proofing schedule.
I really like how the scoring showed up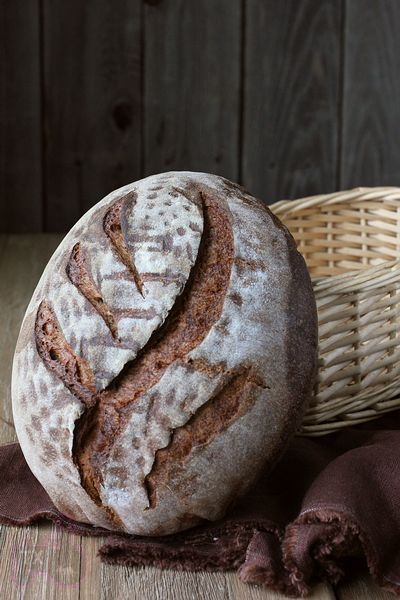 Such large loaves tend to flatten out on the baking stone, but in a pot, it had a very tall profile

A side by side comparison of the crumb between my miche and Poilane. The texture look kinda similar, but taste different: my miche (upper left) is less sour, has a more "sweet" taste than Poilane (lower right). I really liked the use of rye starter, it adds another dimension to the flavor profile.

I don't know which day the Poilane Miche was baked and shipped, but by the time I was eating it, it was a tad dry. I kept my miche wrapped for 24 hours before cutting in, and it tasted the best after 48 hours. Hmmm, I don't think I will go to that merket again, if I were to buy Poilane Miche again, I would get it in Paris, when its flavor is at the prime.