September 15, 2011 - 8:15am
100% WW Tomato Pesto Bread - super tomato-y
Sending this to Yeastspotting.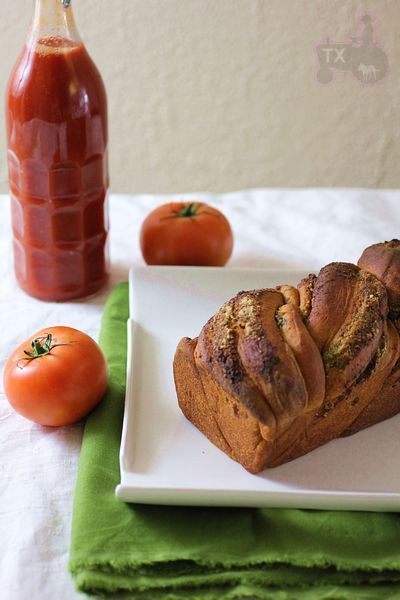 I have been wanting to make a tomato flavored bread for a while now, after quite a few attempts, I found
* The bread needs to have a very strong tomato flavor, otherwise it tastes oddly sour, sort of like spoiled food(at least to me). In order to get that intense tomato flavor, all of the liquid in this formula is tomato juice, AND I added some tomato pastes.
* WW flavor complements tomato very well, add depth to the sour/sweet note
* WW also makes the red color deeper, rather than light pink, which I love on my dresses, but not my breads
* With that much acidic tomato juice/paste in the dough, it's not a good candidate for sourdough. I have tried a few times, the dough ends up falling apart a little at the end of proofing, unable to rise very tall in the oven - small sourdough rolls would still be OK, but sourdough tomato sandwich loaves would be short and small. I finally gave up and make this loaf using dry yeast.
* Cheese/basil/garlic are classic matches to tomato for a reason - they are super delicious.
100% WW Tomato Basile Cheese Bread
Note: makes a 650g bread, using a 8.5X4.5 loaf tin
ww flour, 450g
instant yeast, 5g
brown sugar, 45g
salt, 7g
tomato juice, 284g
tomato, paste, 28g
olive oil, 45g
- filling
parmesan cheese, 30g, grated
basil pesto sauce

1. Mix flour, sugar, tomato juice, tomato paste, olive oil, autolyse for 20-60min. Add salt and yeast, knead until passing windowpane.This intensive kneading is the key to a soft crumb, and proper volume. The windowpane will be thin and speckled with grains, but NOT as strong as one would get form a white flour dough. For more info on intensive kneading, see here.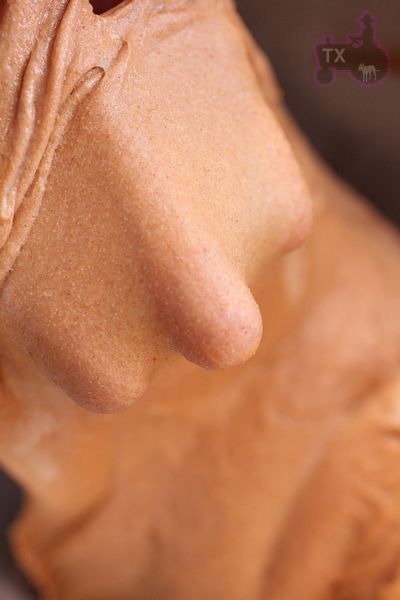 2. Bulk rise until double, about 90min @ 75F. S&F, slap to get rid of air, round and rise again until double, about 45min.
3. Round, rest for 15min. Roll out to 9X16inch, spread pesto sauce, then cheese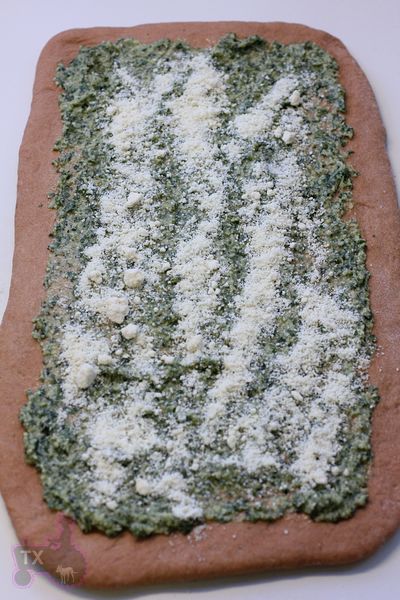 4. Roll up from the short side (i.e. roll along the long side), seal well. Cut along center, turn to let cut surface facing up, braid and put into oiled tin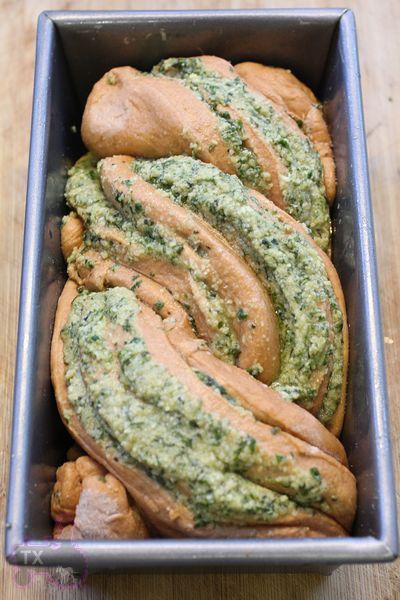 5.Proof for 45-60min, until about 1 inche above the rim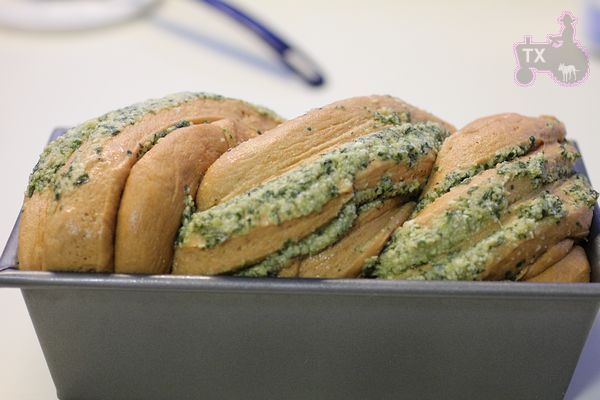 6. Bake at 350F for 35-40min, after 15min, start checking, cover with tin foil if the cheese starts to burn and the top brown too quickly.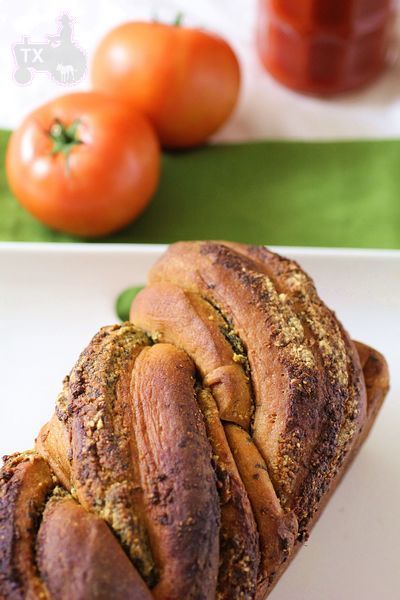 WW goes well with the classic tomato/pesto flavor combo, cheese just push it over the edge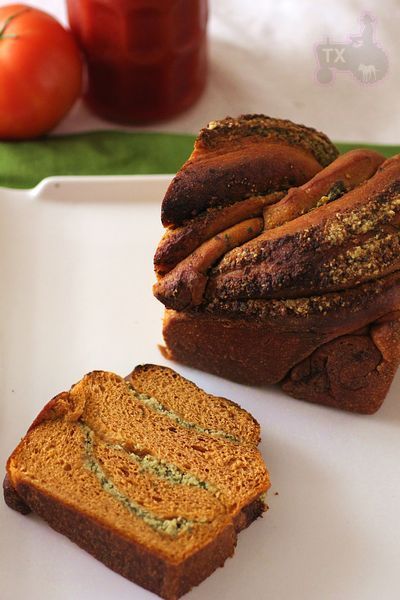 I actually don't like to drink tomato juice directly, and it's a good way to use up the two big cans of tomato juice my mother unloaded to me. I made the pesto sauce as well, with fresh basil, pine nuts, olive oil, (lots of)garlic.