Rustic Sourdough Baguettes after Phillipe Gosselin
Two months ago, after enjoying Phillipe Gosselin's "baguettes tradition" in Paris, I attempted to replicate this delicious bread in a sourdough version. (Baguette Tradition after Phillip Gosselin) My wife and I actually preferred my version to the original. In fact, I felt they were the best tasting sourdough baguettes I'd ever made.
Yesterday, I made them again. This time, I omitted the little bit of instant yeast I had used with the first bake. Interestingly enough, my fermentation time was just about the same as with the added yeast.
The other difference was I used a new (to me) flour from Central Milling. According to brother Glenn, Nicky Giusto told him this is the flour Acme uses for their much-admired baguettes. I hesitate to generalize from a single bake with it, but it made a very chewy baguette crumb with good flavor. I'm looking forward to using it on some other breads with which I am more experienced.
| | | |
| --- | --- | --- |
| Ingredients | Wt. | Baker's % |
| Central Milling Organic "ABC" Flour | 400 g | 100 |
| Ice Water | 275 g | 69 |
| Salt | 8.75 g | 2 |
| Liquid Levain | 200 g | 50 |
| Instant yeast (optional) | ¼ tsp | |
| Total | 883.75 g | 221 |
Note: Accounting for the flour and water in the levain, the total flour is 500 g and the total water is 375 g, making the actual dough hydration 75%. The actual salt percentage is 1.75%.
Method
The night before baking, mix the flour and levain with 225 g of ice water and immediately refrigerate.

The next morning, add the salt and 50 g of ice water to the dough and mix thoroughly. (I did this by hand by squishing the dough between my fingers until the water was fully incorporated.)

Place the dough in a lightly greased bowl with a tight cover.

Ferment at room temperature until the dough has about doubled in volume. (3 hours for me) Do stretch and folds in the bowl every 30 minutes for the first two hours.

An hour before baking, pre-heat the oven to 500ºF, with baking stone and steaming apparatus in place.

Divide the dough into 4 more or less equal pieces and stretch each into a 12-14 inch long "baguette."

Score and bake immediately at 460ºF, with steam for 10 minutes, and for about 20 minutes total.

Cool on a rack before eating.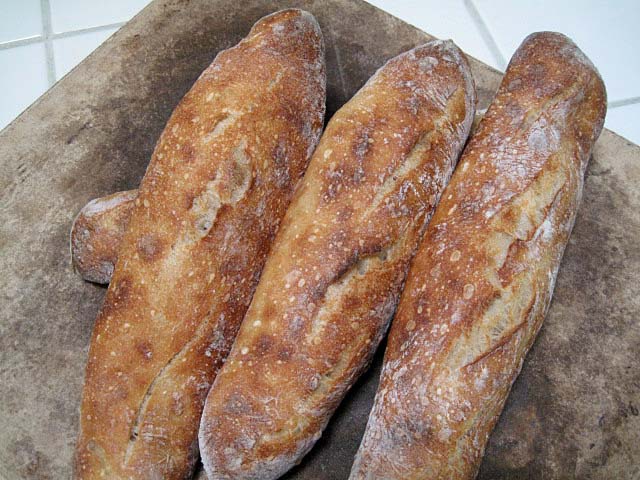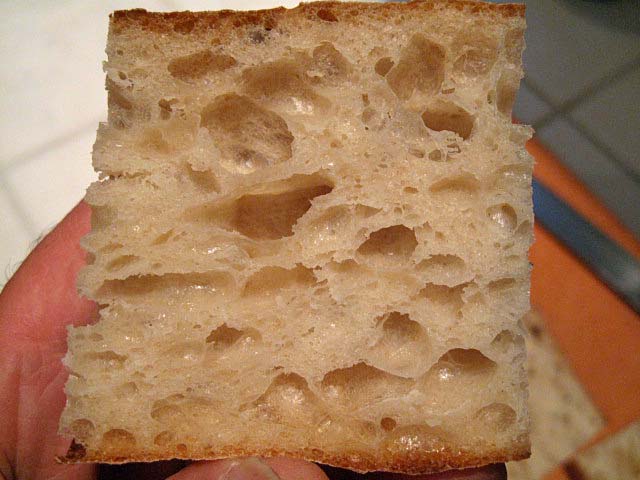 David