Extremely soft sourdough sandwich bread - the most shreddble, soft, velvety ever!
I have posted about how to make very soft, very fluffy, yet still bouncy sandwich breads with lots of flavor(see here). The key isn't any gimmick or special ingredient, it's intensive kneading, a full long bulk rise, and proper shaping. I have posted the windowpane picture in the earlier post, but still got some questions about it. Here I will try to describle how the dough would progress during intensive kneading:
1. Dough starts to come together, but if you pull a piece, the dough would easily tear, won't form windowpane.
2. Keep kneading, the windowpane gradually starts to form, but it's thick, and won't extend very far. If you poke and get a hole, the edge is rough.
3. keep kneading, the windowpane becomes very extensible. The windowpane is thin but very very tough to break. If you poke a hole (I actually have to use my nail), the edge is smooth.
4. Keep kneading, the windowpane becomes even thinner, more transparent, but it becomes more delicate, easier to poke holes. The edge of the hole is still smooth.
5. Keep kneading, the dough starts to break down into a puddle of mud.
Stage 3 is the "golden point" for creating sandwiches with the best texture, and highest volume. 4 is a little over, your bread will still be high and nice, bu the texture would be a bit rough.  Of course it will take a few trail and error to get to that point reliably. In addition, if you are making a sourdough version like I do here, the bulk rise would take a lot longer than the dry yeast version. During this time, the dough is still getting stronger, which means, we need to knead the dough a tiny bit less than stage 3. This time I stopped kneading probably 30secs before it reaches stage 3, and the bread I got is the softest, most shreddable, bounciest I have ever gotten.
Sourdough Incredibly soft white bread
Note: 19% of the flour is in levain
Note: total flour is 250g, fit my Chinese small-ish pullman pan. For 8X4 US loaf tin, I suggest to use about 270g of total flour. For KAF 13X4X4 pullman pan, I would suggest using about 430g of total flour.
- levain
starter (100%), 13g
milk, 22g
bread flour, 41g
1. Mix and let fermentation at room temp (73F) for 12 hours.
- final dough
bread flour, 203g (I used half KAF bread flour and half KAF AP flour for a balance of chewiness and volume)
sugar, 25g
butter, 25g, softened
egg whites, 60g
salt, 3g
milk, 102g
1. mix until stage 3 of windowpane (-30sec:P)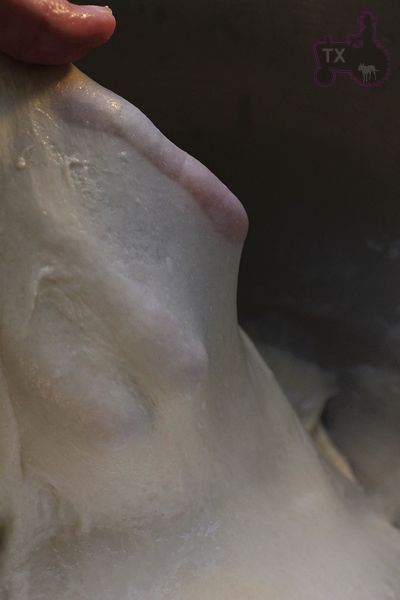 2. rise at room temp for 2 hours, punch down, put in fridge overnight.
3. takeout, divide, round, rest for 1 hour. shape as instructed here.
4. rise at room temp for about 6 hours. For my pullman pan, it should be about 80% full; for US 8x4inch pan, it should be about one inch above the edge. The dough would have tripled by then, if it can't, your kneading is not enough or over.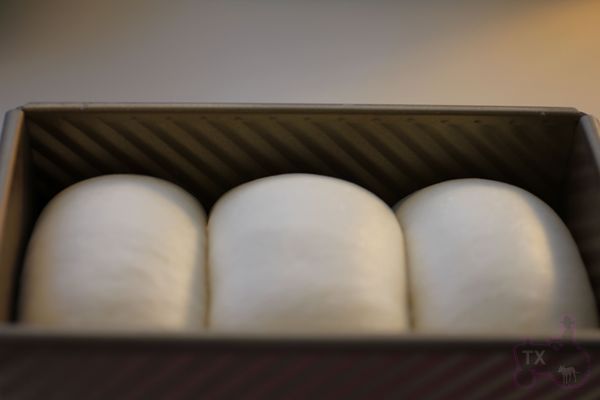 5. bake at 350F for 45min. brush with butter when warm.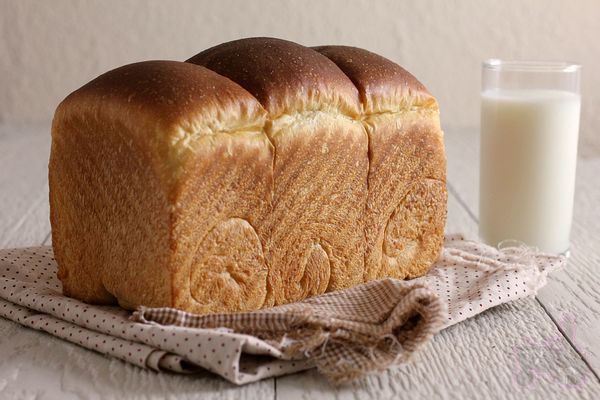 Crumb shots from different parts of the bread, all very velvety soft, with no pores.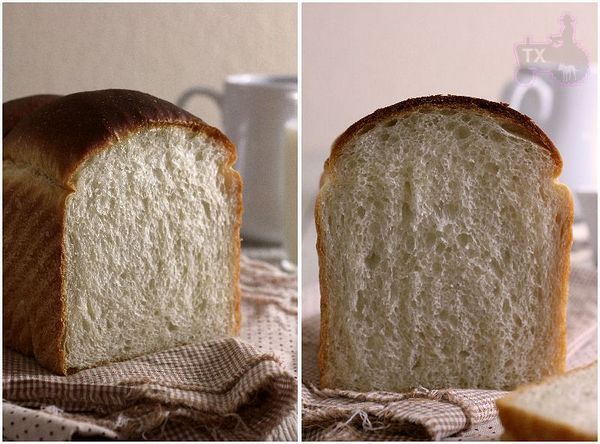 So soft that it's hard to cut, much easier to tear off pieces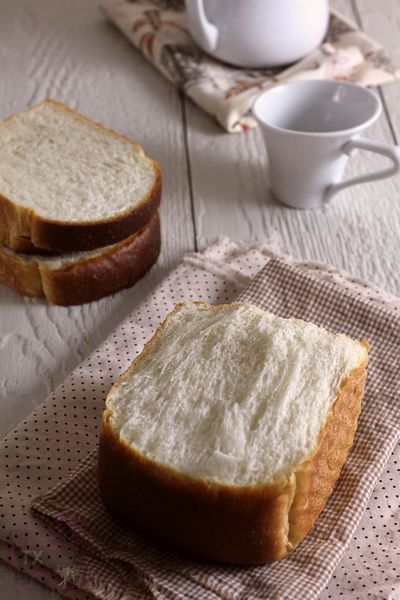 Amazingly soft and flavorful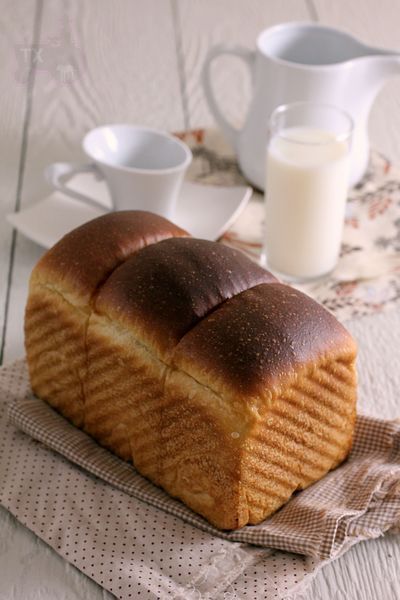 Sending this to Yeastspotting.