November 16, 2010 - 12:18pm
Sourdough Pan de Mie - how to make "shreddably" soft bread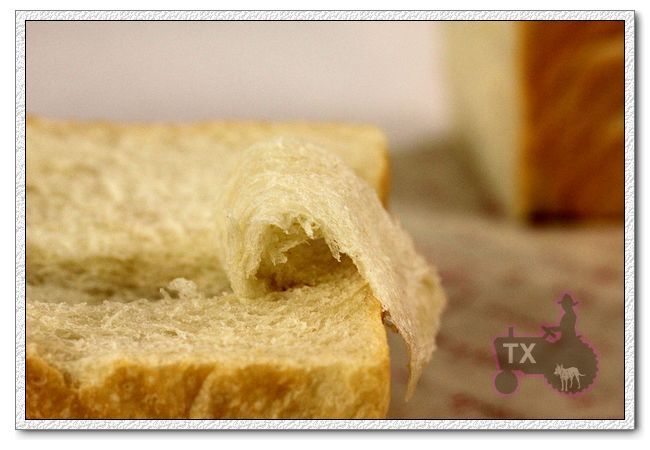 After posting about some soft Asian style breads, I have gotten more than a few private messages regarding how to make very soft sandwich loaves. I was a little suprised since my impression was that most TFL-ers here prefer a good crusty lean hearth loaf, and soft "wonder breads" are being looked down to. I guess there IS always a need for soft breads: elders and kids who don't have strong teeth, spreaded with a little jam for delicate tea sandwiches , or just because you like the taste and texture. Soft breads are not equal to tasteless wonder breads either, they can be flavorful, "bouncy", and full of body.
Pan de Mie is a slightly enriched bread, just like most soft sandwich breads. That little bit of sugar, butter (you can replace with oil), and milk powder (you can replace with milk, and take out water accordingly of course), only 5% each, are enough to make the crumb very soft. For even softer results, you can increase these ratios to 10% or even 15%, or/and add other enriching ingredients such as cream, cream cheese, buttermilk, cottage cheese, etc.  However, adding too much, you are getting into broche territory though. This verion is raised purely with sourdough stater, but you can get good results using commercial yeast as long as the ingredient ratio is reasonable, and you do a good job at kneading/fermentation/shaping. However, since pan de mie has a very subtle taste, that bit of sourdough tang really enhance the flavor, I would highly recommend using it.
Sourdough Pan de Mie (my own)
Note: 19% of the flour is in levain
Note: total hydration is 65%
Note: total flour is 280g, fit a 8X4 loaf pan. For my Chinese small-ish pullman pan, I used 260g total flour. For KAF 13X4X4 pullman pan, I would suggest using about 450g of total flour.
- levain
starter (100%), 15g
milk, 24g
bread flour, 46g
1. Mix and let fermentation at room temp (73F) for 12 hours.
- final dough
bread flour, 227g (I used half KAF bread flour and half KAF AP flour for a balance of chewiness and volume)
sugar, 14g
butter, 14g, softened
milk powder, 14g
salt, 5g
water, 150g
2. Mix together levain, flour, milk powdr, sugar, and water, autolyse for 30min. Add salt, mix until gluten is developed, add softened butter, and knead until the gluten is very developed. This intensive kneading s the key to a soft crumb, and proper volume. We've all heard of windowpane test, but what's important is how STRONG the said "windowpane" is, which is a measurement of how strong the dough is, and how uniformed the gluten structure is. The following the a picture of my windowpane test on this dough, notice that it's thin, but so strong that it doesn't tear even when I wear it as a glove and my finger is poking at it.
When I finally poke through, the edge of the hole needs to be very smooth.
Yes, it can be done by hand. I have regularly kneaded dough to this stage by hand, it just requires a bit of patience and practice. Of course it's easier with a mixer. In my KA pro6, this dough took 13 to 15 min of mixing at speed 3 or 4 (I know, I know, it violates the KA mixer manual. If you are worried, don't do it, just mix at speed 2, it will take (quite a bit) longer. I have been using this "illegal" method for 2 years now, the mixer has not complained.), doughs with more fat would take longer, different dough size would also affect the time. Do note that it's very possible to over-knead, especially with a mixer, even a couple more minutes after the stage above, the dough would deterioate quickly, it takes a few trial and error to get it perfect. I would suggest to touch and feel the dough every few minutes even you do use a mixer, so you get a good sense of how the dough changes. This intensive kneading technique is quite useful, not just for soft sandwiches, but also for brioche, or other enriched breads. However, for lean hearth loaves, I don't knead at all, I stretch and fold, to get the open crumb. I think different breads demands different techinques.
3. Bulk rise at room temp (73F) for 2 hours, the dough would have expanded noticably, but not too much. Fold, and put in fridge overnight. I find the crumb would be more even and soft if dough gets a full bulk rise - that is true even when I use dry yeast with this dough.
4. Divid, rest for one hour, then Shape into sandwich loaves, the goal here is to get rid of all air bubles in the dough, and shape them very tightly and uniformly, this way the crumb of final breads would be even and velvety, with no unsightly holes.
For the 8X4loaf pan, I first roll out the dough into pretty thin, getting rid of bubbles in the mean time. Fold two sides to middle (see picture below), then roll up like a jelly roll, and put in the pan seam side down.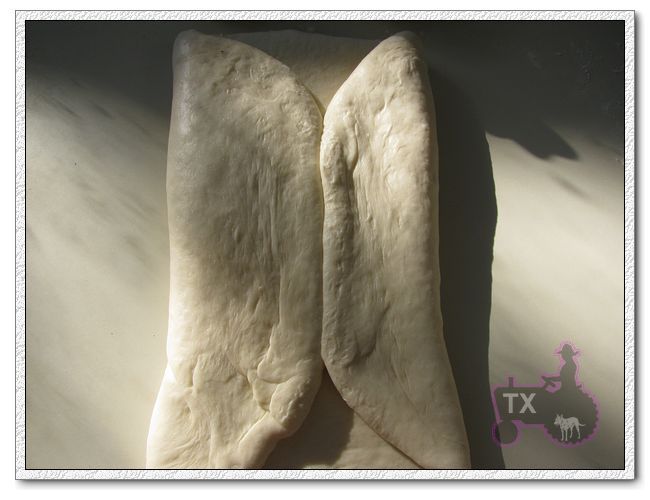 However, I much prefer the pullman pan method. First divide the dough into 3 or 4 pieces depending on pan size, roll each piece into oval, and roll up. After resting for 10min, roll out each piece into long oval again(along the seam), and roll up again, tighter than the first time. Put the pieces seam side down in the pan. By rolling twice, the crumb will be more even and "pore-less".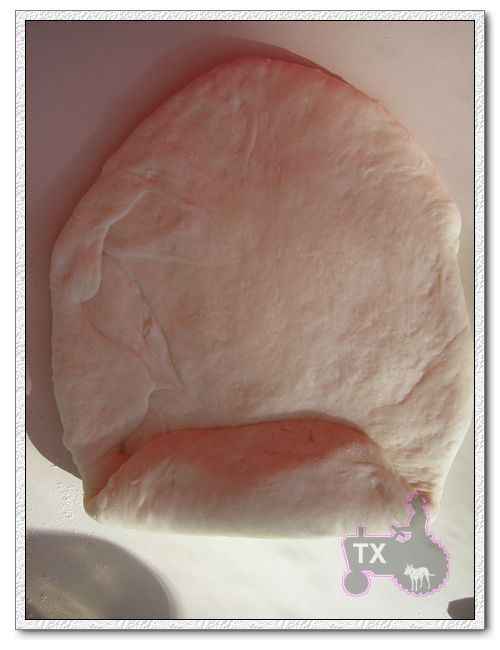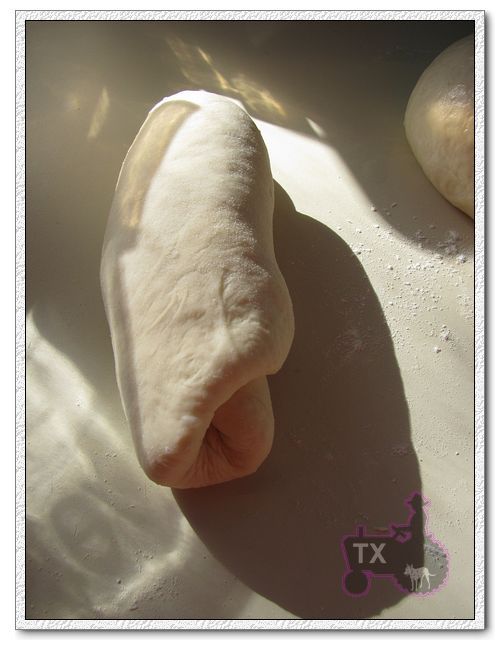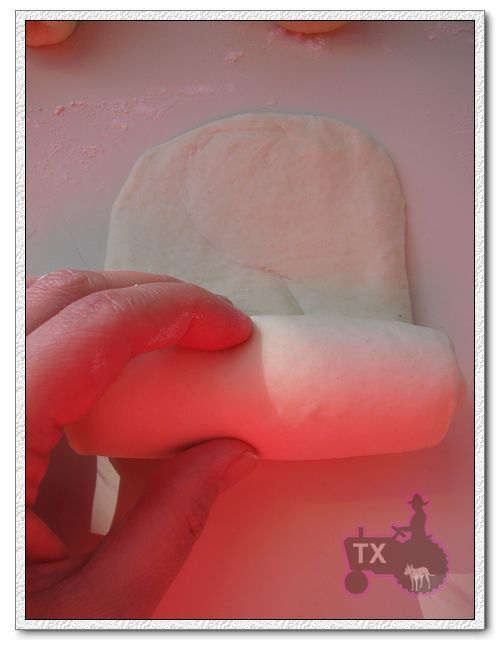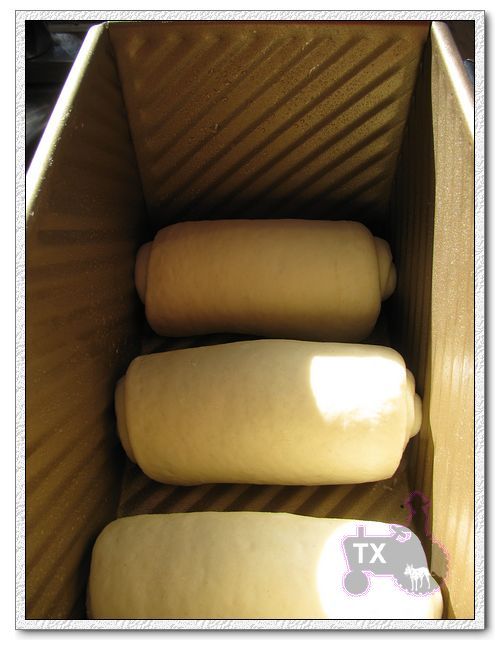 5. Cover and rise for about 6 hours at 73F. For pullman pan, the dough should be 70%full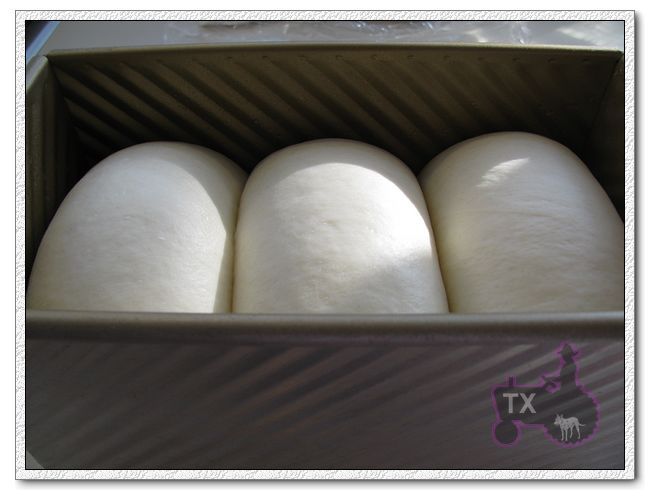 For 8X4loaf pan, the dough should be about one inch over the edge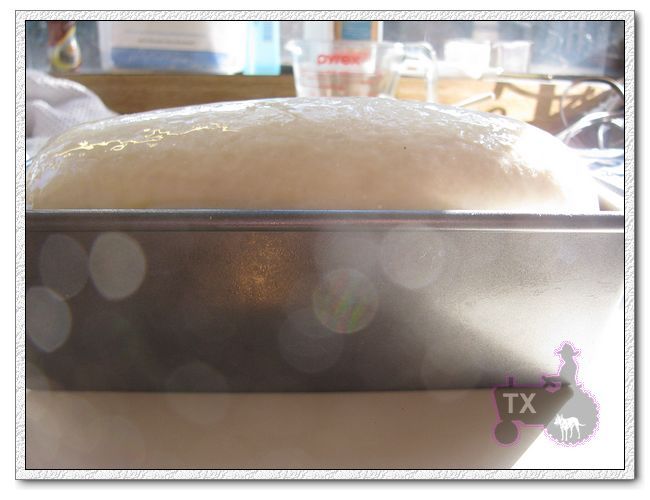 6.  Bake at 375 for 45min. Immediately take the bread out of pans, and cool.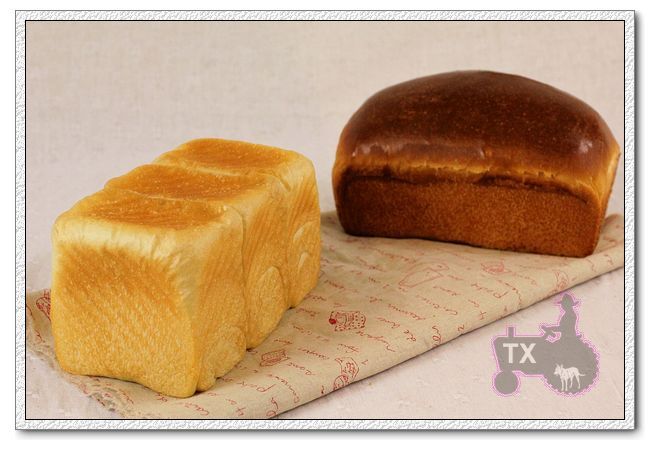 Looking at the crumb shots below, you can see the difference between two shaping methods, the "double roll" really make the crumb more even and pore-less: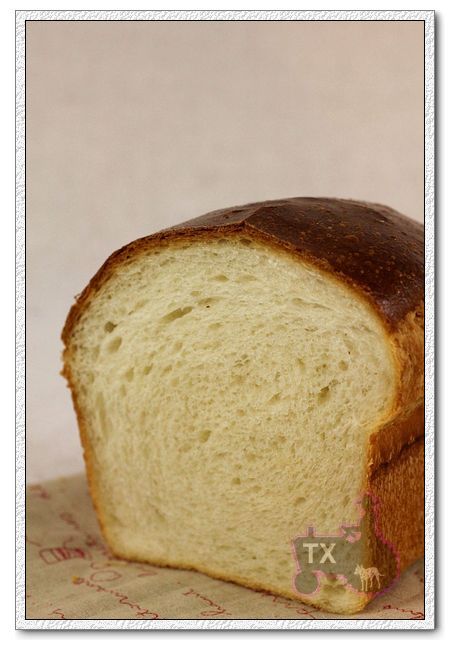 Of course, the "pore-less" crumb is more about aesthetic, with either shaping method, the bread would be shreddably soft.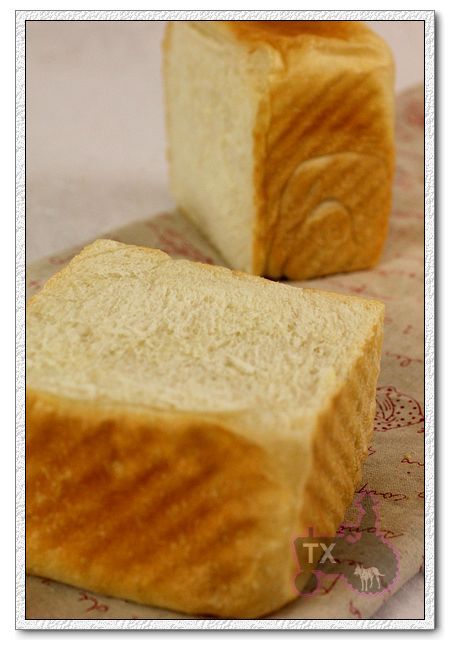 Makes a great grilled cheese: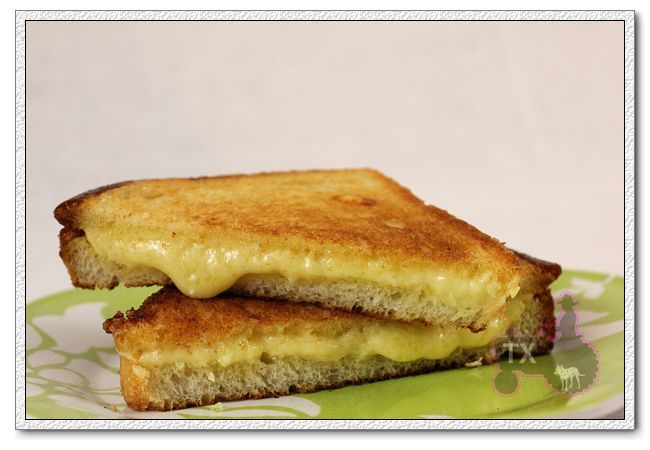 Or as I tend to do, just tear pieces off and snack on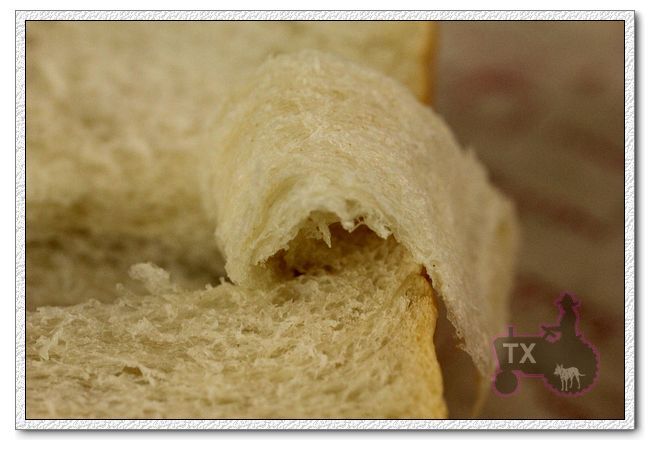 Sending this to Yeastspotting.