January 12, 2011 - 9:49am
master shapers input needed (update!)
I visited "De Zandhaas", a working grain mill close to Amsterdam. Together with two fellow bread enthusiasts we had a one on one with the miller. He gave us loads of really useful info on the local, regional, national and European ins and outs on grain.
For some time already I suspected that my shaping problems originate right at the start; it's the flour we have acces to here. And the miller made it a fact! Our local grains aren't nearly as strong as the Northern American varieties. We also learned that American grain is hard to come by around here nowadays, so no need to go hunting for it. The differences are so big that all formulas that originate in the U.S.A need serious tweeking over here. My friend joked that "now we finally know that our water hasn't more water in it after all"  It certainly seemed that way every now and than with some formulas (especially this Filone that started this thread)
Loaded with information and of course the freshest of flours imaginable (the miller gave us some wheat germ to taste that was amazing) I returned home inspired. Whether it was a stroke of luck or a moment of genuine learning remains ro be seen, but I think I shaped, slashed my first more than average batard!
Meet my Golden Semolina Torpedo from the Bread Bible.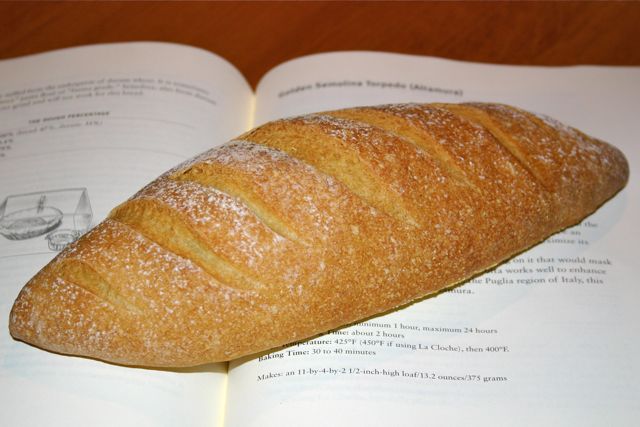 Thank you all for helping me get better. Sunday I'll post a wonderful recipe for a very local Frisian Sugar Bread that I think hasn't been posted yet here on The Fresh Loaf. Check it out!
X Freerk
---------------------------------------------------------------------------------------------------------------------------------------------------------------------------------------------------------------------------------
original post:
My latest Filone came out fine, but shape-wise it is just not what I'm looking for.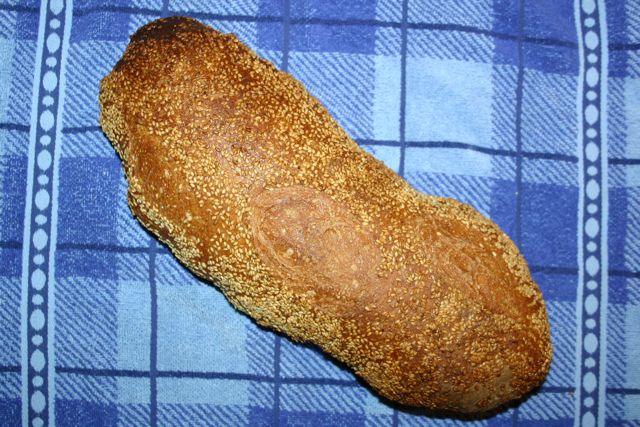 The mistake is consistent  though;  each time the loaf has a wonderful open crumb on the ends but gets denser in the middle part, and ends up looking more like a barbell than the nice sleek torpedo I'm looking for :-/
So; I 'destroy' the air pockets in the middle part of the dough during shaping, and leave the holes on the two ends intact, I guess.
After trying just about every possible way there is in shaping the filone, after watching numerous videos and studying breadbook pictures,  none of them seem to be working for me, yet...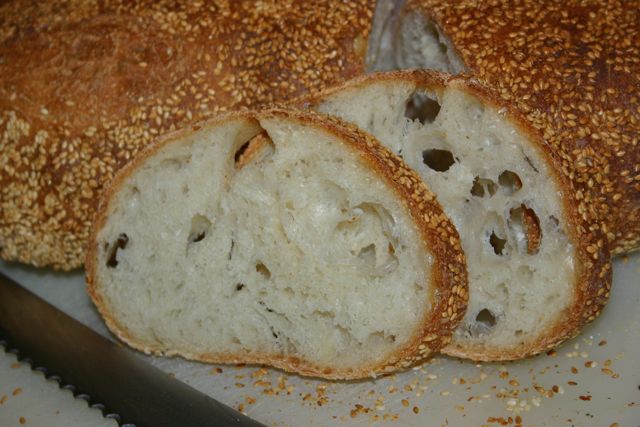 I know that shaping is a 'hands on' type of affair. My question to all you master shapers out there is; which shaping method would you suggest me to commit to? My guess, after fooling around with them all, is that choosing and practicing one method is my best chance to get it right fast.
I am more and more gearing towards the wetter doughs :-) Which of the methods of shaping would be the most logic for higher hydration doughs?
Am I too sissy in "punching down" before shaping? I tend to handle the dough as carefully as I can manage. I expect to see some irregularity in the baked loaf, but mine just goes haywire on me during oven spring! The more evenly the holes are distributed in the dough, the cleaner looking the loaf comes out, right? Am I too careful?
Maintaining surface tension is also proving to be a challenge with wetter doughs. Any practical tips?
I have been tweaking the Glezer formula a little in my last attempt.
Like a lot of people here I have found the dough it produces rather "gloppy" and hard to work with. I also found out that the dough becomes a lot easier to work with after the first proof with three folds. I have reduced the water percentage (following Glezer's somewhat complicated way of measuring out as little yeast as humanly possible) by subtracting the yeasted water from the amount used in the final dough, so a total of 1 cup of water, instead 1 cup plus the yeasted bit.
After that the dough did everything the recipe promised, so my guess is I might have been misinterpreting Glezer's instructions.
The taste Durum flour produces in it's loaves is so close to my "dream bread" I want to try out more with it. If you can point me towards other formulas and recipes I'd be very grateful!
Thanks!!!