This is how I finally have open crumbs and ears using high heat (500F)
Updated 9/29/2010
Updated: 9/15/2010 I want to introduce Edwin's recipe( pipo1000) that is absolutely phenomenal. 
http://www.weekendbakery.com/posts/recipe-for-80-hydration-baguette/
 Next time, I want to try dragon trail pattern for my baguette. That is fantastic!
http://www.thefreshloaf.com/node/19118/how-i-finally-have-open-crumb-and-ear-without-pouring-water-or-using-high-heat-500f#comment-134443
 I will thank you all of TFLERS who gave me great comments to me. I hope my recipe will help you out or give you some good ideas to have a nice baguette that you desire!   And I applogize what I often edit my recipes  that cause trouble to you have gotten bunch of e-mail of my recipes  that is very annnoying.  I am sorry.(bow)
Hello, Everyone. I introduce myself a little bit. I am a foreigner (Japanese)  who can't speak or write English very well.  My husband who is American said " My wife barely speaks English!"  Well, It is true, I am not a big fan of talking to people.Thats why my Enlgish hasn't improved yet.   I will appreciate if you correct my English when you find.  And I love dogs!!! :) I have 2 dogs who are both of two half Chihuahua and half poodle a brother (2 year old) Chi-chi, and his sister (1year old) Cookie although their mothers are different.  I have lived in Newyork with my husband and 2 children my son (12years old) and my daugher ( 4 years old) for 6 years.
Back to the topic, For several month,I have been into baking french bread as much as my family call me " FRENCH BREAD HEAD".:) But I broke the inner glass of the oven once which means " NO MORE POURING WATER IN THE OVEN". then next time I broke its element twice so that I can't preheat 500F anymore. I had had no luck to bake nice baguettes that have nice ears and glooms. 
Thanks to RobynNZ who gave me some information to make steam without pouring water, even though I couldn't try it because it costs too much for me, and I finally figure it out on my way. Cover 2 blocks with foil and place them on the second lowest rack.  That is it. It is very easy and keep the tempareture stable.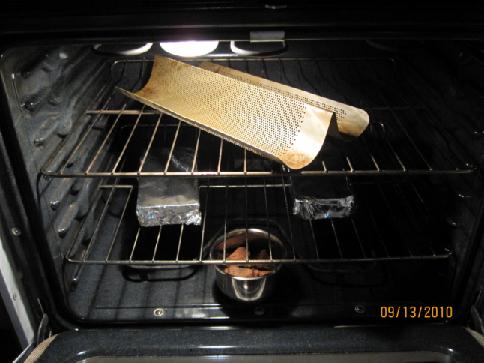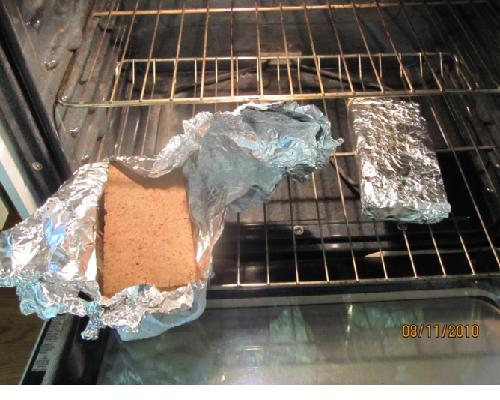 This is how I bake baguettes.
And, This is my recipe: 1 baguette ( Approximately 40cm long)
Preferment (Day 1)
Yeast         1/4tsp    (0.8g)
cold water   76g
 All purpose flour   95g 
 Final dough (Day 2)
Yeast                  1/4tsp (0.8g)
 cold water          76g
 All purpose flour   95g
Salt                          3g
*Barley malt powder         1g ( you need it when your flour doesn't contain barley malted flour)
Tools: A baguette pan, 2 blocks covered with foil for lower oven,
              Parchment paper
I strongly recommend to read this link before you make this baguette or any baguettes or any bread!  I got these important information from Vogel who is one of TFLERS. I really apprecicate your help. Thank you, Vogel.

http://forums.egullet.org/index.php?/topic/82234-demo-proving-bread/

http://www.thefreshloaf.com/node/15368/second-rise-proofing-tests

I start to shape when my test-dough rises about 1.1 times in bulk and I prepare to score my baguette when the test-dough rises 1.3 times in bulk.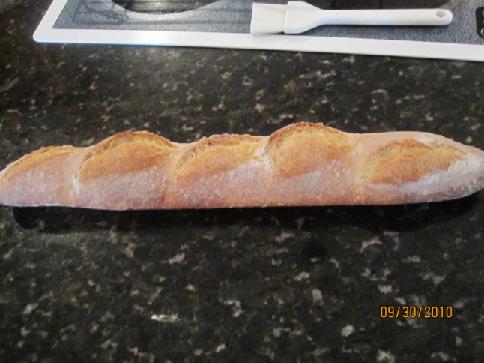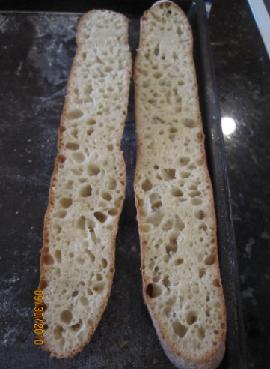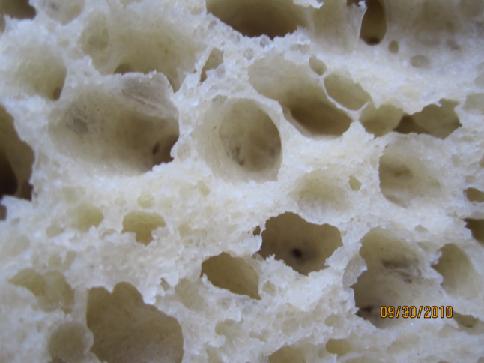 1 Mix the preferment  and sit for 1 -2  hours at room temperature ( When you see 2 big holes in the surface, it is ready to put it in a refirgerator. You don't have to wait until 1.5 times in bulk )
→Mix again, Refrigerator for over night.( about 12 hours in total)
2 Next morning:  Add the final dough: yeast and cold water into the preferment→ Mix→ Put the rest of ingredient: flour and salt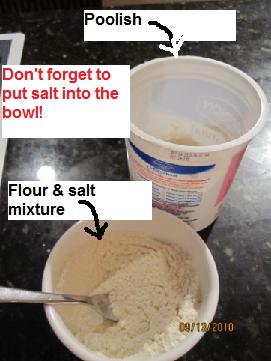 3 Put the dough in a food processor to run for 5 second until combine.
 Take the dough out of the FP
 4 Let's knead: Stretch and fold!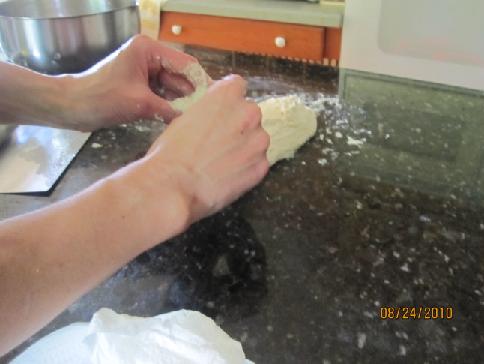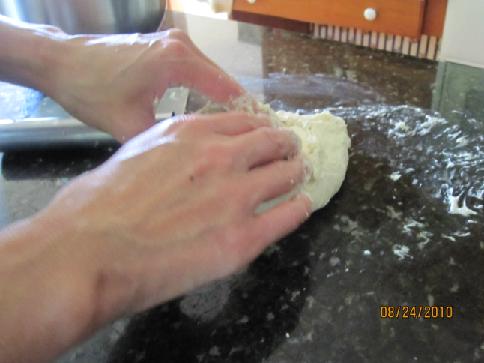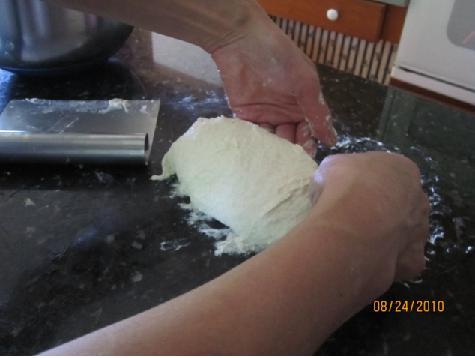 and turn the dough angle 90 degree, and repeat and repeat.... (around 1-2 minutes) You will feel the dough has gluten development. Don't do too much!  * I think that you can stroke it too.
5. Put the dough in a greased bowl and covere it with a plastic wrap.
6.  Strech and fold -3hours fementation.
  0:45 ---2 folds in a bowl
  1:30----2 folds  in a bowl.
 2:15 ---- 2 folds  in a bowl.
 ---There are 2 fold above-----
 7. 3:00 ( 3 hours later) shape: Take the dough out of the container , degas lightly ( patting the dough 2 or 3 times)
 Pull the both sides from the center very gently.
 Using a dough cutter, lift the edge on your side( bottom) and...
bring it to the center.
 Next, Lift the edge on your over side ( top)
bringing it to your side ( bottom ) and pinch very lightly
 take the seam line onto the center..
 Take the dough on your over side (top) toward the dough on your side ( bottom) and pinch very well.
  Roll the dough using a dough cutter.
 Place the dough onto a parchment paper.
9. Proof for 20-30 minutes.  Please read this to get the right time for proofing.( 26-28℃ or 79-82F)
http://forums.egullet.org/index.php?/topic/82234-demo-proving-bread/
10. Scoring and spray water to the pan, the back of the pan, and the parchmentpaper is not on dough: I don't spray the dough, I am avoiding to spary water to the dough now.
 Prepare Flour, Greased razor with shortening, Spray water bottle, and the ziplock is shortening inside( I was squeezing into the cuts after scoring to have ears and glooms. )
11. Bake for 7 minutes at 470F → Decrease 450F bake for 3  minutes→ Take out  the pan and the parchment paper  →Decrease 450F and bake 10 more minutes →Shut off the oven and open the door for a few second and leave the baguette for 5 minutes. 
 ----- Let's make a pan for baguette at home--------
You need---
 a) Cardboard after using wrapping paper.
 b) Foil
 c) Stapler
Let's make it----
1) Get a cardboard after using wrapping paper.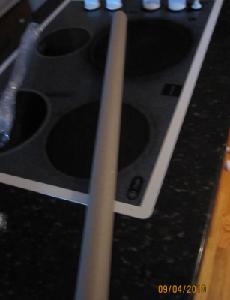 2) Cut the cardboard in a half and cut more ajust to fit for your bagutte dough. Do the same thing for another one.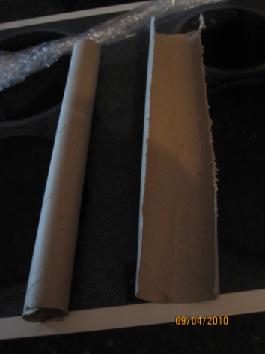 3) Cover the cardboard with foil. Do the same thing for another one.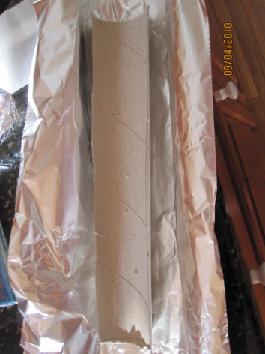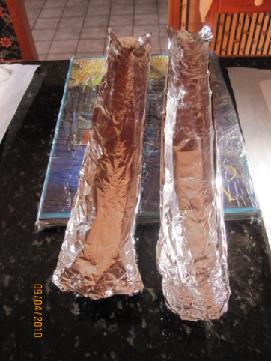 4) Staple onto the foiled cardboards both ends and the middle.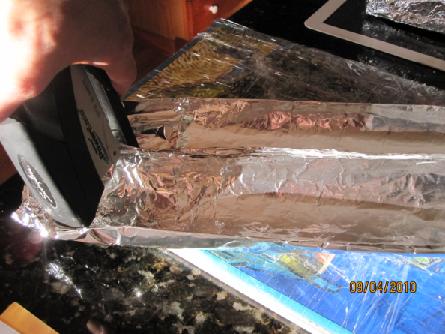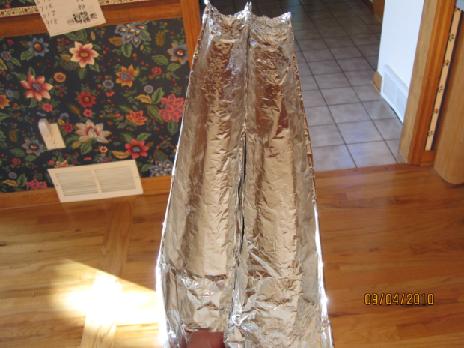 You can slide it into the oven!!
 !! The side which you slide it in must be really smooth and flat like this picture.!!
Now (9/27/2010) I upgraded the homemade pan:
 I made a lot of holes for the dough to breath when you place the dough onto the canvas or cloth.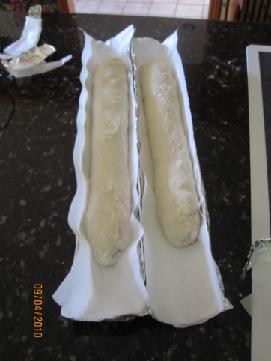 .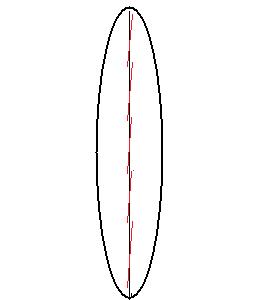 Even High hydration dough will keep the shape until you slide it into the oven. Don't forget to score very close to straight in the center that is for withour using a stored bagutte pan that you can put it in the oven.( keep the dough round! When you draw the line diagonally a lot, it will spread over the side and the dough will be flatten. Be careful! * Note* When you use a stored pan, you better score diagonally slightly.
-------OR-------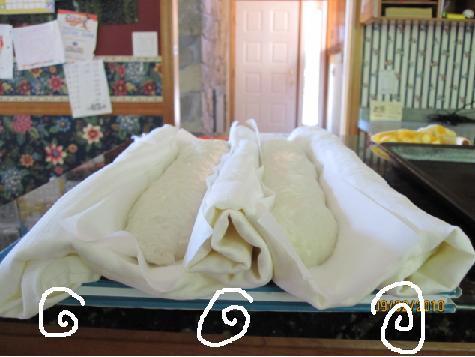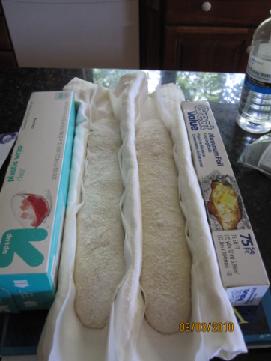 When you use a cloth for such high hydration dough, I suggest you to have some nice supports for the dough like these pictures above)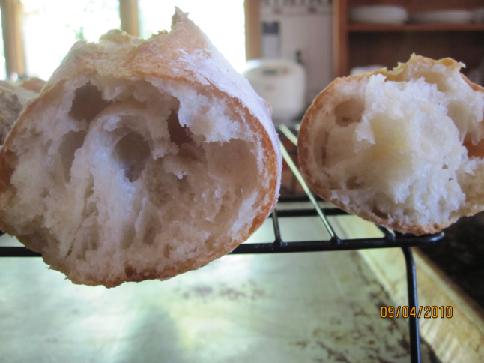 Result : 0.4% yeast ( Poolish 1/8tsp, final dough 1/8tsp)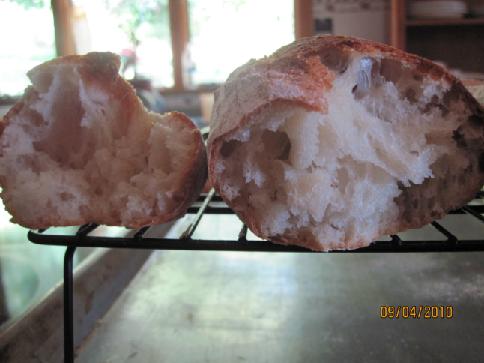 Result 0.8% yeast ( poolish 1/4tsp, final dough 1/4tsp )
 I recommend these recipes below.  Thank you, dmsnyder and Shiao-Ping and Tyarmer.
http://www.thefreshloaf.com/node/8524/philippe-gosselin039s-pain-%C3%A0-l039ancienne-according-peter-reinhart-interpretted-dmsnyder-m by dmsnyder
http://www.thefreshloaf.com/node/16213/mr-nippon039s-baguette-formulas by Shiao-Ping
http://www.thefreshloaf.com/node/18813/poolish-baguette-sunflower-seeds by Tyarmer