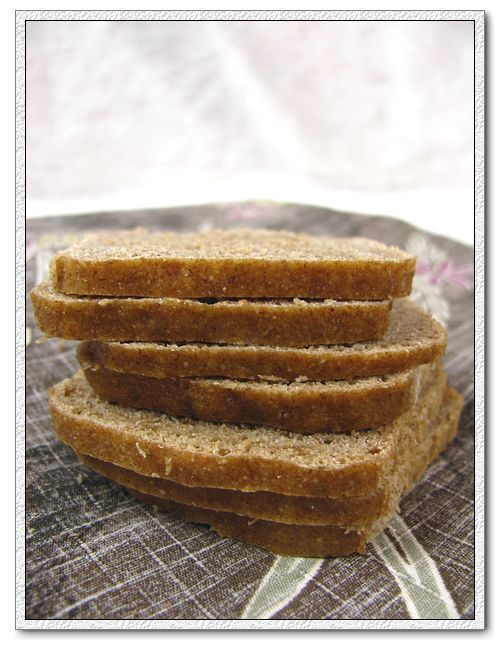 This is the bread that's haunting me lately. My first two attempts at 100% sourdough rye failed miserably - and asked for help here. I am glad that I asked, TFL has so many knowledgable and helpful people willing to help out. Specifically Andy directed me to his recipe here, and provided me with many tips. Mini, whose post and pictures on her favorite rye has been studied to death by me, also provided encouragement and some helpful hints.
My rye starter is very active, so I reduced the pre-fermented flour ratio in Andy's formula to about 29%, the final rise was still <2hours at 30C, next time I might reduce even more. A lot of people responded to my question thread mentioned that it's important to use the right tin, so I used two mini pullman pan, narrow and long, each took about 370g of dough. Filled to 60% full, when I put them in the oven, they were 90% full. Baked at 460F for 10min, then 410F for 15min.
Still no great ovenspring, but at least the top is domed. Maybe I am still overproofing it?
Looking at the crumb, I see it's "heavy" in the bottom, is that also a sign of overproofing? Or maybe when I put the dough in the pan, I pushed the dough down a bit too much?
This size of bread is perfect for cocktail rye, I in fact used some for a party, with honey/mango, and cheese/avacado, very well received
It stayed moist and flavorful for days after, very yummy. BUT, it got moldy after staying in the plastic bag for 5 days, how do I prevent that? Andy's formula is very good, I will definitely make it again and again, hopefully timing the proofing better. Will also experiment with soaking some rye flour with boiling water.