January 22, 2010 - 7:24am
I dedicate my Gérard Rubaud Miche to MC.
(I wish that it could be transported across the Pacific Ocean to reach the other shore.)
It was one of those soulful Van Morrison nights.  The music in my tea room could not be any louder; any louder, the gods of silent teapots would have protested.  John Donne was in the air.  Van Morrison, my muse, dreamt of this miche for me....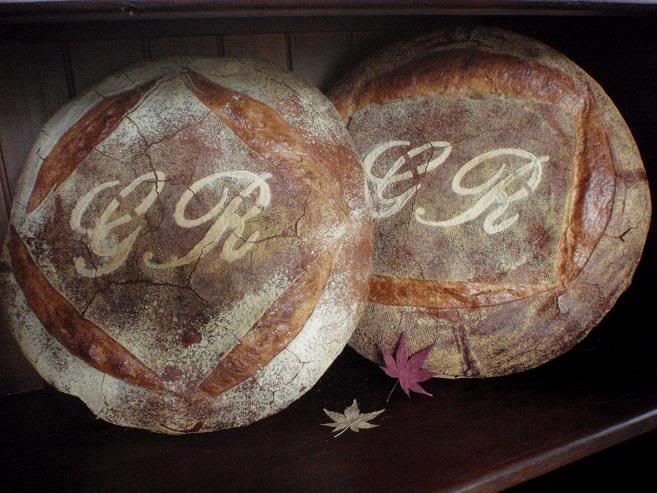 I have neglected my teapots for the longest time now.  They have not been polished for ... dare I reveal ... a year?  Sounds criminal.  Just as well, with all that flour coming out of the surface of the miche, do I need to bother dusting my teapot stands?
Gérard Rubaud starter (re-sized to 2% of his formula as recounted HERE in MC's blog; my figures are for a final dough yield of 1.9 kg, you are welcome to half my quantity again)
First build
6 g ripe stiff starter (at this quantity, any starter you've got going is fine, preferably not liquid starter)
8 g water
14 g flour (2 g WW, 1 g spelt, 1 g rye, and 10 g plain flour)
Note: Gérard Rubaud's starter hydration averages 55.5%.  The main thrust of his starter is three refreshes and built with the same flour compositions as for his final dough; ie. 30% whole grains flours (60% wheat, 30% spelt, and 10% rye) and 70% all-purpose flour.
At 30 degree C, this build took 10 1/2 hours for me (overnight temperature might have dropped to 24 - 25 degree C in my kitchen).
Second build
28 g starter (from the first build above)
16 g water
30 g flour (5 g WW, 3 g spelt, 1 g rye, and 21 g plain flour)
At 30 degree C, this build took 6 hours for me..
Third build
74 g starter (from the second build above)
56 g water
100 g flour (18 g WW, 9 g spelt, 3 g rye, and 70 g plain)
Note:  Watch your starter fermentation carefully, depending on your room temperatures.  As flour (fresh food) is not even 1.5 times the starter, it is very easy to over-ferment at this stage.  It was not an issue for the previous two builds as the yeast adjusted to the new flour compositions and began its activity slowly.  
At 30 degree C, this build took 4 hours for me (and it was already too long because when I touched my starter, it shrank back very quickly; 3 1/2 hours would have been better).  It rose 2 1/2 times.
Gérard Rubaud Final Dough
Main points about the final dough construction are (1) final dough flour is 30% whole grain flours and 70% all-purpose flour as for starter; (2) starter is 25% of final dough flour (ie, 25% baker's percentage); and (3) overall dough hydration is 80%.
230 g starter (all from the third build above)
920 g flour (165 g WW, 83 g spelt, 28 g rye, and 644 g plain flour)
772 g water (every 10 -11 g of water is 1% dough hydration; feel free to reduce water if you wish)
20 g salt
Total dough weight was 1,920 grams (minus 150 g as pâte fermentée = 1,770 g, see below) and overall dough hydration was 80%. 
Note:
(1) I did double my own formula here (both starter and final dough) because I wanted to do a stencil with Gérard Rubaud initials and I wasn't sure if it would be successful. 
(2) I reserved 150 grams from each dough and I had 300 grams as pâte fermentée (old dough) in total from the two doughs. I wanted to try a Poilâne style of miche.  Giovanni has done extensive research on Poilâne Miche.  Without going into the specifics, all that I wanted to do at this stage was to use Gérard Rubaud's stiff starter and dough with the addition of a reserved old dough to make a miche and see what happens, which I did.  
(3) So, in total I made three x my own formula here at two separate occasions, the last being a Gérard Rubaud Miche with pâte fermentée.  
Procedure - without pâte fermentée
Gérard Rubaud autolyse flour and water, then he cuts up his stiff levain into small pieces and adds them to the autolysed flour and water mixture.  However, the way I did the bread in this post was that I first diluted my starter with water, then I added flour and salt into the diluted starter, then I followed the procedure below.
Autolyse 20 minutes.
Five sets of S&F's of 30 strokes each at 30 minutes intervals.  
At the end of the last S&F's, section off a piece of dough weighing 150 grams (and placed it in the fridge) to be used as pâte fermentée (more below).
Pre-shape and shape, then place the dough in the fridge for overnight retarding.  (My room temperature was 30 degree C.  It was exactly three hours from the time the ingredients were mixed to the time the shaped dough was placed in the fridge.  You may need longer depending on your dough temperature and room temperature.  Gérard Rubaud does not like to retard dough, but I did 9 hour retarding for convenience).
The next morning, stencil, then score the dough.  Pre-heat your oven to as hot as it can go.  Bake with steam at 230 C for 50 minutes.
       Gérard Rubaud Miche (without pâte fermentée)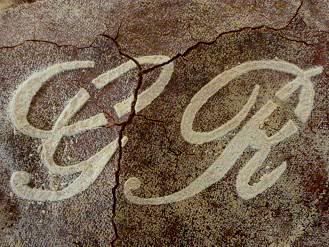 Only one of the two miches that I made is shown here, as the stencil of the other one was completely smeared.  The proved dough of that one was quite high (its profile was like a tall hill); when I placed the stencil on its surface and dusted flour on it, the flour did not sit well on the surface.  I knew there might be problem but went ahead any way.  I should have tried to press the stencil closer to the surface of the dough before I dusted flour.
Notwithstanding the above, the aroma was most amazing when the miche was being baked.  When the oven door opened, the whole house was filled with the wonderful whole grains roasting fragrance.
The loaves cooled down to have the cracks all over their surface - the top and all around the sides.  Part of the reason for that is because these are very high hydration doughs, but more because I tend NOT to leave my dough in the oven with the oven turned off for the last 5 - 10 minutes of baking as many of TFL home bakers do.  I tend to give my dough full but shorter bake.  The extreme difference in temperatures inside and outside the oven results in the crackling effect on the crusts.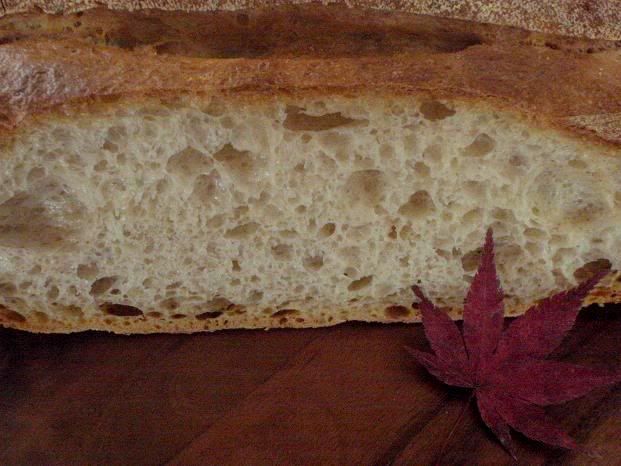 With this Gérard Rubaud formula, I am witnessing the most amazing crumb that I have never seen before.  It has a translucent quality about it.  It is almost as if each and every particle of the flour had been fermented and each and every cell of the dough has been aerated.  I have never seen anything quite like it.  It is light and yet a slice of it on you palm feels a weight, a substance.  While the crumb looks translucent, it has a sheen as if it is oily (but it is not).  You can clearly see the specks of the whole grain flours in the crumb.  Had I not made this bread myself, I would not have believed that 30% whole grain flours would give me a crumb like this. 
So that is the texture.  What about the flavor?  I cannot tell you any single flavor.  No one taste stands out.   I cannot say that it is sour because sourness does not stand out.  The taste is very "creamy" if I may use that word.  The creaminess and the sourness are beautifully balanced. 
MC said of her Rustic Batard that it tastes more whole grains than Gérard's and she wondered if temperature had made a difference as Gérard's bakery is a good 15 degree F warmer than her place.  Now, my miche does NOT taste whole grains or wheaty at all.  I cannot single out a wheaty taste, but it is there, blended in with all the other flavors.  I wonder if my high temperature indeed had made a difference in this.  Or, put another way, had MC bulk fermented and proved her Rustic Batard in a proofing box to control temperatures, would she have gotten a closer taste in her Rustic Batard to Gérard's.
Procedure - with pâte fermentée
(Note: the formula is exactly the same as above except with the inclusion of 300 grams of pâte fermentée)
Follow the procedure as for miche without pâte fermentée except for the following:
One hour after the dough was mixed (ie, at the end of the second set of S&F's, section off a piece of dough weighing 300 g ( reserve it as future pâte fermentée);
Total fermentation time is shorter by 1/2 hour because fermentation happens faster with this dough.  (From the very first set of S&F's, you can already see some strength in the dough because of the acidity from the pâte fermentée.  To me, this is quite something, considering the way I mix my dough is that there is no kneading whatsoever, merely stirring to hydrate the flours.) 
As this is a slightly bigger dough (1,920 grams as opposed to 1,770 grams), bake it for one hour.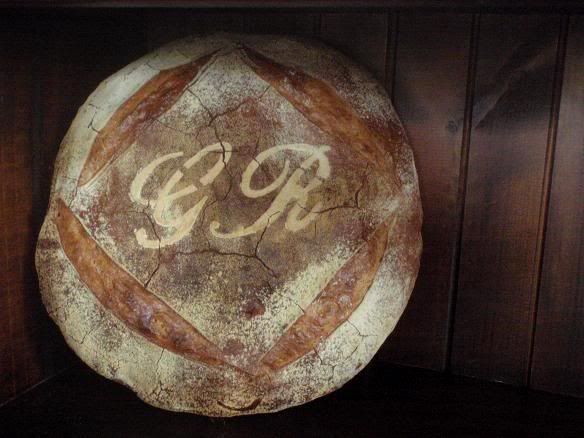 Gérard Rubaud Miche (with pâte fermentée)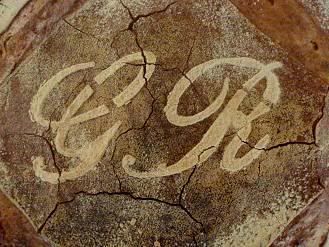 I learned something in this bake:  that sourdough pâte fermentée will give you extra dough strength because of the acidity in the old dough (provided it is not over-fermented to start with).  I am amazed at the volume that I get in this miche.  (Let's recap: this dough went through 2 1/2 hours of fermentation at room temperature of 30 degree C, then went into the refrigerator for 9 hour retardation, then baked at 230 C for 1 hour. That's all.) 
The taste of this miche is a lot sourer than the previous miche.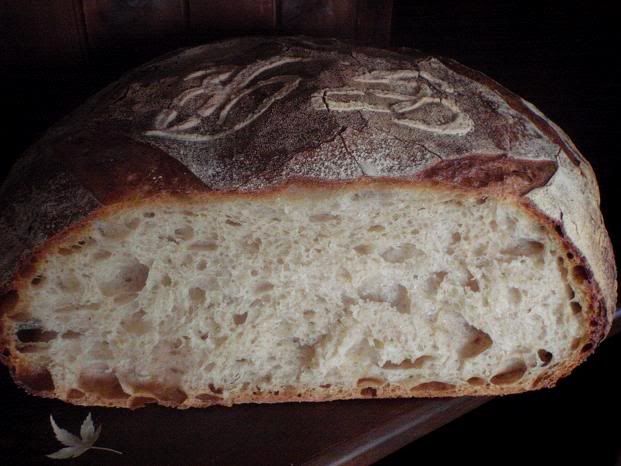 This has been a very fulfilling exercise for me.   Thank you, MC, for the wonderful experience.
Shiao-Ping