January 12, 2010 - 3:48am
To continue on my last post, I experimented the gentle S&F technique on this classic recipe from Hamelman's Bread, page 164.  
                                                                      © Jeffrey Hamelman's Bread
There is nothing new about this technique - the slow and gentle (and at the same time, firm and assertive) stretch and folds on the dough over the entire length of time of the bulk fermentation to try to build up its strength, slowly but steadily.  Whether or not we have consciously applied this technique is another issue. 
My purpose was to develop dough strength slowly along side dough fermentation, so as to see how much volume I could get for my loaf and how open the crumb structure could be on this classic recipe.   Here is my Miche, Pointe-à-Callière: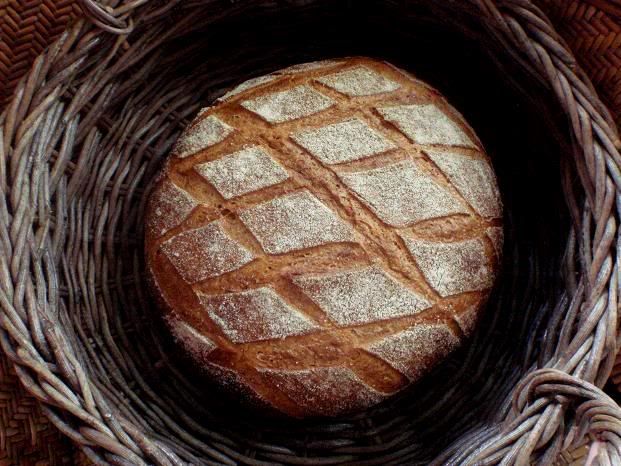 I followed Hamelman's list of ingredients but I did not use his procedure.   My ingredients were:
289 g just ripe 60%-hydration levain (40% baker's percentage)
725 g high-extraction whole-wheat flour (as suggested by Hamelman, 86% whole wheat flour and 14% plain flour were substituted for the high-extraction flour, which is not available in my area)
634 g water
17 g salt
Total dough weight was 1,665 g and overall dough hydration was 84%.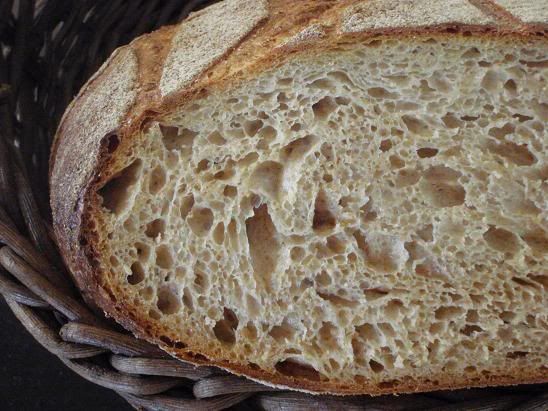 My procedure:
Mix only the flour and water.  Autolyse for an hour.  Then, mix in the levain and the salt.  Up to this point, the procedure was as instructed by Hamelman; thereafter I broke away from Hamelman's instruction and started my experiment as follows: 
0:00

 When all the ingredients are combined, do the first set of stretch and folds of 35 strokes.  Dab some oil on the edge and bottom of the dough all round where the dough meets the bowl (so that the dough doesn't stick to the bowl when you do the next set of S&F's).

0:30

 2nd set of S&F of 25 strokes.  Again, dab some oil on the edge and bottom of the dough as above.

1:00

 3rd set of S&F of 25 strokes.  (My dough already felt silky and smooth.)  Again, dab some oil on the edge and bottom of the dough as above).

1:30

 4th set of S&F of 25 strokes.  (My dough felt very bouncy and left the side of the mixing bowl in a cohesive whole.  With each stroke, the dough felt stronger.)  Dab some oil on the edge and bottom of the dough as above.

2:00

 5th set of S&F of 25 strokes.  (The gluten had developed very nicely.)  Dab some oil on the edge and bottom of the dough as above.  Sprinkle ample flour on the work bench.

2:30

 6th set of S&F of 25 strokes and, at the end of the last stroke, grab the whole dough and lift it out of the bowl in one swift movement and drop the dough on the floured surface (what was at the bottom of the mixing bowl is now against the floured surface and it is the right side).  Cover the dough with the mixing bowl.

3:00

 1st pre-shaping.  Gather the edges to the centre, turn it over (so the right side is now up), and tighten it.  Cover.

3:10

  2nd pre-shaping.  (As my dough was a bit wobbly and extended out a lot as it rested, I decided to do a 2nd pre-shaping.  You don't have to if your dough doesn't need it ).  Turn the dough over so the right side is now down, gather the edges to the centre, turn it over to tighten it.  Cover.

3:20

 shape it into a boule.  I placed the boule on a dusted kitchen towel.  Cover and place it in a plastic bag.

3:30

 place the dough in the fridge for retarding.  (Total fermentation time was 3 1/2 hours for me at room temperature of 26 - 27C.  Adjust your fermentation time if your room temperature differs.)
Retarding in the refrigerator for 12 hours.
Bake as normal.
Verdict:  There appears to be more volume in my bread compared to Hamelman's bread (first picture above).  With a dough hydration of 84% (even allowing for the type of flour used for this formula), you would expect the bread profile to be somewhat flat, as seen in Hamelman's bread above.  However, the stretch and fold regime as outlined above in my procedure seems to have developed the gluten structure very nicely and, as a result, my bread seems to have more volume than Hamelman's bread.   
What this tells me is that for a high hydration dough, a slow and steady gluten development is better than a one-shot 2 1/2 minutes or 4 minutes (or whatever it is) kneading in the machine with just one or two sets of S&F's.  For a low hydration dough, you don't need to worry about the dough strength; it develops easily anyway.   Next time if I am doing a high hydration dough again, I will definitely give this method another try.
Shiao-Ping