January 21, 2010 - 8:19pm
Let's hear it for the Miche....
I have been pretty busy since the Holidays, packing up my house to rent, in anticipation of going on an extended adventure to France in the very near future...but that doesn't mean I don't have time to make bread! I always like to have some bread in the house and these day I making experimenting with Miche, Pointe-a-Calliere ala Shiao Ping. It is funny that the three times I have tried this recipe, the process has been less than text book....but in the end were very tasty! The first two times there were hydration problems... I opened  up my new  proofing chamber (see blog above) after 1 1/2 hours into the final proofing to find a puddle of dough stuck to the parchment paper. I scrapped it off, reshaped it twice,said a prayer and it honestly turned out to be an exceptional bread.  Yesterday's bake did not go any easier! I thought I would use some of the water from the final dough and  make a slurry of the stiff starter...so it would be easier to incorporate into the doughby hand. That was a bad idea...it turned out to be a real mess tiring to add it to the clay like dough by hand. By the time I had a good smooth, silky dough after many stretch and folds I was ready for a nap! But it survived the intensive care unit better than I did. When baked and cooled over night wrapped in linen, it was honestly the best tasting bread I have ever made. The whole Miche experience reminded me of something Max Poilane said in  a book I am reading about breads and pastry shops in Paris.
"  The best bread I ever tasted was one that didn't work....it fermented to long and it was full of holes like Gruyere. But, oh, what a taste. Bread unlike pasterine, is very forgiving. You can make mistakes and still end up with a  bread that tastes good...."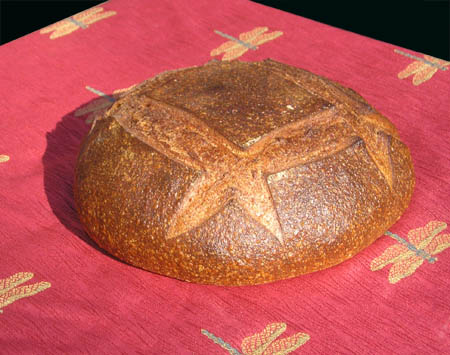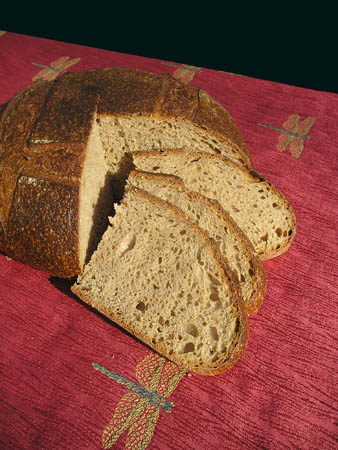 Another bread that I have really enjoyed making and eating was one that come from Susan at WildYeast. It is the Cranberry Semolina Crown which I substituted apricots and hazelnuts. I just can't get enough of it......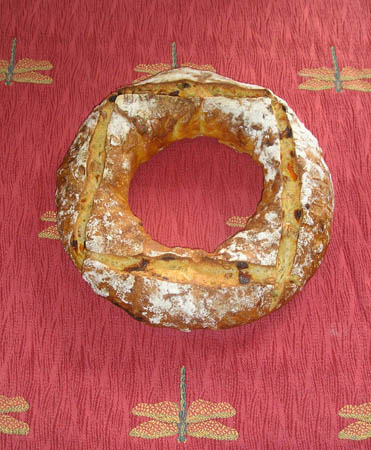 This is being sent to Susan @ WildYeast -Yeastspotting