November 8, 2005 - 8:30pm
Cranberry-Orange Walnut Bread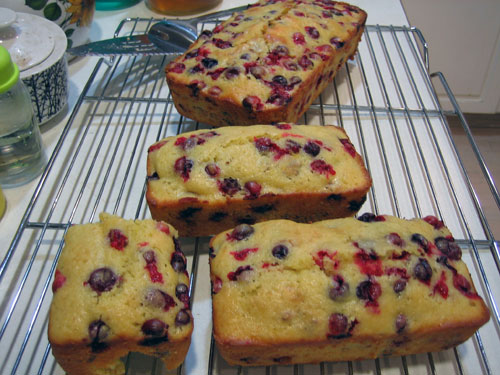 Fresh cranberries are plentiful this time of year.
I love this quick bread with cream cheese for breakfast.
Cranberry-Orange Walnut Bread Makes 2 large loaves or 6 small loaves or 18 muffins 4 cups all-purpose unbleached flour 2 cups sugar 3 teaspoons baking powder 2 teaspoons salt 1 teaspoon baking soda 1 1/2 cup orange juice 4 tablespoons butter or shortening 2 tablespoons grated orange peel 2 eggs, beaten 3 cups (1 12 ounce package) fresh cranberries 1 cup chopped walnuts or pecans
Preheat the oven to 350 degrees. Combine the dry ingredients then stir in the wet ingredients. Stir in the cranberries and walnuts and pour into greased bread pans.
Large loaves need 50-55 minutes to bake, small loaves 30-35 minutes. A toothpick inserted into the center should come out clean when they are done.
Remove from the oven and allow to cool for at least 10 minutes before trying to remove the loaves from the pans.