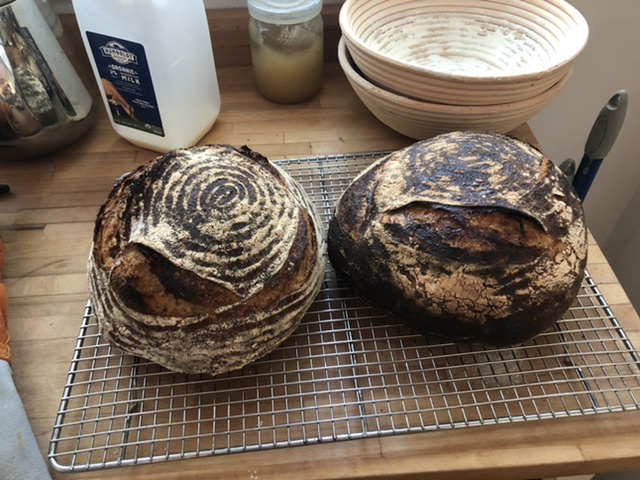 I'm staying at my cousins place for the next month or two, and while I'm here am playing around with his oven and grill (Cobb oven on hold for at least the next few weeks). Oven thermostat is a mess and the grill is either blast furnace or off, but I'm finally getting a handle on both.
I confess that I've been curious for a long while about the idea of using my 15 inch steel and a thin metal bowl to bake very large miches, and now of course I'm thinking the place to do this is the grill (why go the easy way...?). 
so - here's a test bake. FWSY starter with hydration adjusted and then used in tartine country loaf (?) at 78% hydration and retarded overnight (oven loaf was removed from cooler about 20-30 mins before baking, grill went right on the steel from cooler).
Left is from oven, baked in my cloche with additional baking stone under it as the oven blasts the heat at 600+ degrees an inch under the cloche. The right is out of the grill, using my steel which conducts a little too well (and I barely grabbed it before it totally burned, 10 mins and a few degrees shy of where I wanted to be in terms of bake duration and internal temp). Also used top from cloche since I'm worried about overall heat retention on the grill

Crumb shots to follow once they cool but — any thoughts? admittedly neither is perfect but now I get what it must have been like baking in before the days of mod cons. Would it be worth trying a fire blanket on the grill and turning off the heat, since the grill vents heat like crazy through the lid? And it looks like the oven spring on the grill loaf wasn't quite as good, so thoughts on what might be the cause of this would be super. 

(sorry about repeated edits here, using my phone and I posted early by accident)