Thanks, and I'd like some opinions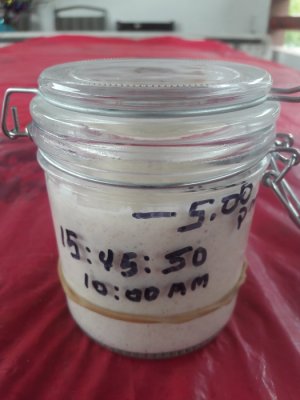 Couple of weeks ago, I joined this forum and posted a request for help with my starter, Karina. Three people, Mr Immortal, idaveindy, and phaz jumped on my problem like ducks on junebugs, and they gave me the help I needed. So I just wanted to say thanks for all your help; I'm sending a picture of Karina taken today and...well, I think the picture is self-explanatory.  
I wish I had the time to read every post and every reply on this board, because every time I DO spend some time reading a post or two, I tend to say, "Hey! I've done that!" or "Hey! I had that problem!" and change my behavior appropriately. 
Now, I'd like the opinion of the experts that are hanging around this board. First question--What's the best time to clone Karina to make a Levain? With the choices being, 1) While she's at her peak after being fed today; 2) Some time after feeding but before peak; or 3) Before feeding, when she's likely to jump on all this new food due to hunger? (I think I know the answer to the third--but I might be surprised.
Second opinion, I located some bread flour, and I'd like to ask the opinion of the pros about how well they think this would be for my baking needs. Here's the label, and although it's in Spanish, if you hold your tongue just right I think you English-speakers can figger out that proteina is protein, and so forth. So what do you think of this stuff: