Another question about Oven rise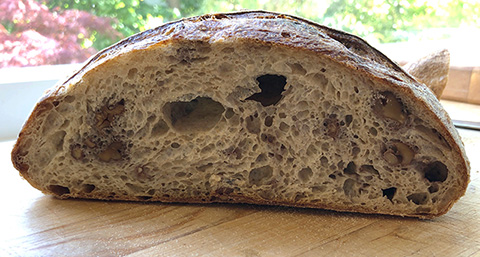 I"m new to baking sourdough, and have had mixed results with oven rise, and could use some assistance. 
I have a strong starter that rises and falls regularly. I feed it a few times before baking, then it goes into the fridge, but unless I bake right after the bulk fermentation, I only get about 75% of the rise I'm looking for.  I generally try to limit bulk fermentation to 30%-50% rise before putting in the fridge, for anywhere between 10-12 hours. Loaves baked in a combo dutch oven.
The loaves don't seem to be over-proofed going into the oven, but I do see some fall when transferring from the bowl/basket to the dutch over. See the details below.  They taste good, so that's a plus.
250g (25%) of your new leaven
900g (90%) white bread flour
100g (10%) whole wheat bread flour
20g (2%) salt
7650g H2O @ 80ºF 
2 cups walnuts
8am prep levain
2pm autolyse (flour/water/levan)
2:30pm (mix salt and last bit of water)
3-7pm  Bulk
7pm preshape/shape 8:15
8:15 into fridge
7:30am bake