Flat Loaf. Unhappy Baker.
Hi all! 
I'm Bekah, and I've been lurking in the shadows for quite some time here now and finally decided it was time I join in the conversation. I've so enjoyed learning on this forum! First things first, I'm a food photographer, blogger and micro-baker (https://www.instagram.com/theedgewoodbaker/). I primarily bake artisan breads and from-scratch pastries which I sell at my local farmer's market as well as for clients. I ventured into sourdough about 4 months ago although my husband has been dabbling in it for over a year. I would say that my skill level is competent but not consistent. I've had great bakes and flop bakes. 
Recently since the temperatures have risen here (90F+), I've really been struggling with just my basic sourdough recipe and hoping you can help me troubleshoot. My issue is that my sourdough is getting little oven spring and no defined score - in a nutshell, flat. I'm going to walk you through my most recent bake and see if you can help me identify issues. 
Starter refresh - I keep mine in the fridge (never more than 3-4 days at a time) but always feed twice before a bake and add my starter right at or before peak. For this bake, I fed the night before and the morning of - 90% bread flour, 10% rye flour and 100% hydration. I did 100% hydration for this bake as I wanted it to peak sooner, but given the heat, I've typically been doing 80% to keep it a little stiffer and slower. 
Basic recipe: 400g flour (380g bread, 20g whole wheat), 280g cold water (70%), 100g levain, 10g salt
Mixed flour and water for autolyse at 10:10am - I normally do 75% but given the humidity, reduced to 70%. (Temp at autolyse 75.7F)
Added levain at 3:20 - rubaud mixing for 3 minutes. (Long autolyse...I know. Could this be contributing to the flatness?)
Added salt at 3:35 - mixed for a couple more minutes. Transferred to clean dish. Temp = 74.8F
S+F at 4:07 (30 min later). Temp = 73.2. Losing temp so put in oven with light on. 
Coil Fold at 4:37 (30 min later). Temp = same. Moved closer to oven light. 
Coil Fold at 5:11 (30 min later). Temp = 75. Visible signs of fermentation. Small bubbles on top. Not as many as I'm typically used to seeing so let ferment for another hour before preshape.
Pre-shape at 6:10. 
Shape, place in banneton then fridge at 6:25. 
Total bulk ferment from levain add to fridge right around 3 hours. 
Cold proof in fridge - 13.5 hours
Baked at 8am next morning. One score down the right side (with the hope to create an ear). Spritzed with water. Preheated 475F oven in a challenger breadpan for 20 minutes, covered. Then 20 minutes uncovered.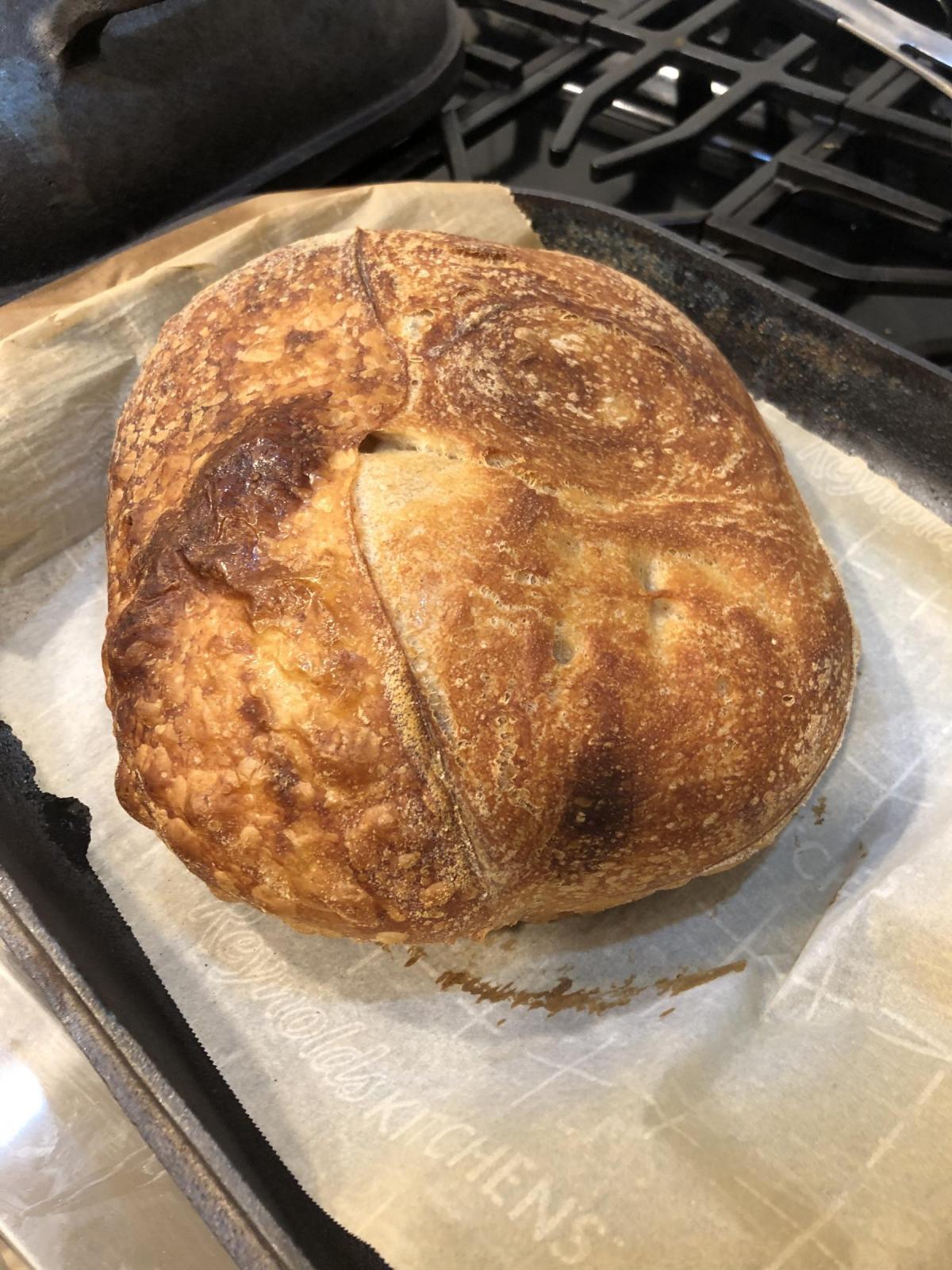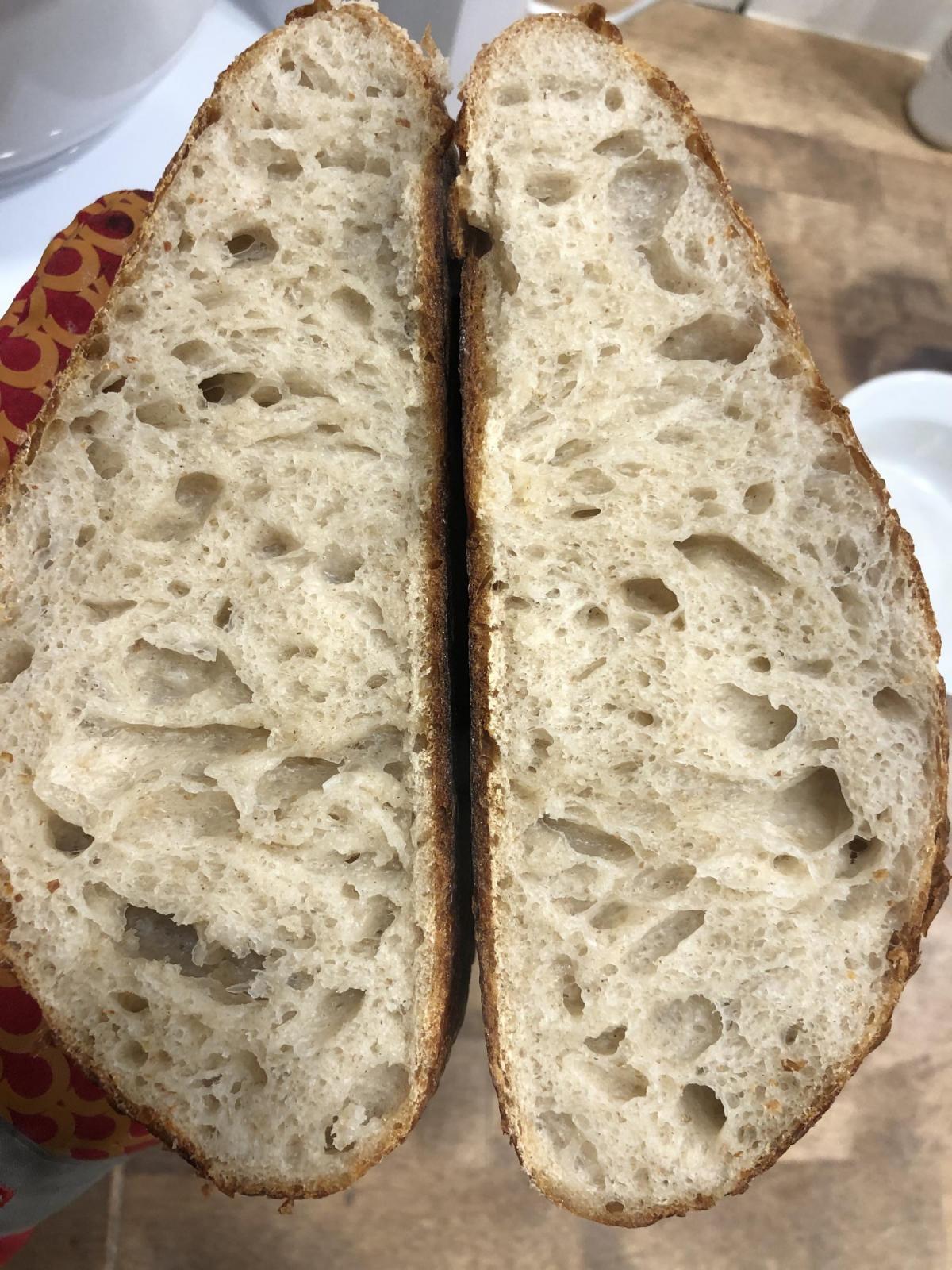 As you can see the loaf is flat which I've read is a sign of overproving and thus the gluten structure breaking down. There's also a big dip in the right side. However, I look at my crumb and still think it looks a little bit tight so maybe it's underproved? I know shaping can also be a culprit, but I'm pretty confident in my ability to shape. Before the temps were so high, these were my normal bakes...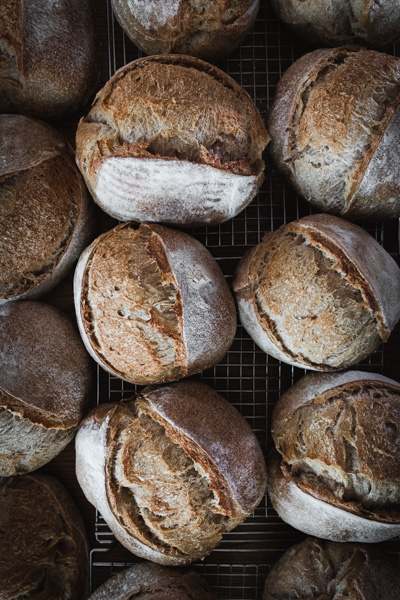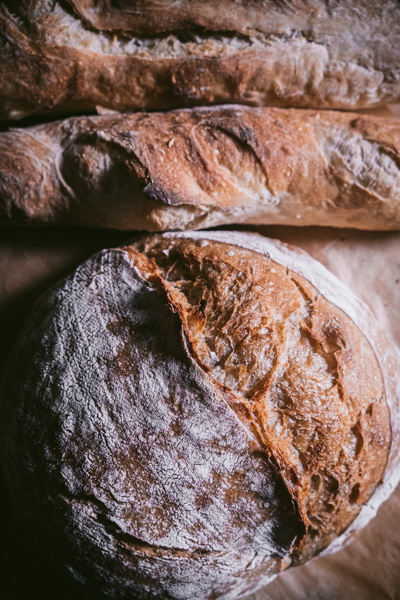 So what thoughts do you have? What would you tweak/change to avoid such a flat loaf? Looking forward to hearing!