Issues with getting a loaf right (suspicion: acidic starter)
I hope I can find a master baker here, who can help me / verify that the most likely source of my issue is the starter / point me in a different direction re/ this problem :) 
So, new to sourdough baking, I churned out quite a few loafs, but none of them were really successful. 
Typical Experience: 
What I often experience is what seems to me both signs of underproofing and overproofing at the same time! 
E.g. the loaf comes out with the large air tunnels that are supposed to be typical for underproofing, together with the characteristically dense bottom of the crumb. However at the same time there are signs of overproofing, especially re/ the gluten structure.
What I mean is a) by the time the bulk fermentation is over, the dough is very, very soggy and very, very sticky, like octopus tentacles (as I read it elsewhere) clutching everything. This is with having done either Rubaud method+3 stretch&fold, or 6 stretch&fold for high hydration doughs and just kneading until the window pane test comes out fine (between 8-12min) and rest during the bulk fermentation earlier, so the gluten structure development had been done.
The dough literally sticks to the wetted work surface and don't hold any shape during pre-shaping and shaping. It literally doesn't let itself be taut, turned, lifted, etc... If it lands by some miracle in the banneton, after retarding and fridge proofing, there is no rise in the oven at all (overproofing sign).
The loaf sticks extremely to the banneton, although ample rice flour was applied. When turning the banneton over on top of the baking sheet, the dough sticks to the basket like long strands of chewing gum. It also plops onto the surface, spreading out like a pancake, rather than keeping it's taut shape. The next issue is that the loaf comes out of the dutch oven without any features at all. The ripples from the banneton don't contribute to the surface structure of the loaf, neither does scoring! All surface features again are being washed out in the oven. All these to me would be more typical "overproofing" signs. Overproofing signs typically all relate to losing the gluten structure though, so my hunch is that the gluten structure is lost for different reasons. Hence: acidity? Too many lactobacilli? 


Edit: starter
starter is about 4 weeks old, is fed with a 50/50 mix of organic whole wheat and a kind of white flour (most often white bread flour). Feeding first happened once every 24 hours and since a few days feeding is done when the starter is in the beginning of shrinking. 
i keep it at 100% hydration and feed it in a 1:3:3 ratio since two weeks now. It rises and falls predictably. In the second week, it still wasn't going strongly, I then added half a teaspoon of organic probiotic yogurt into the mix for a few days in a row.
 
Recipes
I used a bunch of different recipes. Generally there typically is a 4 hour bulk fermentation duration time, pre-shaping, shaping, bench rest for low-percentage starter amounts (15%, 17%), fridge proofing, baking. 
Example A: 
Autolyse 16:45
Mix at 17:45 with 19% mature levain, 70% all purpose, 12% white bread flour, 18% whole wheat flour, 2% salt, 66% warm water and final dough temperature 28C with a room temp at 21C
4.5h bulk fermentation (dough cooled down to 23.6C) 
22:30 pre shape, bench rest, 23:05 shape and fridge.
Bake next morning: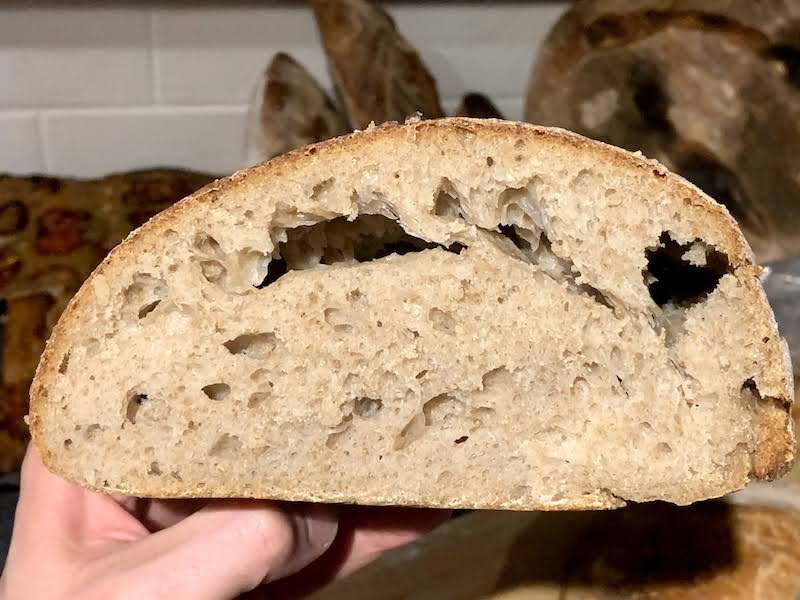 Example B:
Followed this recipe precisely, including timing and temperature and flour type: https://www.theperfectloaf.com/a-return-to-basics/
The crumb isn't great, no oven spring at all, it almost fell apart when it came to shaping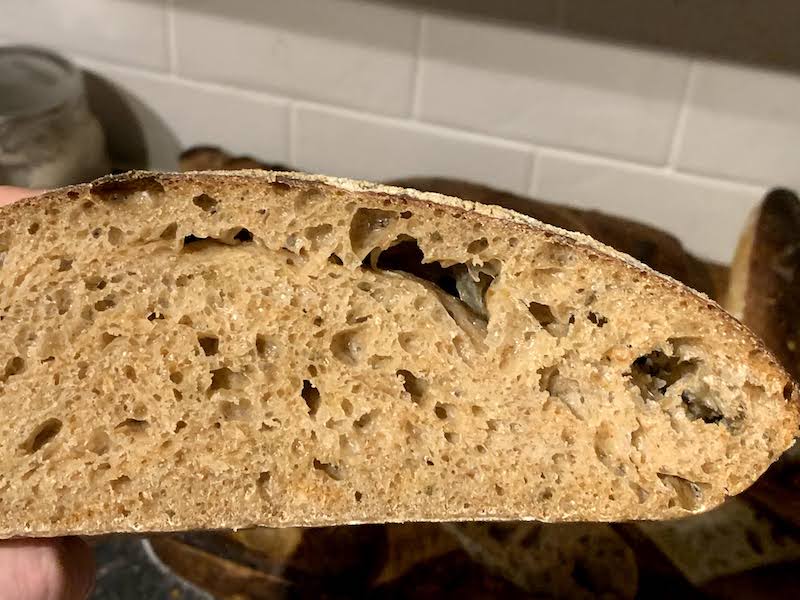 Example C:
Kitchen temp: 23C
Autolyse 06:45 of 400ml water (80%) and 500g all purpose
Mix in 07:55 80g levain (16%) 12g starter whole wheat, 34g whole wheat, 34g water. 2% salt. Rhudart method 4min
Stretch and folds:
08:15 8 times 08:45 stretch and fold 8 times 
09:15 stretch and fold 4 times
09:44 stretch and fold 4 times added salt (forgot earlier)
10:15 stretch and fold 4 times
11:15 lamination
12:00 pre shape and shape
12:30 fridge

comes out like a freaking pan cake: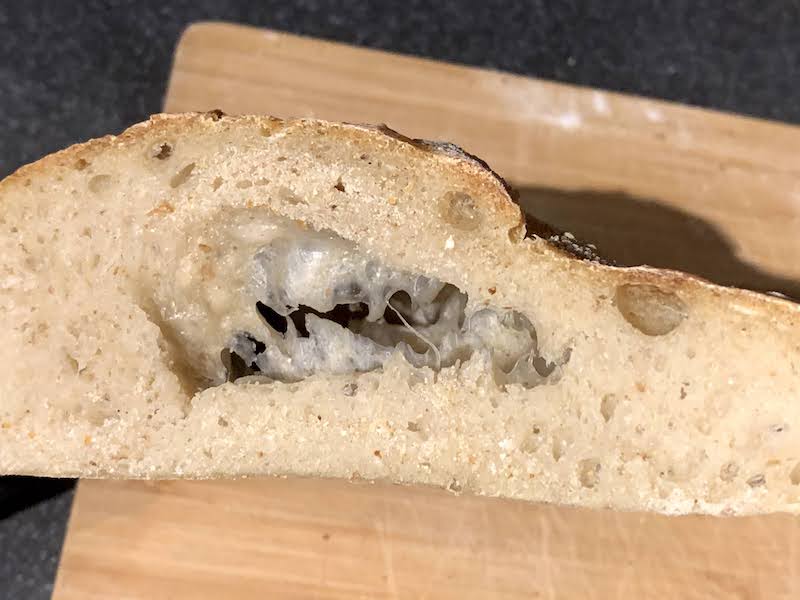 Example D (quarter size):
This is probably as good as it can get with my starter, I controlled everything I could. And the result is "not bad", but still it was a bitch to work with, and octopus tentacle sticky flat pancake, at only a hydration level of 65%! 
Autolyse 06:30 100% BF (bread flour 14% protein) 63% water at 29.5C dough temperature (warm water 32.5C)
07:30 mix in mature levain (100% hydration, equal mix of whole wheat and bread flour) and 2% salt
kneading for 13 minutes until it easily passes window pane test
mixing glas bowl immersed in sous-vide controlled water bath with dough temperature kept at constant 26.5C
Pre-shaping and shaping at 11:45 and 12:15 and final proof in the fridge. shaping is a horrible sticky experience!
Comes out with an alright crumb, but overall again no oven spring after baking in the dutch oven.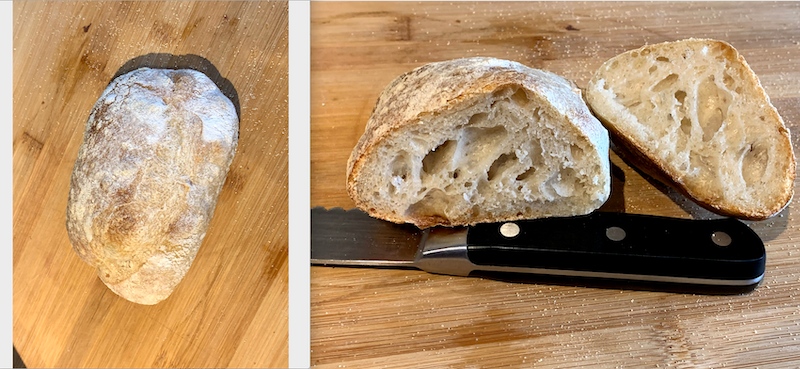 All bakes were in an oven at 260C and reduced to 245C after 20 minutes. 
Is it the starter?
The question after a good dozen of loafs, to no success (unless I use commercial yeast instead of sourdough starter), is it the starter? What can I do to rescue the starter? Should I start with a new starter? 

Please help, Obi-Wan Kenobi, you are our only hope :)