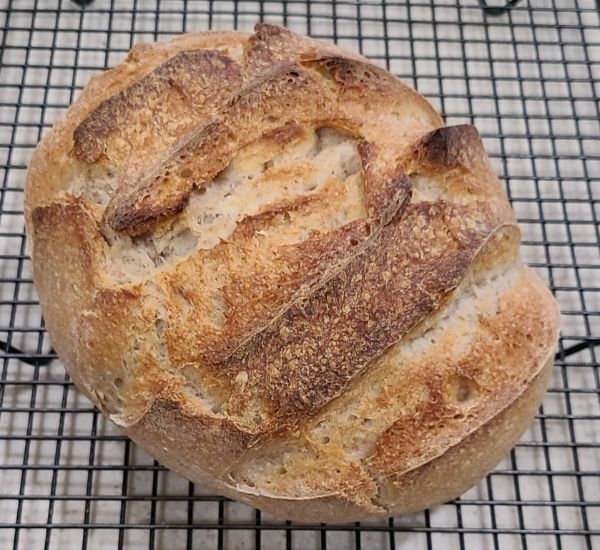 Hi,
I have been baking sourdough bread at home for a couple of years, but everything was "by eye", without measuring "exactly" anything.  But I was never quite satisfied with the flavor - too dull.  So I found this site, created a new starter following the pineapple juice method, and this time around I bought a kitchen scale and I am trying to be more consistent.  While developing the new starter, I noticed inconsistencies temperature-wise, so I decided to make my DIY proofing box as well (right now works between 76-78F).
This is my current method:
- Thu afternoon, take starter (5oz) from fridge
- Mix 1oz of starter, with 2oz water and 2oz flour - put in proofing box
- Mix 2oz of starter, with 4oz water and 4oz flour (this is the levain) - put in proofing box
 - Friday mid morning, put starter back in fridge (at least 12h have passed)
- Around mid-day Friday, mix 17.5oz of flour with 8.8oz of water - let sit for 30min 
- Mix flour with water with levian.  At this point the mix is way too messy, and too wet for me to mix, so I add about 2oz of flour to get a more manageable consistency.  I add the .35oz of salt at this point.
- Fold and let rest 30min 5-6 times each
- let rest until early evening for bulk fermentation 6-8h (in the proofing box)
- cut in two, shape, put in banneton, covered in air-tight plastic bag and store in fridge - it is about 7-8pm now
- Sat morning, about 9am, bring oven and dutch oven to 425F
- Once ready, transfer bread into dutch oven (on wax paper), put in oven, bake with lid on for 25min.  Note that the bottom of my dutch oven has a small piece of wire frame so that the bottom of the loaf floats above the bare bottom of the dutch oven - I started doing this years ago to prevent the bottom from burning too much for my taste.
- Remove lid, bake for another 25min
- Remove bread, place on cooling pad, wait at least 30-45min before cutting/eating
The crust is perfect, and tastes glorious.  The insides I feel need more work.  Not enough oven-spring, and although fully cooked, the insides "feel" almost two "wet" (I know, subjective), but not quite as firm as "I" feel it should be:
Advice/tips?
Will