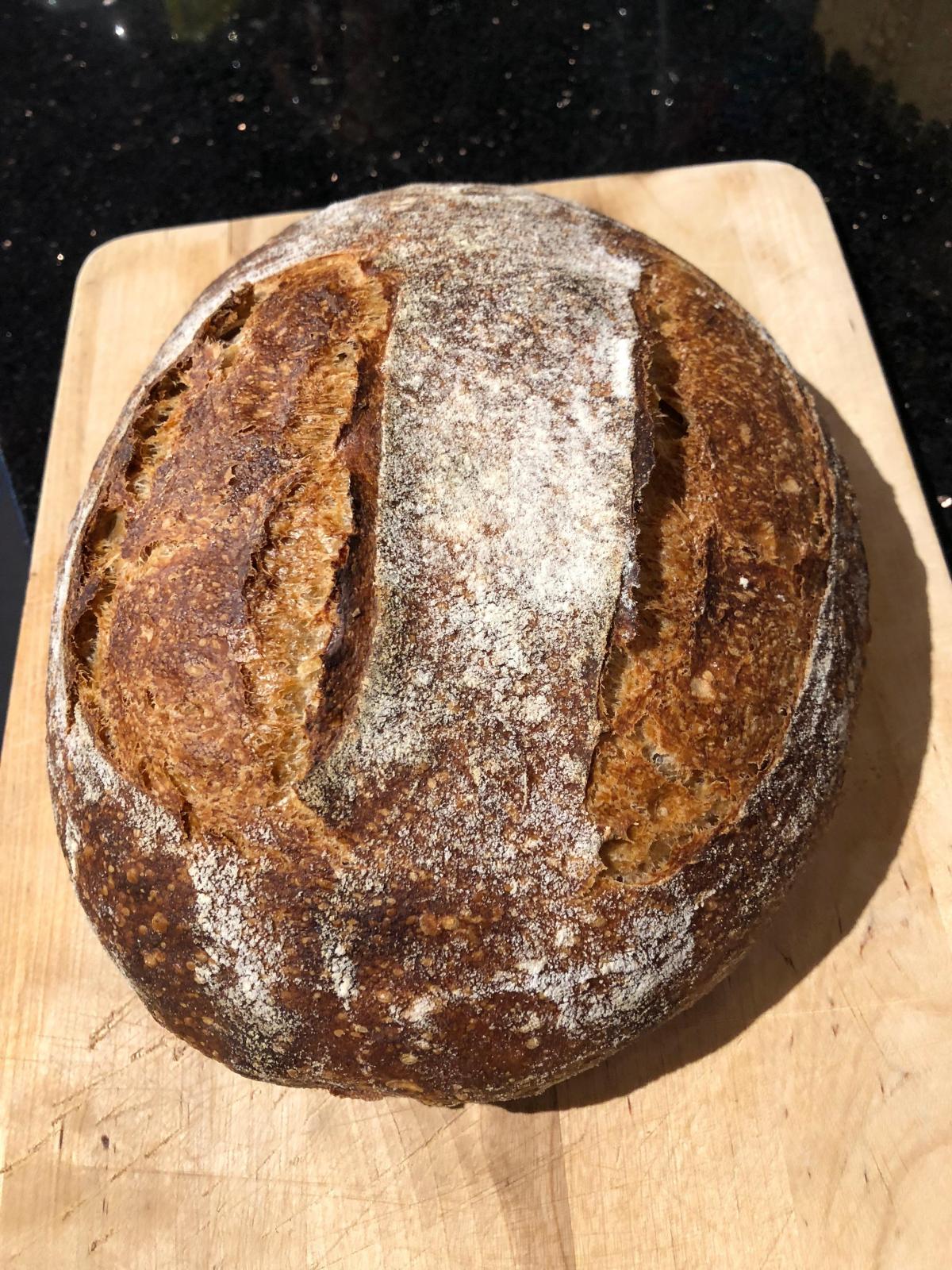 Hi All,
First, thank you for the honest feedback, suggestions and advice!  I liked the idea of baking a smaller loaf--a full kilo loaf is a lot to consume so I scaled it down to about an 830 gram loaf in total for this next bake. All else aside, I have to say I really like the smaller aesthetic of this loaf--they appear similar to the pan rustico test bakes Artisan Bryan has been posting lately as he refines his recipes for his new bakery (must be exciting).  I like their compactness.  I think it's safe to say I'm sold on this smaller sized loaf from here on out.
As to the bread itself--much the same.  Crumb was delicious, tender, moist, borderline custardy.  Yet, still not open toward the center.  I know it gets tricky the moment you add whole grains into the mix, but this is still a pretty standard amount I'm using for a country SD.  I think it really all lies in the handling of the dough during shaping.  This was probably my best shaping effort yet.  Best part about this time out was learning how to better use the bench knife in the assistance of shaping.  Titling it down and under the loaf while pushing keeps it from sticking.  May sound quite obvious for the experienced bread baker, but for us neophytes who know all to well that the devil is in the details, that's a detail that was borderline life-affirming.  
Anyway, pics are below.  I included a snapshot of what the crumb looked like towards the end of the loaf.  I usually end up with this type of crumb toward the ends of all my loaves.  It's the crumb I'm looking for--open, yet strong.  I just can't seem to carry this throughout the entire loaf and I'm presuming here that the trick lies in understanding what I must be doing correctly with the ends of my loaves that I'm failing to keep consistent throughout the entirety of the loaf, particularly in the center where the most weight is located, and, hence, where the most glutinous strength would be required to defy gravity and pick itself up during its spring.
The other note worth mentioning was that when scoring, this loaf severely flattened out laterally which I haven't witnessed yet.  As stated above, this was my best shaping yet, so when I loaded into the DO, I was so elated to see that the loaf held its firm, upright shape.  I figured I nailed it this time--only to be thrown for a loop after the first score, witnessing its taut compact form just relax and spread in an instant.  Maybe that's what typically happens when the dough is formed tight and properly and I just haven't done it yet--but, man, witnessing that thing just man-spread right in front of me was demoralizing.  
Again, thanks to everyone who takes the time to read these posts and even more time to comment and advise.  
50% CM DNS
25% CM ABC
15% Local WW
10% Local Whole Grain Spelt
77% Hydration
2% Salt
1 hour autolyse; 4 hour BF with S&F every half hour for first 3 hours.  Preshape into round.  20 minute bench rest.  Shaped.  Cold proof in banneton overnight for 8 hours.  Baked in DO @ 475 for first 20 minutes; removed cover, reduced heat to 450, finished baking for another 15 mins (again, smaller loaf, less bake time).