September 20, 2019 - 12:54pm
Best Loaf Yet--Still No Open Crumb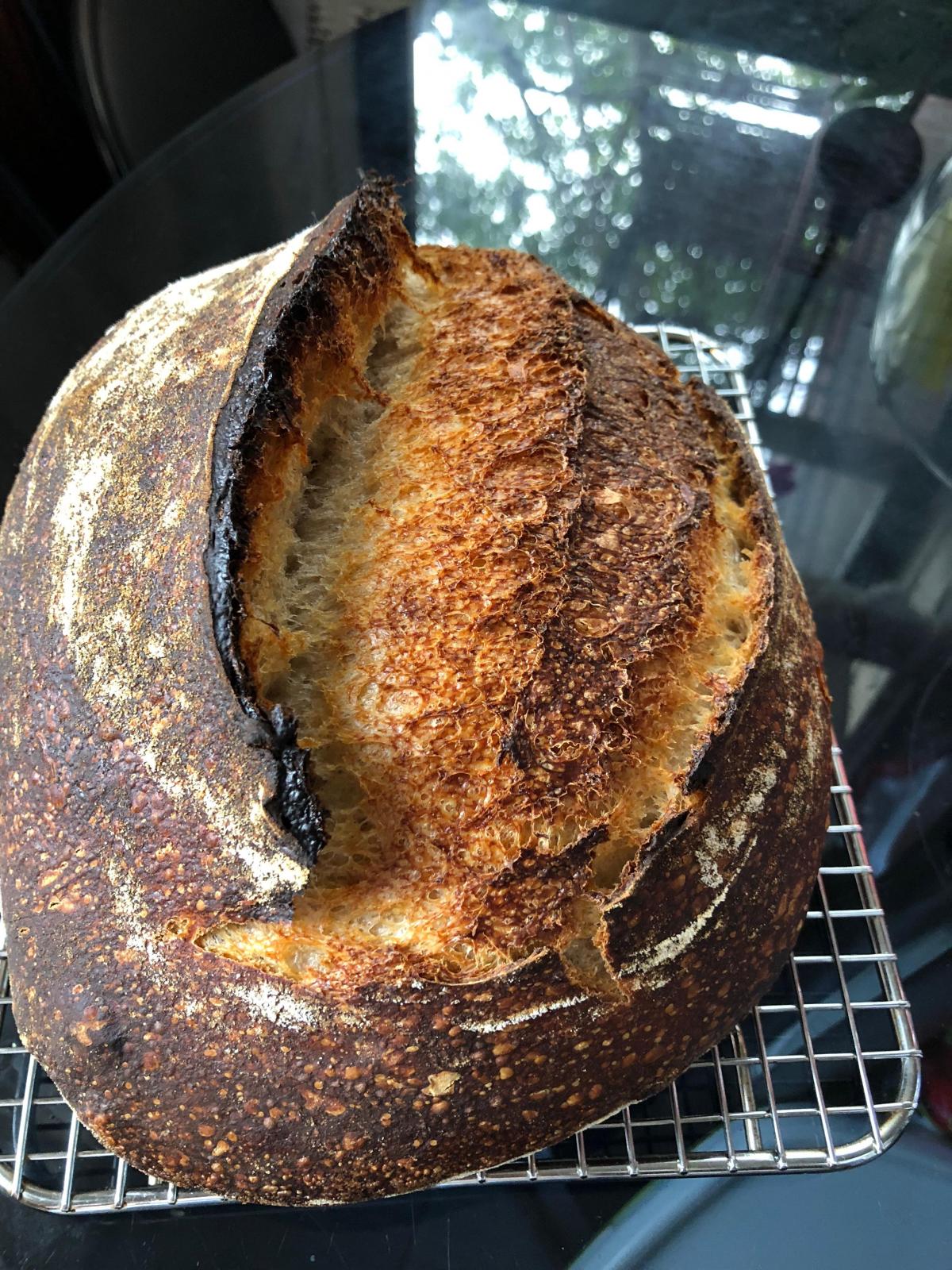 Hi All,
So I'm still relatively new to the sourdough game--been doing this regularly now for about 6 months.  This last loaf I made was definitely my best.  Best structure, best appearance, best taste (I know that crust is a on the thick side--I know how to remedy that and what I did wrong so I'm not as concerned about it).
My concern is that I still can't achieve an airy open crumb (whether that's a Tartine style or the more "Lacy" style a la Trevor Wilson).  That crumb you see was tender and custardy, so what was there had all the traits I was aiming.  It's just holistically, the crumb structure I'm hoping to achieve still evades me.  
I know I know--that holy grail open crumb is not necessarily a signature of bread mastery.  But I would like to achieve it on a regular basis so I can say I have done it, I know how to do it, and, when the itch comes, I can work to recreate it.
I honestly thought this time around I did everything correctly--dough was silky and strong at end of BF; pre-shape and shape went well for my standards (this is where I struggle most--my dough just always seems to stick to everything despite a ton of bench flour and what I'd consider delicate hands), and loading was smooth as granola.  
Vitals and techniques are below.  If there's any info/guidance/suggestion/therapy you could offer toward the perfection of open crumb, or any other comment based on what you read and see, please feel free to dish it out.  I'm committed to this and want to be a respected bread baker.  
Central Milling DNS: 320 grams
Central Milling ABC: 114 grams
Local Whole Grain Spelt: 44 grams
Local Whole Grain Rye: 22 grams
H20: 346 grams
Salt: 13 grams
Levain: 100 grams @ 100% hydration
Autolyse Flour, Water and Salt for 1 hour.  Added levain after.  4 hour BF with S&F every 30 mins for first 3 hours.  Left untouched during last hour.  Pre-shaped into a round.  Bench rest 30 mins.  Shaped via Tartine method; went to finish with stitching but dough was just too sticky at that point and didn't want to mess/degas anything so I left it as is.  Transferred to oval banneton for overnight proof in fridge.  Preheated Dutch Oven in 475 degree oven for 45 mins; let dough sit a RT for last half hour of pre-heat.  Cooked with top for 20 mins; then uncovered for another 25 minutes, all at 475 (that's where the error lies in the thick crust--easily remedied).  
Again, my wife and I both were very happy with the results, but still not the aesthetic I'm looking for (which, again, I know are completely superficial reasons but, hey, I'm the baker, it's my bread and I'll cry if I want to).  
Any, any feedback or comments would be great.  Thank you!!!
Also, how do I upload more than 1 photo???