September 16, 2019 - 8:15pm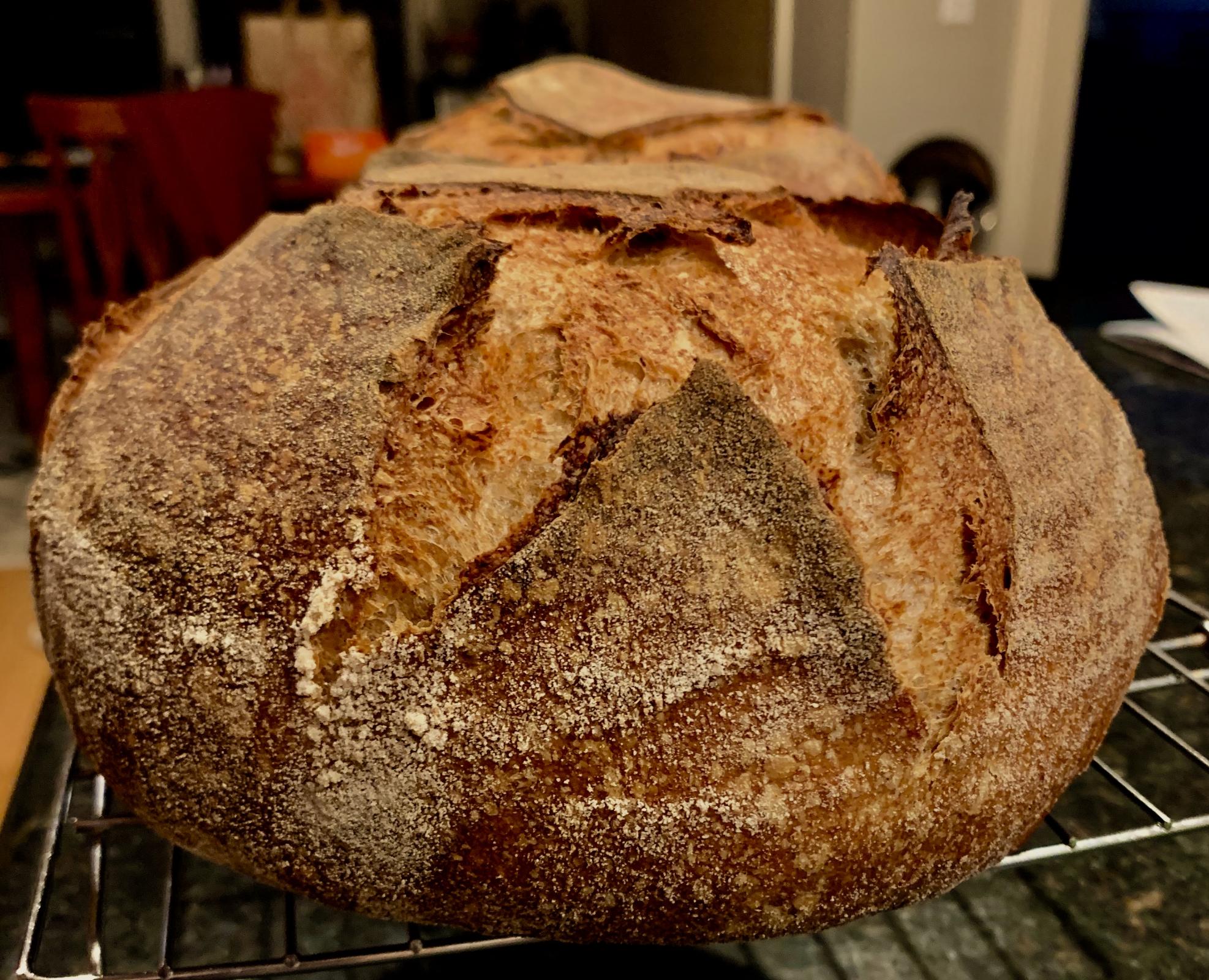 I haven't posted much lately since I typically bake the same three loaf types in rotation, so it's a bit boring to post about.  I was thinking about this today while I had dough in the bulk proof (I should have been paying attention to a web conference......), and it occurred to me that I think I add little changes to my process by osmosis (after reading all of the posts here!)  My starter refresh has gotten simpler, small changes to how I handle the dough in various stages, some differences in how I'm shaping loaves, etc.  My most recent change is that I didn't have to wash my "dough" board (it's a LARGE poly cutting board), as I just did all my pre-shaping and shaping on the counter a la the video that Abe just posted by the lovely Australian gal.
Anyway, that just stuck me as possibly interesting to someone, so I figured I'd post up my latest bake.  Pretty similar to what I've done before......
663g AP flour
523g Hard red spring wheat (fresh milled)
240g Mature levain (100%, 50/50 WW and rye)
766g Water
26g Salt
Mix all ingredients except salt until all dry bits are incorporated.  Let rest 30 minutes, then 30x slap/fold.  Let rest 30 minutes, then 20x stretch/fold.  Let rest 30 minutes, then 4x GENTLE stretch/fold.  Bulk for an additional 1.5 hours, then turn out and pre-shape (2 loaves.)  Let rest 15 minutes, then final shape, load into cloth lined bannetons, and proof at room temp for 45 minutes.  Place in plastic bags and move to the refrigerator for at least 4 hours, and up to 12 hours.  Pre-heat oven (with dutch ovens) to 475F for one hour.  Remove dough, turn out onto parchment rounds, score, then into DO's and back into oven.  15 minutes covered, then 25 minutes uncovered (removed from DO's onto stone today.)
To me, the smell of fresh baked (or baking) bread is one of the few smells that can rival hickory smoke at 6a with a cup of coffee.......I'll know about the crumb tomorrow, but I've made this one enough.....it'll be what it almost always is. :)
Keep on baking, folks!!
Rich