September 9, 2019 - 3:22pm
New starter, 7 days in, do I still feed if no activity?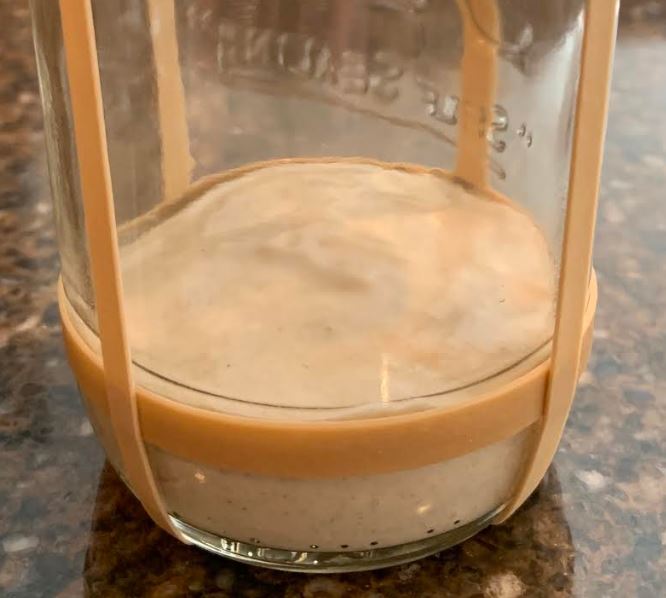 Hello All!
I'm 7 days in on a new starter.  Building with a 70%/30% ratio of unbleached all purpose flour / 100% stone ground rye flour.  Had 2x growth days 2 & 3, days 4 & 5 I had minimal growth but had that strong, pungent, funky/cheesy smell and very thin consistency... so I believe I was heading in the right direction.  Now on day 7 smell is gone, starter has thickened up a little, no longer runny, so I think this is all good.  But, absolutely no activity/growth for the past 2 days.  For the first 4 days I was feeding 1:1:1 every 24 hours.  Last 3 days been feeding 1:1:1 every 12 hours.
Should I keep feeding even when I see no activity/growth or should I hold on feeding until I see activity/growth then pick up on feeding again?
(Note: The pic is after I fed this morning.  It looked identical before I fed.  The slight bit of liquid you see just around the edge of the starter is water, not hooch.  I washed the jar and forgot to totally dry it before adding starter back to the jar after this mornings feeding.)
I'm new to this...  looking for some guidance.
Thanks!
Sandy
"UPDATE" - For those finding this thread in the future I've pulled the "Starter Log" detail up here to the beginning so you don't have to wonder what the answer was to my issue.  Bottom line...  I had overfed my starter by feeding multiple times when no activity was visible.  This resulted in diluting my starting and looking as if my starter had failed.  With the help of many in this forum I stopping the feeding for several days... it finally woke up as the active bacteria and yeast quantities recovered.  Read full thread for some of the valuable discussion.
Starter Log:
Day 1
Started with 1:1 (25g:25g) 70/30 flour mix of unbleached all purpose/100% rye (stone ground) & filtered/de-chlorinated water.
Day 2
Just stirred in the morning, did not feed.  By 3PM starter doubled in volume (2X), by 9PM increased in volume to 2.5X (peak).
Day 3
8AM the starter had fallen by 50% after peak.  A strong funky/cheesy smell had developed.  Consistency had thinned.  First feeding: 1:1:1 (20g:20g:20g)
Day 4
8AM 30% growth overnight.  Bad smell getting much stronger.  Consistency much thinner.  Fed: 1:1:1 (16g:16g:16g)
11PM 0% growth, Bad smell remains, consistency thinned even more, very pourable.  Fed: 1:1:1 (15g:15g:15g)
Day 5
1PM 0% growth overnight and up to 1PM, bad smell remains but not as strong, not as thin as Day 4.  Fed: 1:1:1 (16g:16g:16g)
Note: This is where I believe I started to go wrong...  I continued feeding here and 3 more times when no activity was visible.  This diluted my starter.
Day 6
8AM 0% growth, bad smell is almost gone, consistency getting thicker, Fed: 1:1:1 (16g:16g:16g)
9PM 10% growth, bad smell gone, continues to thicken, have to help pour from jar, Fed: 1:1:1 (16g:16g:16g)
Day 7
8AM 0% growth, smell of flour, maybe a hist of sour, consistency continues to thicken, Fed: 1:1:1 (16g:16g:16g)
8PM 0% growth, no change in smell, decided not to feed due to multiple feedings without activity.  Thinking I may be diluting starter.
Day 8
8AM 0% growth, no change in smell, consistency good, holds onto spatula.  Moved to controlled temp: 78-80 degrees.  Did not feed...  watching and waiting.
9PM 0% growth, no change in smell, consistency good, now see about 5 VERY TINY bubbles on surface.  DId not feed... continuing to watch.
(Note: pulled 5.5g from this starter to a new jar, fed 1:2:2 (5.5g:11g:11g) as a test.  No activity here either.) 
Day 9
7AM 0% growth, no activity, no change, no smell, no tiny bubbles, nothing.  Looks like a thick melted milk shake.
I stirred, did not feed, placed in 80 degree environment.  Will continue to watch and wait...  not giving up.  However, I did start a new starter :( so I guess I do have a little doubt.
8PM 0% growth, no activity, a couple very small bubbles on surface, light sour smell is noticeable (hmmm...), consistency is good.
I just stirred again and left in oven targeting a 78º
Day 10
7AM "IT'S ALIVE" 
woke up to about a 10% rise and several larger bubbles on the surface.  Light sour smell still there.  As I stirred starter it had a spongy consistency indicating CO2 had developed overnight.  I think I am back in business.
Did not feed, will continue to watch today, see what kind of activity develops, then will slowly pick up feeding and watching.
12PM (noon) Peaked with 1.5x rise by noon.  Fed 2:1:1 (22g:11g:11g) to watch activity before going into overnight.
9PM Peaked about 2x.  Fed: 1:1:1 (15g:15g:15g)  
Day 11
5AM was at it's peak, but no drop, so left alone.  Pic of what it looked like at 5AM: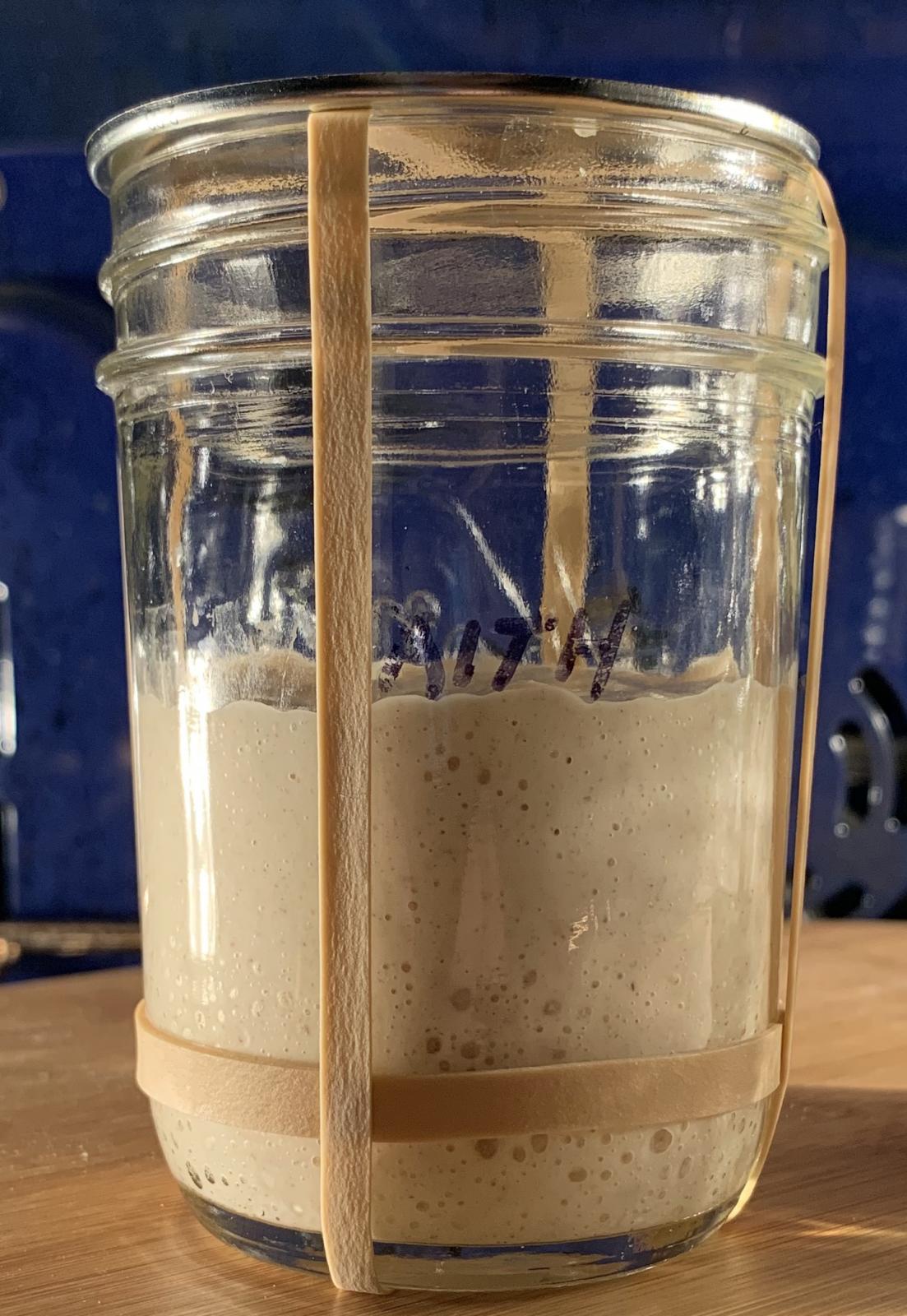 7AM fell just a bit when I placed jar back down after peeking at it...  so decided to feed.  Fed: 1:1:1 (15g:15g:15g).
Fast forward... 7 days later...
Day 18 - First bake attempt...  could be better... but I'll take it. :)