100% WW Spelt / Kamut with CLAS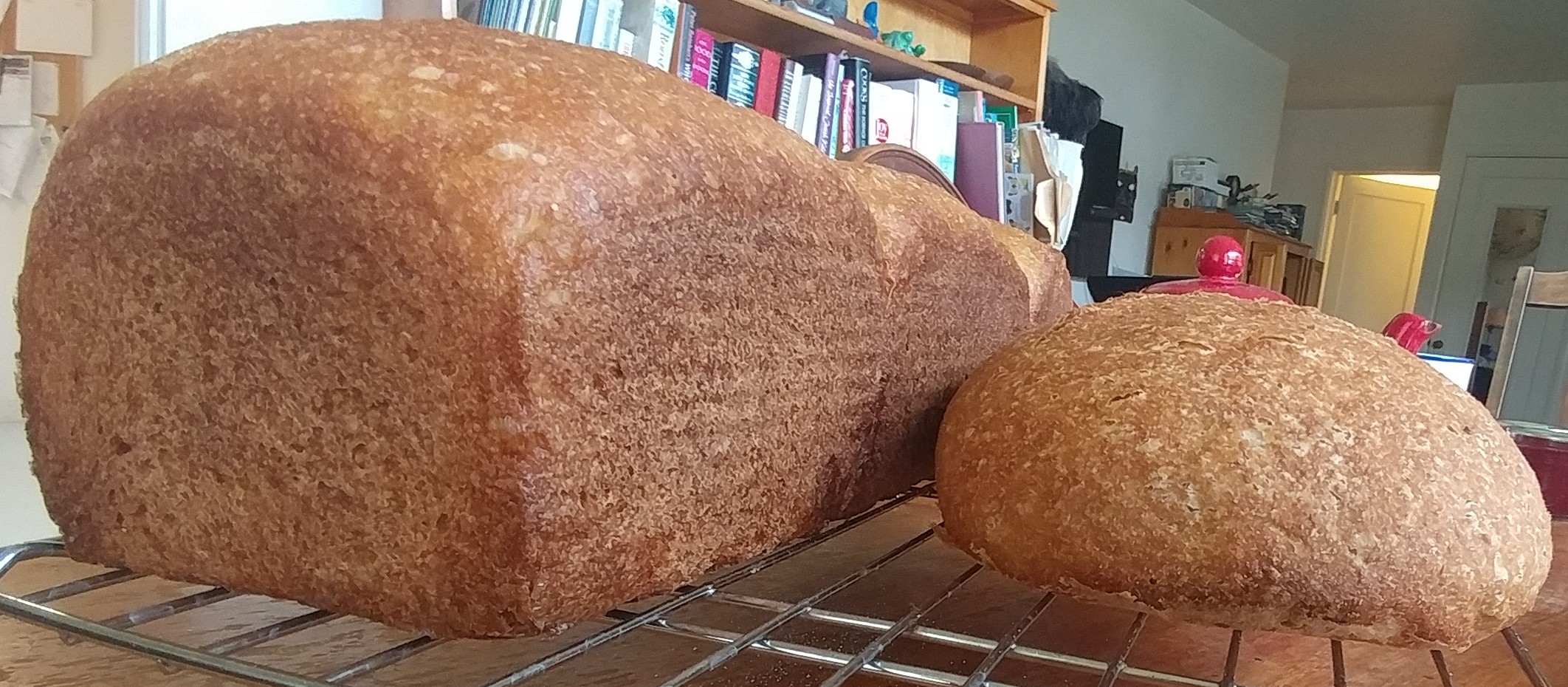 Here is the latest bake. Same dough as last time except increased the CLAS to 80 grams (4 tablespoons).
Mini suggested that a brief explanation of CLAS would be helpful. CLAS stands for concentrated lactic acid sourdough. It's used in Russia. It's a pre-ferment that only has the lactic acid bacteria, no yeast. It's sort of like if you were to maintain your Sourdough starter under very wet and warm conditions until it was extremely sour and didn't rise your bread at all.
You then use it with added yeast in the form of a biga, a poolish, yeast water, active or instant dry yeast, etc. Whatever yeast you prefer to use.
The CLAS is used to lactic ferment and acidify the dough, which is supposed to improve the dough handling characteristics, the flavor, and the keeping quality of the bread: basically it is supposed to give you all (or at least many) of the benefits of using a conventional sourdough, without having to be concerned about whether your culture is strong enough to raise the bread.
So, the addition of 80 grams of CLAS to this dough increased the hydration sightly, to 71.5% The increased hydration made the dough noticeably more sticky.
Hydration was still not high enough for Rubaud treatment, so I did a15 minute rest after mixing, then standard kneading for about 5 minutes followed by slap and fold for about 5 minutes. I did a stretch and fold at 30 minute and another at 1 hour.
I regretted the 2nd stretch and fold because inverting the dough exposed the stickier, stringier side of the dough that had been in contact with the container, and I wished I had kept the old top side. After another 10 minutes of regret, I did a coil fold to try to develop a smoother gluten film on the top. That seemed to help the dough look better. (So hard to know the difference between intuition and anxiety!)
I let it ferment for about 20 minutes more, then divided it and lightly shaped it for a 10 minute bench rest.
Then I decided I wanted a different division so I could use the Pullman pan and the clay roaster (I need to plan this stuff ahead of time!)
So I cut a piece off one of the dough balls and divided the other in half to make 3 small rounds. I didn't degass them and roll them up, because I wanted a more open crumb. I just shaped them as mini-boules and placed them side by side in the Pullman pan.This is them about 2/3 risen.

The remaining dough I shaped as a batard and put into a heavily-floured banneton. Here is the batard shaped and ready for final rise: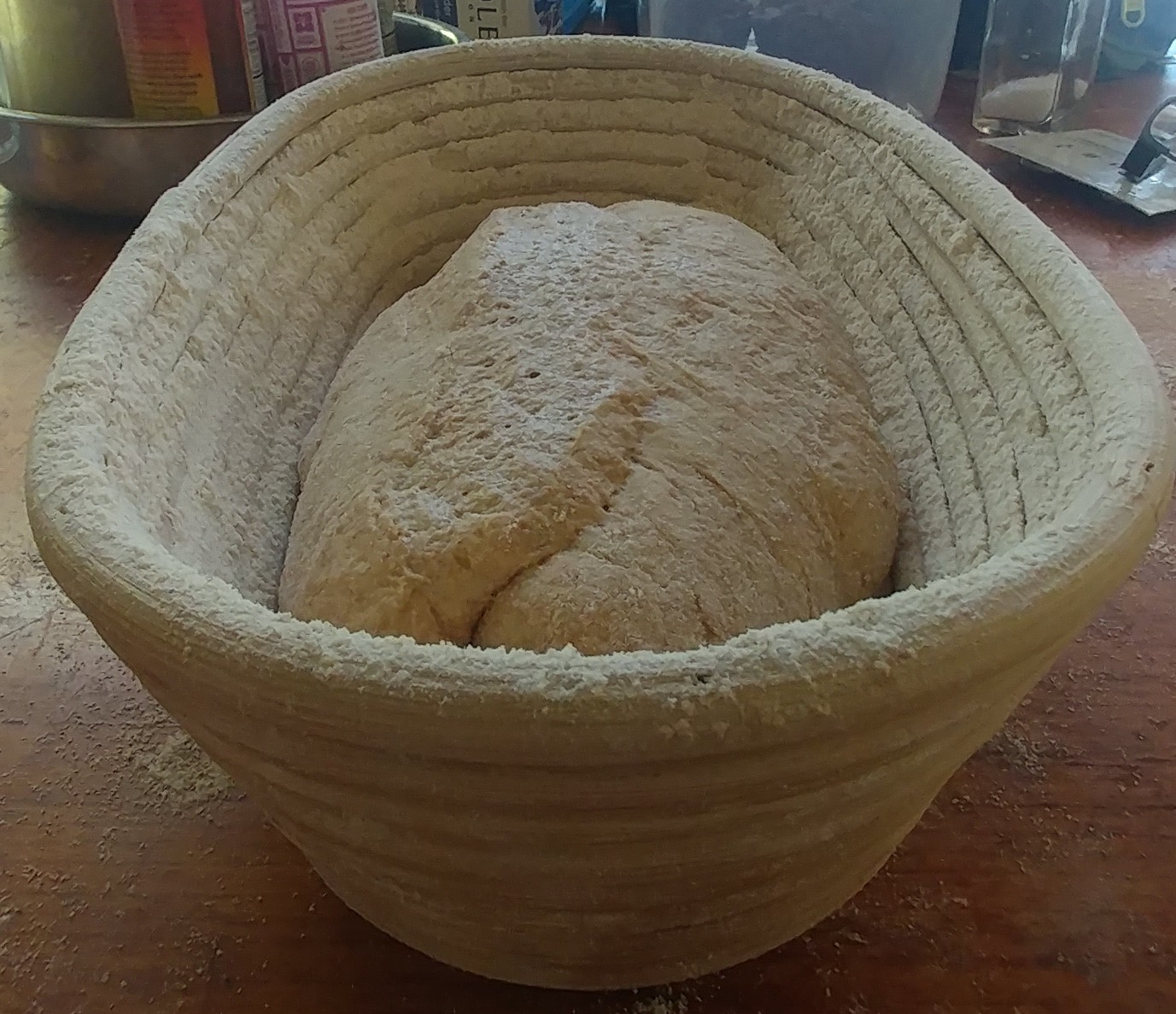 I covered the Pullman pan but not the banneton because I was worried about sticking if it got too humid.
Final rise was about 1/2 hour. I sprayed the Pullman loaf heavily with water, lidded it, and put it in the oven.
  Then I worked on the batard. I turned it out on a piece of parchment and used a butter knife to scrape off the excess floor. Then I tucked the edges under slightly, and lifted it into the (room temp) clay roaster.
It occurred to me to try using my silicone basting brush, and that was surprisingly effective at removing a bunch more flour. Then I sprayed it heavily with water, lidded it, and put it in the oven next to the Pullman pan.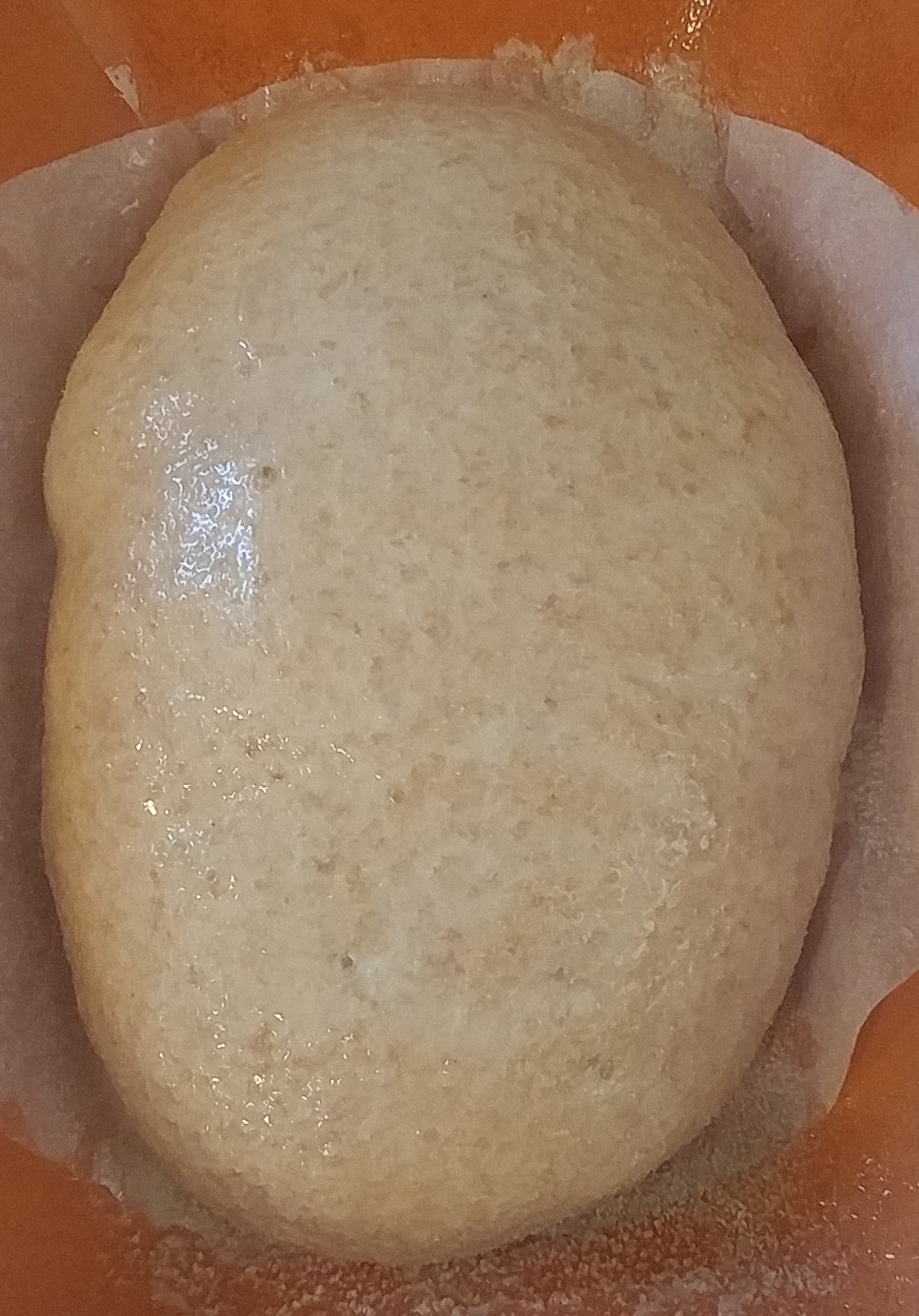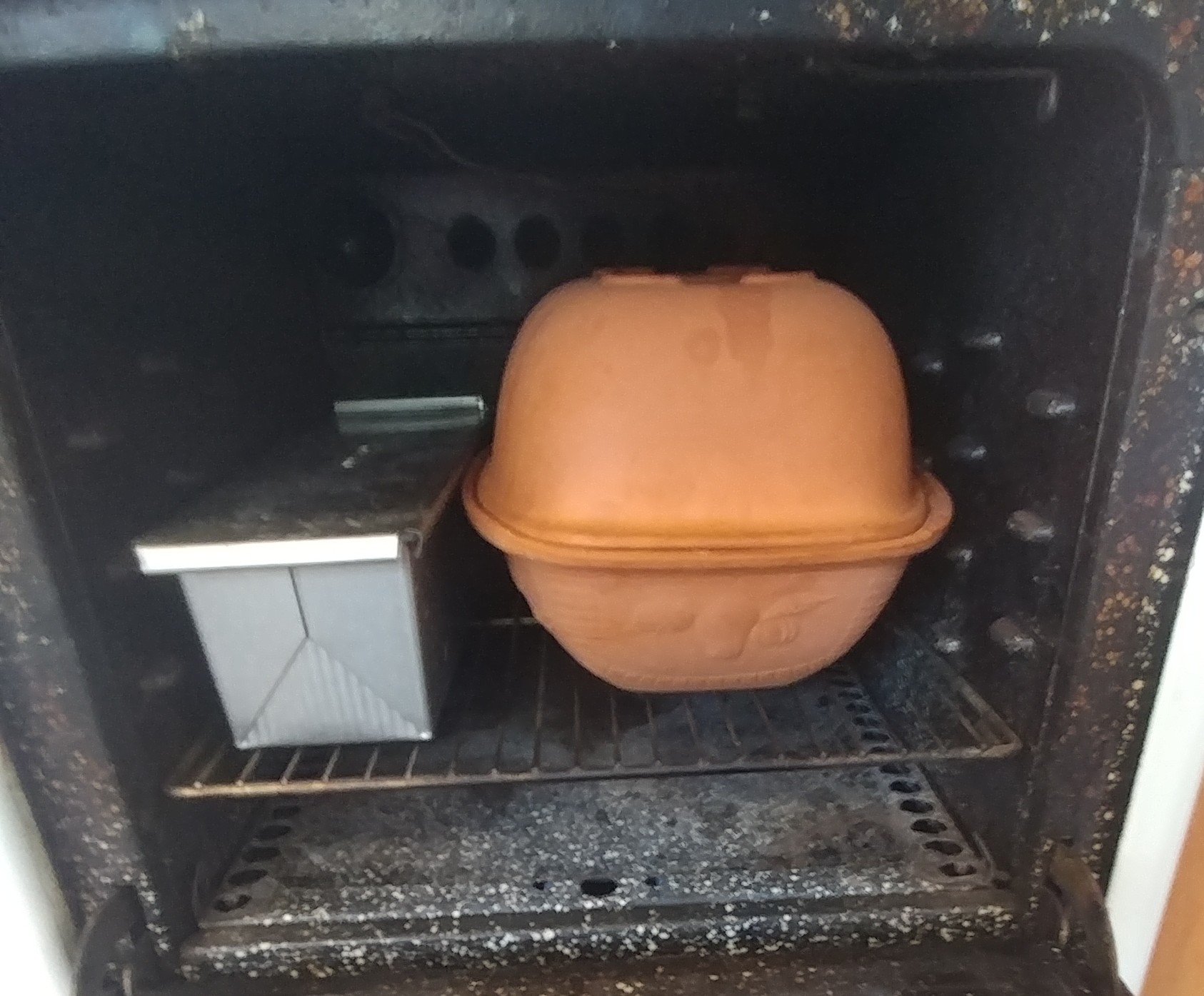 I don't think either loaf experienced more than trace amounts of oven spring. What can I say... I may be a chronic over-proofer. Or there may be something else going on, such as the flours having weak gluten. Kamut and spelt, from what I'm told, both have gluten that breaks down quickly.  But both of them came out looking pretty on the outside. I will add crumb shots when I cut into them.