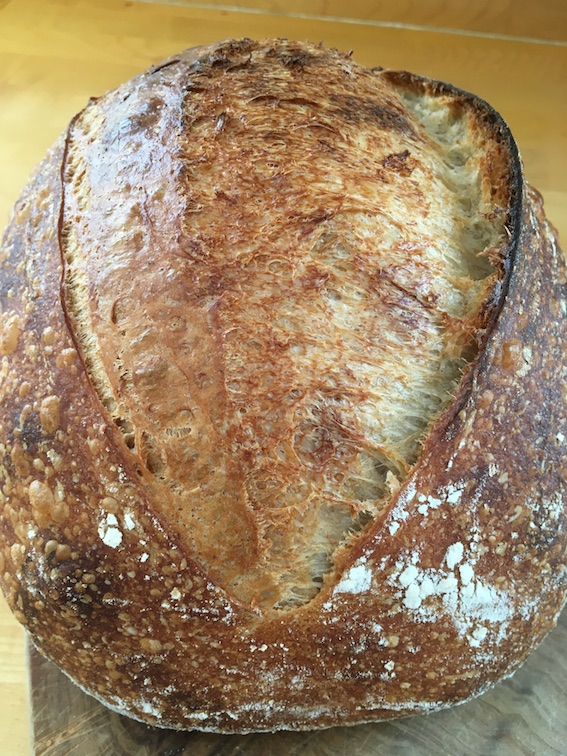 A while ago I bought back some Swiss Ruchmehl from Germany and was curious about the
flour as Max Kugel, in Bonn bakes a lot with it in his bakery...
Last time it turned out to be an amazing bake and sadly I could not get my hands on it in UK....
But my fortune changed when I spotted Dark Swiss Flour on the Shipton Mill web site.
It did not give much information but when I baked with it, indeed it was very similar to the Ruchmehl, I thought...
The other day I saw a formula on https://brotokoll.com/recipe/?lang=en blog and after contacting Alex, he confirmed that indeed the Shipton Mill Dark Swiss Flour is a Ruchmehl...
It is difficult to find information in English on the flour but it is like a 85% extraction flour that is not quite WW but darker than a strong bread flour....The taste is rustic and deep...although I mixed it with 25% Strong Organic White Marriages and 25% Strong Canadian flour. I might try it 100% next bake...and I think it will take more water easily...
This one was 78% hydration, 20% young leaven (ph 5 when I used it), 2 % salt.. , 2 hours autolyse, 30 min before adding salt after adding levain, slap and folds to develop gluten, 3 Stretch & folds and last 1 and 1/2 dough was left alone, pre-shape, 30 min benchrest and 30 min before going into wine cooler...
It was a warm day and tried to keep dough at 23C throughout whole process.
I can highly recommend this flour should you be in the UK and use Shipton Mill. No postage if you order min of £ 30 and lots of amazing flours there at a very good price!   Kat